Cooking for Two:
Tips Every Empty Nester Should Know!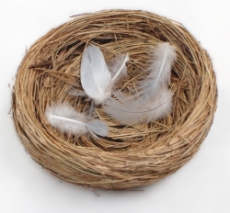 You've probably noticed there are loads of "Cooking for Two" cookbooks out there—no surprise since the baby boomers are now empty nesters and we're the largest segment of the population. But I've found that no matter the cookbook, the enterprise simply takes more planning and a jumpstart to my attitude. I just find it hard to cook for two—especially when one of the two (who shall remain nameless to protect the not-so-innocent) is less than enthusiastic about any effort to eat healthier now that older age is on the horizon.
Since my tendency is to think I'm not the only person struggling with one issue or another, I thought some research on the topic would be helpful to us all. So here you have some cooking-for-two tips that ought to make the effort easier. See what you think: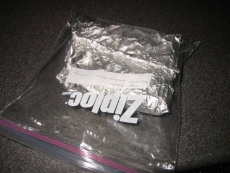 Meat purchase: Make sure to wrap individual meat portions in heavy duty foil or freezer bags, label well, then freeze. Smaller pieces of meat are much easier to work with and will thaw faster. for boneless meat (ground meat, stew meat, boneless roasts or chops) you'll want 1/4 to 1/3 pound per serving. For bone-in meat (steaks, chops, chicken pieces) you'll want 1/3 to 1/2 pound per serving. And when buying ribs you'll want 3/4 to 1 pound per serving. And btw, holiday portion sizes account for second helpings. Here's a chart that might help: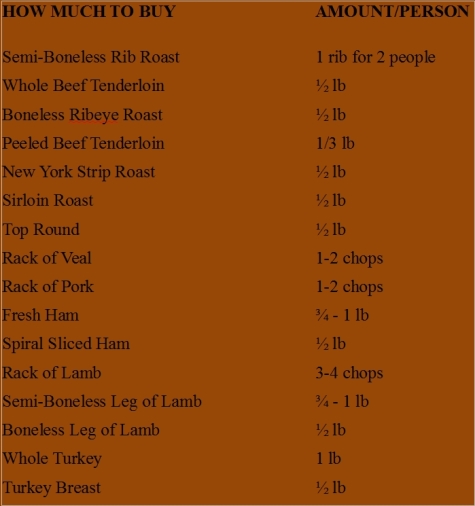 Supermarket salad bars: It's a great idea to buy smaller portions of already prepared chopped vegetables you can use in stir-fries and casseroles in addition to salads. In the same vein, look at the bulk section of your supermarket. You can choose exactly the amount you want to buy.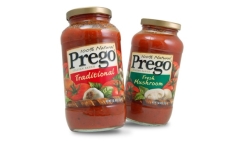 Canned and jarred ingredients: If not using an entire can of something, store unused amount in a glass refrigerator keeper with lid. Unused amounts in jars are fine as is, just be sure the lid is on tight.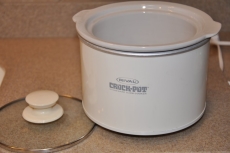 Smaller appliances: These can be a good investment. There are smaller crockpots (called crockettes), toaster ovens, even mini food processors that take up less storage space, use less energy, are easier to clean, and hold just the right amount of food for one or two. I found a white crockette for $10 at Walmart a few months ago and have been using it like crazy. It's the perfect size for 1 to 2 people.
Reducing recipes: Most recipes can be reduced by cutting the ingredients in half. Be careful when adjusting a baking recipe, though, because the proportions can be tricky. A recipe scaling program can be a great help. This is where I just LOVE my Cook'n Recipe Organizer. It will do all the recipe scaling for me (flawlessly) and I'm saving on food waste and grocery money because of this feature.
Combining leftovers: AKA casseroles. You can transform any leftover pasta into a frittata the next day, serve taco filling over greens for a salad, and add some grated carrots, horseradish, and mayo to leftover roast beef for a fabulous sandwich spread. I really like Dan's "Never Say Leftovers" software for this purpose and when I find other recipes that use my typical leftovers in another way, I make sure to save it in my Cook'n Recipe Organizer. I've created an entire cookbook in my Cook'n called "Once More Possibilities."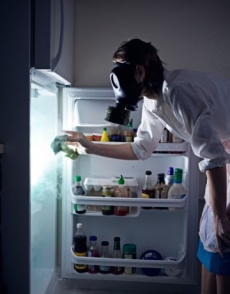 Cleaning out the refrigerator and freezer: Discarding food that is past its prime is important. Always remember that it's always cheaper to purchase new food than to have to deal with a food poisoning incident. HOWEVER, with good menu planning and buying in smaller portions, you can avoid the food-past-its-prime scenario.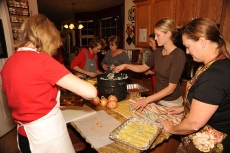 A cooking club: Gather together other singles or couples and start a cooking club. This can be a fabulous way to meet people and try new foods, plus you get several days off a week! You can cook larger casseroles and recipes and simply divide them up for each person in your group. Everyone gets to sample something new, you'll vary your diet, and have fun all at the same time.
---
Sources:
www.acvoice.com
www.cookingforengineers.com
www.sterlingbrands.com
www.changeabletable.blogspot.com
www.dvo.com
www.rodneyfrieden.blogspot.com
www.apronstringsblog.com
---


Alice Osborne
Weekly Newsletter Contributer since 2006