Why not? Because you can make it cheaper! How? Because this thing is super easy to make. When? Make it once and use in baggies later. Where? Make it wherever, its fun to make with others, you just don't have to get it from the grocer anymore. What is it? It's an instant oatmeal packet...homemade.
I made these once in a college class and had forgotten about them until I was looking at my packet of recipes. Holy cow I should have been doing this for a while! I love having a bowl of oatmeal in the morning, but when I'm rushed, an instant oatmeal packet just sounds more plausible. SO, why not make it yourself? Then, you get to custom-make it with your own tastebuds in mind.
And if the kids make their own oatmeal (or adults for that matter) they might be more inclined to eat it. It was fun to make and they have ownership over their baggie.
---
Homemade Instant Oatmeal Packets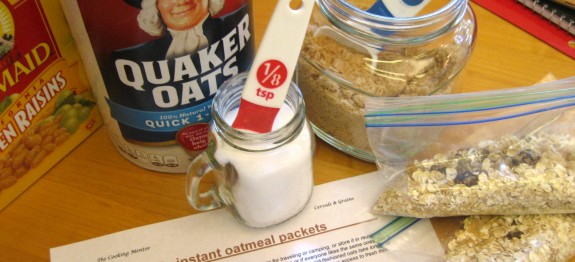 Recipe is portioned per bag.
Serving size:

1


Calories per serving:

112.5




Ingredients:
1/4 cup

(60 ml) quick cook

oats
2 tablespoons

ground

oats
dash
salt
Optional flavoring (see below)
Directions:
Blend quick oats in a blender or food processor until very coarse. Label each bag and place the bags in a jar or box for storage. When ready to eat, take a bag and place into a bowl or cup. Add 3/4 cup boiling water and let sit for 2 minutes. For thicker oatmeal, use less liquid. Or, add 3/4 to 1 cup water or milk and place in microwave for 1 minute. Let cool before eating.
Flavoring options
Apple-cinnamon: 1 Tbsp sugar, 1/4 tsp cinnamon, 2 Tbsp, chopped dried apples
Sweetened: 1 Tbsp. sugar or 1 packet artificial sweetener
Brown sugar/Cinnamon l: 1 Tbsp. brown sugar and ¼ tsp. cinnamon
Raisins and brown sugar: 1 Tbsp. brown sugar and 1 Tbsp. raisins
Health Nut Oatmeal: 2 Tbsp. any kind of wheat germ
Fruit and Cream: 1 Tbsp. non-dairy coffee creamer (no liquid until ready to eat) and 2 Tbsp dried fruit
Fun Fruit: 6 or 7 pieces of "fruit snack " type dehydrated fruit
Confetti: 1 tsp. decorative cake/cookie sprinkles
S'mores: 6 miniature marshmallows and 1 Tbsp. milk chocolate chips
Cookies n' cream: 1 crushed Oreo cookie and 1 Tbsp non-dairy coffee creamer (no liquid until ready to eat)
Dried fruit and cream: 1 Tbsp dry milk(nonfat) and 2 Tbsp. chopped dried fruit
Spice: 1 Tbsp. sugar, 1/4 tsp cinnamon, a dash of nutmeg
Wheat germ and brown sugar: 2 Tbsp wheat germ, 1 Tbsp brown sugar

Recipe formatted with the Cook'n Recipe Software from DVO Enterprises.
---
Sources:
http://www.thecookingmentor.com/wp-content/uploads/2013/07/inst-oatmeal-packets-575x262.jpg
---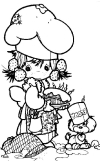 Sydney Hill
Weekly Newsletter Contributer since 2012