CHUTNEY - Make Some Tonight!
You hear the word every once in awhile, especially at harvest time - CHUTNEY. But what exactly is chutney? In case I'm not the only one out there that must've been raised in a barn, I thought I'd enlighten us: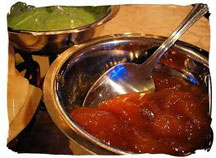 The dictionary says in its basic form, it's a spicy condiment or relish made of fruits or vegetables with vinegar, spices, and sugar.
It originated in India and was discovered by the Western world when British soldiers and colonists brought recipes back to England. It can be thick and chunky or smooth, and has a heat level that can range from very sweet to very spicy. The mixtures can be either cooked or uncooked and virtually all of them rely on the addition of chilies for heat. Mango chutney is probably the most popular variety, in part because mangoes are a popular fruit in India, but also because it was the first chutney that was widely available to Europeans.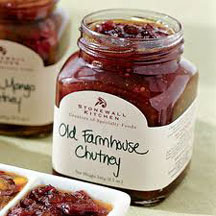 There are an endless number of variations that can be made on the basic theme, such as Fresh Peach Chutney, Melon Apple Chutney, Green Tomato Chutney and (of course) Mango Chutney. And the reason we hear about it around harvest time is because it's such a great way to use up extra fruit and vegetables from yours or the neighbor's garden.
One reason chutney is so well-liked is related to the windfall of fruit and veggies issue. Not only does chutney the extra produce well and is easy to make, it's very easy to can. Because of the high acid content, thanks to the cider vinegar most recipes call for, it does great in a water bath. Acid prevents botulism spores from forming, so chutney is a perfect food to preserve and store. And speaking of canning, here's something very cool I found in my Fall, 2012 copy of Living the Country Life: FREE printable canning labels! Just go to http://www.livingthecountrylife.com/country-life/food/download-our-free-canning-labels/ for their downloadable canning labels. Print these stylish labels onto Avery 2x4 mailing labels (template #5163), then write the contents and date, and you're set. The labels come in three great colors, perfect for your tasty canned goods. (NOTE: They are working great on my freezer bags and containers as well.)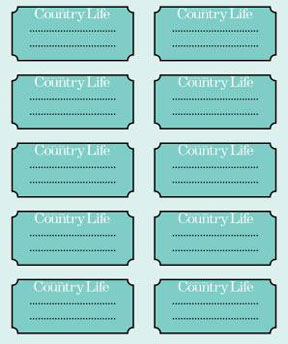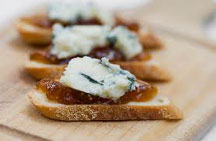 Another reason chutney is favored is because it is so versatile. For instance, it makes beautiful and effortless appetizers. Just serve a fruit chutney (pear or mango, for instance) with a wedge of blue cheese and toasted baguette slices, and you'll be offering a very up-town experience to folks.
And on the Denizen website I found
5 more uses
for this very interesting food: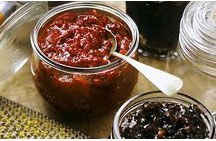 Blend with extra virgin olive oil and sherry vinegar to make a dressing for a pasta or couscous salad.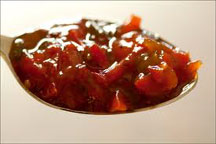 Split some croissants and top with prosciutto and cheese. Grill the open croissants with their toppings until golden brown and then top with chutney.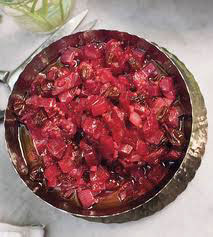 Want to mix up your standard roast chicken a little bit? Try adding 2 tablespoons of chutney into a classic bread and herb stuffing.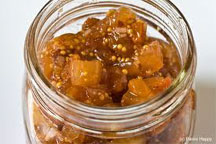 Place a dollop of chutney on top of grilled gourmet sausages or steak.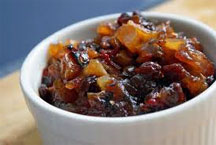 Add 2 tablespoons to a lamb, chicken, or chickpea tagine to add depth of flavor and a slight sweetness. This is the perfect addition for Moroccan tagines as they usually include some sort of fruit element to combine with the flavors of the meat.
Sources:
www.south-africa-tours-and-travel.com
www.stonewallkitchen.com
www.livingthecountrylife.com/country-life/food/download-our-free-canning-labels/
www.framedcooks.com
www.telegraph.co.uk
www.unfussyfare.com
www.bonappetit.com
www.paninihappy.com
www.pearrecipes.co.uk