Work SMARTER, Not Harder:
6 Tips to Save You Time & Energy
There's not a whole lot new under the sun, but clever folks sure come up with new twists to an old tune. For instance, have you tried any of these ideas?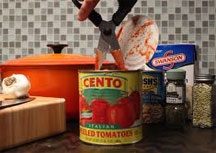 Newsletter reader, Bonnie Allred shared this with me: "Avoid making a mess when cutting whole canned tomatoes by snipping them while still in the can. Use kitchen shears for this job, and it only takes a couple minutes, plus there's no clean-up afterwards, other than rinsing the shears." I'm doing it!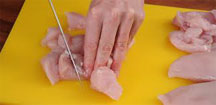 Something I've discovered after years of cooking is how much easier it is to slice, dice, and chop slightly frozen things. For instance, chicken breasts, steaks and cutlets, and cream cheese blocks are just a few examples that cut up easier.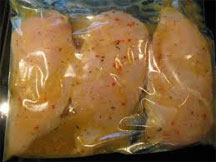 Speaking of frozen, mix up your favorite marinade, divide it amongst some plastic freezer bags, and insert the chicken breasts, steaks, pork chops, turkey cutlets, etc. that you'll be preparing for the month. Push as much air out of the bags as possible and close the bags tightly. The marinade will cover the contents. Place all bags in the freezer (labeled and dated). Then prior to the day you want to cook something, pull it out of the freezer, place it in the fridge to thaw overnight, and cook/bake as usual the next day. Get ready to enjoy the most flavorful and tender entree you've ever had!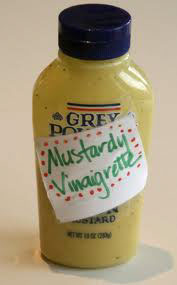 It's so difficult and time-consuming to get the last remaining teaspoons of mustard from a bottle. So try this: Add 1/3 cup extra-virgin olive oil, 1/4 cup red or white wine vinegar, salt, black pepper, minced garlic, and dried herbs. Close the lid and shake the bottle well. The resulting homemade vinaigrette tastes terrific, and it uses the last bit of mustard that usually gets thrown away. Waste not, want not!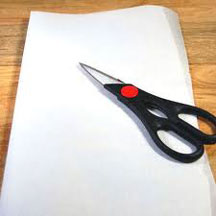 This is so obvious, you may already do it. But for the few out there that haven't thought of this, I'll share Newsletter reader, Darla Remington's tip: "After buying a roll of parchment paper, cut all the paper to fit the size of your cookie and baking sheets, then either roll it back up and return it to its box or lay it flat in a drawer or under your baking sheets. This way you can quickly grab a precut sheet." Such a smart idea.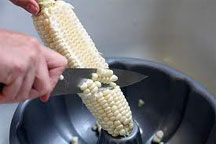 Finally, cutting corn off the cob makes such a mess and is time-consuming. So to keep the corn in place for this cutting process, set the end of the corn cob in the center hole of a Bundt or angel food cake pan. While holding the corn cob steady, make long downward cuts between the cob and the kernels. And to make the job especially quick, try using your electric knife.
Do YOU have an interesting solution to a cooking or baking dilemma? I'd like to hear from you, so send me your tip or technique and I'll put you in print! We're all in this together, and if we share what we know, it'll all go smoother! alice@dvo.com is how you can reach me. And thanks in advance for making life easier for us all.
Sources:
www.bos-bowl.com
www.foodsmart.govt.nz
www.visualrecipes.com
www.shockinglydelicious.com
www.cookingfortwo.about.com
www.simplyrecipes.com