It's For the Birds!
(Homemade Bird Food, that is.)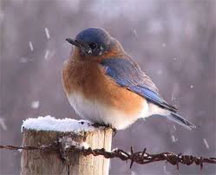 It's getting cold outside, so we turn up the thermostat, fix a nice hearty and hot casserole for supper and snuggle in. But what about the birds? I always wonder how they weather the storms and especially how they find food when the weather snaps.
So this year I thought I'd do more than wonder and do what I can to help our little friends. It's time to make our own wild bird food! It's not expensive and it's easy - my favorite attributes for any project. Here's how, in 4 simple steps:

Gather ingredients. You'll need rolled oats (not instant), sunflower seeds, and dried fruit (raisins, cranberries, or just about any dried fruit), and chopped nuts. And by the way, wild bird food making is a smart way to put any stale or rancid seeds and nuts, or too-old dried fruit to use. The birds don't care.

Mix the ingredients together. It doesn't really matter how much of each you use, but more rolled oats than fruit and nuts is best, and the least expensive route to go.

Spread the seed mixture in a bird feeder (or on the ground - but expect the squirrels to aggressively compete for this wonderful treat if it's on the ground).

Gather friends and family and watch the birds enjoy your thoughtfulness!
But wait, there's more! While researching for this article, I found a wonderful website you'll want to go to, if you're interested in drawing in and feeding birds. www.a-home-for-wild-birds.com offers 2 free ebooks if you sign up for their newsletter.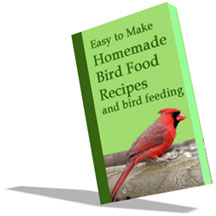 Easy to Make Homemade Bird Food Recipes is filled with the latest tips to attract birds to your yard.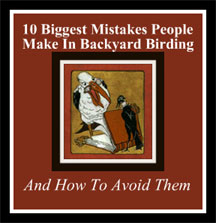 And the other ebook, The Ten Biggest Mistakes in Backyard Birding and How to Avoid Them explains that some mistakes are worse than others and discusses those that can even be deadly for birds. Both downloadable e-guides will save you hundreds of dollars in mistakes, and ensure your success in attracting a wide variety of birds to your yard.
Finally, from the Home For Wild Birds website comes this recipe you might want to try. I picked fallen apples off a roadside the other day that I intend to use for this purpose (it doesn't matter if they're bruised, withered, or even wormy). I'm going to chop and dehydrate and store them in the freezer so I'll be able to make wild bird food all winter long. This is a hobby that's truly for the birds!
AUTUMN HARVEST, is a recipe for homemade wild bird food that many migratory birds will eat. Birds love fruit and this food will tempt them to linger at your feeders longer. This is best on a platform-style feeder:
---
Autumn Harvest Wild Bird Food
Fruit, nuts, seeds, and oats - just what the birds need to make it through another winter!
Ingredients:
2 cups

dried, chopped

apples

(consider dried apples; they won't mold as fast)
2 cups
raisins
2 cups

chopped

nuts

(any type will do)
1 cup

, chopped, dried

pitted prune
1 cup

dried melon, squash or

shelled pumpkin seed
Directions:
Mix and store in covered container in freezer if using fresh apples; if using dried apples, store in cool, dark place.

Recipe formatted with the Cook'n Recipe Software from DVO Enterprises.
---
Sources:
www.birdsandblooms.com
www.harloshealthypets.com
www.dec.ny.gov
www.a-home-for-wild-birds.com