ONE-Pot Meals - the Summertime Saver!
It's hot out; you're run ragged what with all the demands summer places on you; it's dinnertime and you're exhausted and not in the mood to cook. No problem. Enter the one-pot meal - the summertime saver. (Or rather, the family cook saver.)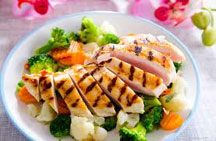 A true "one-pot" meal contains protein, starch and vegetables all in the same pot. Any recipe that directs the cook to, "Prepare pasta separately." or "Serve with bread." is not a true "one-pot" meal. One-Pot Meals are NOT slow-cooker roasts, crock-pot stews, casseroles or skillet meals.
Each recipe bakes in a 2-quart cast iron Dutch oven and feeds at least 2 adults; however, increasing the recipe is easy if you remember the one-quart-per-person rule of Dutch ovens. To feed four, use at least a 4-quart Dutch oven and double the recipe. Be aware that larger meals may increase the baking time, though. Each increase will require approximately 8 more minutes in the oven.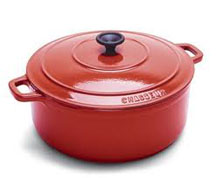 Your Dutch oven need not be enameled cast iron, but it does make for easier clean up, easier storage, and lighter weight when the pot is full of food.
In a nutshell, here is why one-pot cooking is such a smart way to deal with summertime meals:
Quick: Most recipes take less than 30 minutes to prepare and need only 30-45 minutes to bake.
Easy: Even novice cooks can make successful one-pot meals.
Healthy: One-pot meals can be low in fat and high in nutrition.
Tasty: The infusion cooking method of one-pot meals packs each ingredient with flavor without any disintegration. Each food emerges whole and intact from the pot to your mouth. Expect firm and succulent vegetables, tender and flaky fish, and light and fluffy grains that burst with flavor.
Flexible: Any one-pot meal recipe can be adapted to meet any dietary requirement.
Convenient: One-pot meals accept fresh, frozen, dried and canned foods for the ultimate in convenience.
Visually pleasing: With an emphasis on variety, and depending on your recipe, one-pot meals can boast a rainbow of colorful vegetables to make an attractive plate.
All this said, here's a one-pot meal taken from the website, GloriousOnePotMeals.com that sounds truly delicious. Elizabeth Yarnell, the website creator, is also the author of a cookbook by the same name. Let's try this recipe and compare notes! After all the research I've done on one-pot meals, I'm convinced this is one of the best approaches to summertime cooking out there!
---
Chicken Satay
Colorful, with a bright taste, this classic dish is as delicious as it is easy to make.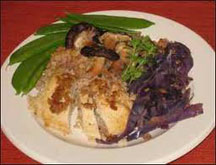 Ingredients:
sesame oil
scallion 1 white and green parts, cut into thin rings
peanut butter 2 tablespoons
soy sauce 2 tablespoons
brown sugar 1 tablespoon
grated, fresh ginger 1 tablespoon or 1/4 teaspoon dried
cloves garlic 1 - 2 chopped
chicken broth 1 cup or vegetable
white rice 1 cup or parboiled instant brown rice
chicken thigh 1/2 - 3/4 pound or breasts
purple cabbage 1/4 head thinly sliced and shredded
snow peas 2 cups fresh or frozen

Directions:

Preheat oven to 450 degrees. Coat the inside and lid of a cast iron Dutch oven with canola oil or sesame oil.
In a small bowl, whisk the scallion, peanut butter, soy sauce, brown sugar, ginger, garlic, and 2 tablespoons of the broth. Whisk until the sugar is dissolved and peanut butter is emulsified.
Rinse the rice in a strainer under cold water until the water runs clear. Tip the rice into the pot. Add the remaining broth and 1/4 cup water and stir to make an even layer.
Add the chicken and drizzle with one-third of the peanut butter sauce. Arrange the cabbage on top and pour half of the remaining sauce over it. Add the snow peas and mushroom slices in another layer and pour the rest of the sauce over all.
Cover and bake for 45 minutes, or until 3 minutes after the aroma of a fully cooked meal escapes the oven. Serve immediately. If the rice is still crunchy, fluff with a fork and replace the lid for another 3 to 5 minutes before serving.

Recipe formatted with the Cook'n Recipe Software from DVO Enterprises.