6 Things to Do with Fresh Mint
Summer is about half over, but if mint is growing in your garden, I'm guessing it's no where near over - it's probably going nuts. If you feel like you've got enough mint to feed your entire neighborhood, fear not - here are some great ways to make the most of the your fresh mint: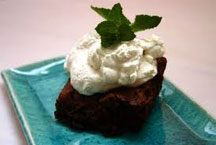 1. Whip up some mint whipped cream and put a dollop (such a great word, and there aren't nearly enough opportunities to use it) on strawberry mousse, chocolate cake, cookies and cream ice cream, brownies, hot chocolate, etc. Just mix some chopped mint (about 1/3 cu) mint, a little sugar (maybe 3 tablespoons), and some water (about 3 tablespoons) together in a small saucepan over low heat until the sugar dissolves.
Stir this just until bubbles appear, then remove it from the heat; cover the pan and let the mixture steep for 30 minutes. You've just made a minty syrup that you can use to sweeten your whipping cream. When it's cool, strain the syrup into a large bowl, pressing the mint to extract all that goodness. In a medium mixing bowl, combine syrup and a large carton of heavy whipping cream and whip until firm peaks form. Yum.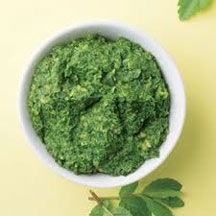 2. Consider adding a little chopped fresh mint to your next batch of pesto. Mint and basil blend wonderfully well together.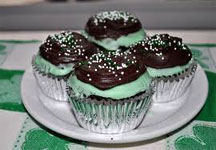 3. Bake a batch of milk chocolate cupcakes with fresh chocolate mint frosting. Just follow the directions for the mint syrup you made for the whipping cream, but add it to your favorite butter-cream powdered sugar frosting recipe instead.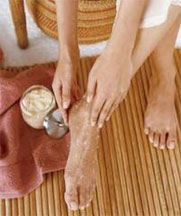 4. Take off your shoes and make a batch of Natural Lemony Mint Foot Scrub. Home made natural foot scrubs are as good as those you buy in a store and are surprisingly simple to make. The best part of making your own foot scrubs is that they contain no parabens, no mineral oil and no synthetic dyes. In this recipe, the lemon softens and brightens dull-looking feet while mint cools and refreshes tired feet.
---
Natural Lemony Mint Foot Scrub
Ingredients:
lemon
1
sugar
3 tablespoons
sweet almond

oil

1 tablespoon
fresh

mint leaves

20

, chopped
4 to 5 drops lemon essential oil
Directions:
Slice the lemon into small pieces. Place them in a blender and form a pulp. Remove and then add sugar, almond oil, mint leaves and lemon essential oil.

Recipe formatted with the Cook'n Recipe Software from DVO Enterprises.
---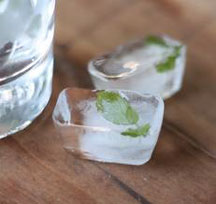 5. Make minted ice cubes for use in ice teas, sparkling water, and smoothies. Mint is best harvested in the early morning, so get out early and cut about 24-30 leaves. Place one or two in each compartment of your ice cube trays and fill with water. Freeze. When solid, pop cubes into zippered freezer bags for later use.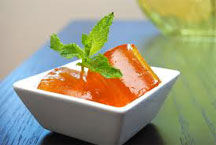 6. Put up some homemade mint jelly. This beautiful amber-colored recipe comes from Simply Recipes, and uses Granny Smith apples for natural pectin. The tarter the apples, the more pectin they will usually have. If you are using home picked apples, earliest in the season is best, and the smaller apples will have proportionally more pectin as well.
---
Amber Mint Jelly
This beautiful amber-colored recipe comes from Simply Recipes, and uses Granny Smith apples for natural pectin.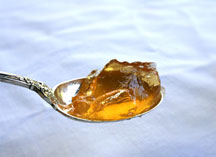 Ingredients:
Granny Smith apples 4 pounds unpeeled, chopped into big pieces, including the cores (including the cores is important as this is where most of the natural pectin is)
chopped fresh spearmint 1 1/2 cups lightly packed
water 2 cups
white vinegar 2 cups
sugar 3 1/2 cups

Directions:

Combine apple pieces with water and mint in a large pan. Bring water to a boil then reduce heat and cook 20 minutes, until apples are soft.
Add vinegar, return to boil. Simmer covered, 5 more minutes. Use a potato masher to mash up the apple pieces to the consistency of thin apple sauce. Spoon the apple pulp into a muslin cloth (or a couple layers of cheesecloth) or a large, fine mesh sieve, suspended over a large bowl. Leave to strain for several hours. Do not squeeze. Note that if your mash is too thick, you can add 1/2 a cup to a cup more of water to it. You should have 4 to 5 cups of resulting juice.
Measure the juice, then pour into a large pot. Add the sugar (7/8 a cup for each cup of juice). Heat gently, stirring to make sure the sugar gets dissolved and doesn't stick to the bottom of the pan and burn.
Bring to a boil. Cook for 10-15 minutes, using a metal spoon to skim off the surface scum. Continue to boil until a candy thermometer shows that the temperature has reached 8-10 degrees F above the boiling point at your altitude (boiling point is 212 degrees F at sea level, so at sea level the temperature should read 220-222 degrees F). Additional time needed for cooking can be anywhere from 10 minutes to an hour or longer, depending on the amount of water, sugar, and apple pectin in the mix.
Candy thermometers aren't always the most reliable indicators of whether or not a jelly is done. Another way to test is put a half teaspoonful of the jelly on a chilled (in the freezer) plate. Allow the jelly to cool a few seconds, then push it with your fingertip. If it wrinkles up, it's ready. Pour into sterilized* canning jars to within 1/4" from the top and seal.

Recipe formatted with the Cook'n Recipe Software from DVO Enterprises.