Mop Talk!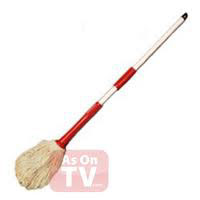 Ever been tempted to buy one of those exotic "miracle" mops that you see on TV infomercials now and then? You know, the one where all you have to do is twist the handle? I have. I'm a sucker for a good sales pitch.
The reason I bring up the subject of mops is because they're often the tool of choice when deep cleaning the kitchen floor. While there are those that like to drop to their knees and scrub with a cloth, the majority prefer the relative ease of a mop.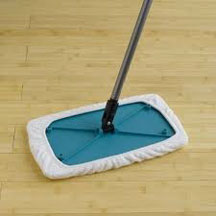 So let's talk mops. That "miracle" mop I almost bought? A waste of money, say the Speed Cleaning experts, Jeff Campbell and the Clean Team. Their recommendation? They say a European-style flat mop (a SH-Mop, for example) with a terry-cloth cover is so much better.
This mop is genuinely faster. It doesn't recycle dirty water back to the floor, and it reaches under appliances and into corners. Best of all, because its terry-cloth covers are washable, it's like a new mop each time you use it.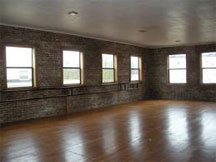 It does well on tile, hardwood, vinyl, and even stone floors. I've been using this mop for several years now and I agree completely with Campbell and his Clean Team. I used to clean a yoga studio in trade for classes - miles of hardwood floors. But this mop made light work of the job.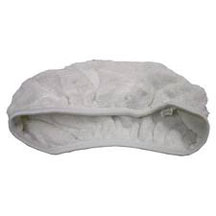 And the best way to use this mop? Spray a non-toxic disinfectant on areas about 3 or 4 feet square and mop away. About half-way through your floor, turn the terry-cloth cover inside out and continue with a damp, but clean mop cloth.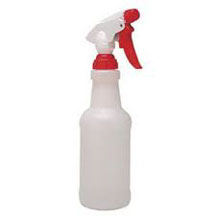 The disinfectant I've used for many years is one I created myself. It's a large spray bottle of water with 20 drops of GSE (grapefruit seed extract), 15 drops of peppermint essential oil, 10 drops of eucalyptus oil, and 10 drops of lavender essential oil. The ratios of oils are really up to YOUR nose - there's no exact science to this. Play around with it until you find an aroma you really like. The essential oils add to the antibacterial properties as well as create a pleasing scent.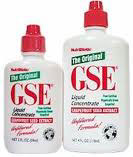 The GSE is many thousands of times stronger than typical household bleach, and is non-toxic. It's so safe that I add 10 drops to my green smoothies several times a week. A 4 oz. bottle of GSE by NutriBiotic is $11.99 from www.allhealthtrends.com. Or you get it at your local whole foods store (and save on shipping and handling). There are about 4,090 drops in this 4 oz bottle, so you can see the cost of the product averages out to be very minimal. You can actually make about 209 large bottles of cleaner (using 20 drops per bottle) from a 4 oz container of GSE.
We all like a clean kitchen floor, and this basic mop and cleaner is the way to go. Give it a try and let me know what you think. Meanwhile, I have a floor to mop...