Olives - a FRUIT that Is Not Just Good, but Good FOR You!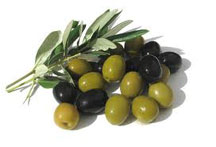 I was skimming an older issue of Reader's Digest the other day and ran onto some very interesting and happy news: Olives are good for us. I didn't know this. I'd been under the assumption that they were just high-sodium little taste temptations.
Not so though. These heart-healthy single-seeded fruits are a delectable and dynamic treat. A single olive includes monounsaturated fat, phytonutrients, omega-3 fatty acids, antioxidants, calcium, iron, and vitamins A, C, and E. Who knew?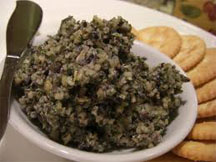 The recommended serving is 8 large black ones or 10 stuffed green ones (at about 45 calories and 5 grams of fat). To stretch our olive allowance, the Reader's Digest article recommended we make a tapenade spread, dice olives into sauces (such as puttanesca, a type of marinara that's wonderful on pasta), or add them to salads or tuna. The final advice is to rinse canned olives to reduce sodium (so the high-sodium thing was accurate).
Now as we look at olives in terms of insulin resistance and diabetes (over 10% of our population according to the USDA), we can really get excited about these little guys. Olives, loaded with monounsaturated fats, have proven beneficial for glucose and insulin homeostasis, as well as improving insulin sensitivity. And, eating more monounsaturated fats is also proving to reduce the risk of cardiovascular disease among individuals with diabetes.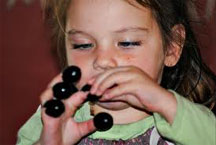 What great news this is. Now, instead of seeing olives as some tasty little temptation, we can dive in with gusto. What a treat to find something that is not only good, but is good for us, as well!
To get us started on more olive-eating, consider roasting olives. From the California Olive Industry comes this recipe: Spread olives in a single layer in a baking dish, coat with olive oil (of course!), sprinkle with lemon peel, then bake at 350 degrees F for 45 minutes. Serve as a side dish or over pasta.
And here's one more recipe from the California Olive Industry council - a favorite recipe of all that work there. I think I'll be serving this at our next barbecue.
---
Smoked Salmon, Olive, and Wild Rice Salad
Serves 4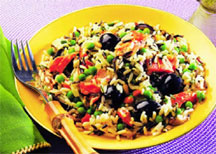 2 tablespoons white wine vinegar 2 tablespoons tarragon, chopped 1 1/2 tablespoons shallots, chopped 1 tablespoon lemon juice 1 tablespoon olive oil 1 tablespoon chives, chopped (1/4-inch) 1/4 teaspoon coarsely ground black pepper 3 cups cooked long grained white rice 1 cup cooked wild rice 8 ounce hot smoked salmon, flaked into 1-inch pieces 1 cup green peas, blanched 3/4 cup California black ripe olives, halved 1/4 cup toasted pine nuts
Whisk together vinegar, tarragon, shallots, lemon juice, olive oil, chives and black pepper in a large mixing bowl. Add white rice, wild rice, smoked salmon, green peas, California Ripe Olives and pine nuts. Toss to evenly combine. Serve at room temperature.