Tomato Tactics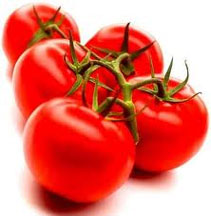 The question of whether the tomato is a fruit or a vegetable was settled by the Supreme Court in 1893 when it was officially declared a vegetable. Botanically, it is still a fruit, actually a berry. It is a member of the nightshade family making it a relative of potatoes, bell peppers, and eggplant.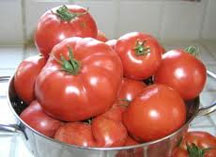 Tomatoes are available year round and should be well formed and free of blemishes. Green tomatoes will eventually turn red, but will not have a good flavor. A vine-ripened tomato is always best. Refrigerate, but do not allow it to freeze.
To peel tomatoes easily, place them in boiling water and remove from heat, allow them to stand for 1 minute before plunging them into cold water. They will store longer if stored with the stem end down. Never allow tomatoes to ripen in direct sunlight - they'll lose most of their vitamin C.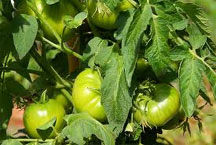 Americans consume approximately 24 pounds of tomatoes per person, per year. If you're a gardener and expecting a frost, you can pull up your tomatoes by the vine and hang them upside down in a cool basement until the fruit ripens. Green tomatoes will ripen faster if you store them with apples.
Some folks are unable to eat spaghetti sauces and other tomato-based foods due to their higher acidic content. Adding finely chopped carrots to any tomato-based dishes will reduce acidity without affecting the taste of the dish. It's the high fiber content of the carrot that does the job.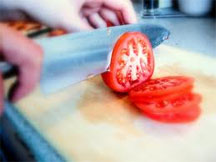 If you like the aroma of fresh tomatoes in your salad, don't refrigerate them. They should be left at room temperature if they are going to be used within 2-3 days after purchase. They should never be sliced or peeled until just before serving. The aroma is produced by a chemical which is released when the tomato is sliced open, and it only lasts at its maximum level for about three minutes before it starts to lose its scent.
And who could forget the fried green tomato, made famous by the movie with the same name. The following is the original recipe that goes back 100 years:
---
Fried Green Tomatoes
3 large, firm green tomatoes
2 Tbsp whole milk
1 large egg
1/2 tsp salt
1/4 tsp pepper
1/2 C all-purpose flour
3/4 C cornmeal (the fresher, the better)
3/4 C oil (I use olive) for frying
2 strips bacon
Core and slice tomatoes 1/4 inch thick (makes about 10-12 slices). Blend milk, egg, salt and pepper in bowl. In another bowl mix flour and cornmeal. In heavy pan over medium heat, heat oil and bacon strips until oil is hot, then remove and discard bacon. (The oil should be to a depth of 1/2 inch and at 350 degrees before adding the tomatoes.)
Preheat oven to 200 degrees until needed. Dip tomato slices in egg batter then flour mixture. Place in frying pan and fry about 4 minutes (2 minutes on each side) until nicely browned. Remove from oil and drain on paper towels; place in pie pan lined with aluminum foil and set in oven until time to serve.
(Usually I use two 10" frying pans at once to make flat pancakes as fast as possible.)
---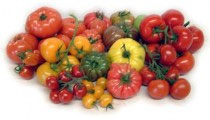 Aren't we lucky that there are all kinds of varieties, colors, and sizes of tomatoes available today? What a cool vegetable - they're loaded with vitamins, trace elements, and phyto-nutrients and they're good fresh or cooked.
Tomatoes are a kitchen staple at our house and my favorite way to eat them is fresh. I take a salt shaker out to the garden, find a shady spot to sit, and enjoy one of the nicest treats of the summer. If you have a minute, drop us a line - how do YOU like your tomatoes?