Quiche Me Quick
Okay. How long did it take you to get this lame joke? "Quiche Me Quick"? Hint: Kiss me quick. Oh well, did I at least get a smile?
Quiche is one of the easiest meals to make, and almost fool proof. Crust can be bought readymade and kept in the freezer until ready to use. Just add whatever ingredients you have around, bake, and voila! Breakfast, Brunch, or Dinner is served.
Enjoy!
---
Breakfast Quiche

3 cups, shredded frozen hash browns, thawed and drained
4 tablespoons (1/2 stick) butter, melted
3 large eggs, beaten
1 cup half-and-half
3/4 cup diced cooked ham
1/2 cup diced green onions
1 cup shredded Cheddar
Salt and freshly ground black pepper
Directions
Preheat oven to 450 degrees F.
Gently press the drained hash browns between paper towels to dry them as best as possible. In a 9-inch pie plate, toss the hash browns with the melted butter into the plate. Press them into the bottom and up the sides to form a crust. Bake for 20 to 25 minutes until golden brown and starting to crisp.
Meanwhile, in a large mixing bowl, combine the remaining ingredients. When the hash brown crust is ready pour the egg mixture over it and return to the oven.
Lower the oven temperature to 350 degrees F and bake for about 30 minutes until the quiche is light golden brown on top and puffed.
---
Quiche Loraine

by: Emeril Lagasse
I'm including the pie crust recipe if you prefer doing crust from scratch. However, I just use the frozen pie crusts, and keep them handy in my freezer.
Ingredients
For the pie crust:
1 1/4 cups all-purpose flour
2 teaspoons salt, divided
1 stick cold unsalted butter, cut into pieces, plus 1 tablespoon
3 to 4 tablespoons ice water
1 egg white
For the filling:
6 ounces ham or lean bacon, diced
2 large onions, thinly sliced
1 teaspoon chopped fresh thyme leaves
1/2 cup grated Gruyere cheese
3 eggs
1 1/4 cups heavy cream
1/4 teaspoon freshly ground black pepper
1/8 teaspoon freshly grated nutmeg
Directions
For the pie crust:
In the bowl of a food processor combine the flour, 1 teaspoon of the salt and 1 stick of the butter and process until mixture resembles coarse crumbs. While the motor is running, add water in tablespoon increments until dough comes together to form a ball. Transfer dough to a lightly floured surface and shape into a flat disk. Cover with plastic wrap and refrigerate overnight or at least for 1 hour.
Remove pie crust from refrigerator and preheat oven to 400 degrees F.
Roll out the pie crust on a lightly floured surface to fit a deep 9 or 10-inch pie pan. Place the dough in the pie pan and crimp edges decoratively. Refrigerate at least 30 minutes, then line with aluminum foil. Fill with pie weights and blind bake for 12 to 15 minutes, or until lightly golden around the edges. Remove foil and pie weights and return to the oven for 3 to 5 minutes. Remove from the oven and brush the surface of pie crust with a light coating of egg white and allow to cool.
For the filling:
In a saute pan melt the remaining tablespoon of butter over medium-high heat. Add the ham, or bacon, and cook until browned. Using a slotted spoon, remove the ham from the pan and drain briefly on paper towels, then scatter ham over the bottom of the blind-baked crust. To the fat remaining in the pan, add the sliced onions and thyme and cook, stirring occasionally, until onions are very soft and lightly caramelized, about 6 minutes. Scatter the onions over the bacon in the pie crust and top with the grated cheese.
In a large bowl whisk together the eggs, heavy cream, remaining 1 teaspoon of salt, pepper, and nutmeg. Pour the egg mixture over the ham, onions, and cheese in the pie shell, adding just enough of the egg mixture to come within 1/4-inch of the top of the shell. Bake on the bottom rack of the oven for 45 to 50 minutes, or until the custard is set and quiche is golden brown on top. Allow to cool slightly before serving.
---
Green Chili Spinach Quiche

Ingredients
1/2 cup all-purpose flour
1 teaspoon baking powder
1 teaspoon salt
12 eggs
1 (8 ounce) package shredded Colby-Monterey Jack cheese
2 cups small curd cottage cheese
1 (10 ounce) package frozen chopped spinach, thawed and drained
2 (4 ounce) cans chopped green chilies
1/2 cup melted butter
2 (9 inch) unbaked pie crusts
Directions
Preheat an oven to 400 degrees F (200 degrees C). Whisk the flour, baking powder, and salt together in a small bowl; set aside.
Beat the eggs in a mixing bowl until smooth. Whisk in the flour mixture until no lumps remain. Stir in the Colby-Monterey Jack cheese, cottage cheese, spinach, green chiles, and melted butter until evenly blended. Divide the mixture between the pie crusts.
Bake the quiches in the preheated oven for 15 minutes at 400 degrees F (200 degrees C), then reduce the temperature to 350 degrees F (175 degrees C). Continue baking until the quiches are lightly browned and a knife inserted into the center comes out clean, 35 to 40 minutes.
---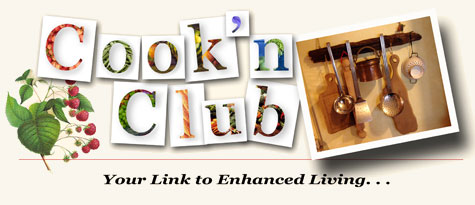 Contribute to the Cook'n Club!
DVO would love to publish your article, prose, photography and art as well as your cooking, kitchen and nutrition tips, tricks and secrets. Visit the Newsletter Submission / Win Win for All section in our Forum for more information and details.