Nothing Like a Cobbler!

I am fascinated by the question, "If you had one last meal to eat, what would it be?" I can never answer this question to my satisfaction; there are just too many foods that I enjoy eating. As I mentioned in a previous article, I'm an Air Force brat, who trunked her way around the world with her family. Consequently, I was exposed to a variety of foods, and flavors, and rarely turned down anything, it was forbidden to do something that rude anyway.
That said, I do know what ONE of my favorite desserts is: Cobblers! I love the sweet fruit, and crunchy topping combination that is unique to this dessert. An added bonus is that the fruit is good for you, especially if blueberries are one of the ingredients. These little blue balls have the highest antioxidant content of 60 fruits and vegetables analyzed by a study at Tufts University. Just half a cup "provides the antioxidant power of five servings of peas, carrots, apples, squash or broccoli", according to the report. Peaches are a close second, providing vitamins A, and C, along with potassium and zinc. And, they are only 40 calories each.
So, dig into this wonderful cobbler, and enjoy the health benefits it provides!
---
Peach and Blueberry Cobbler

Ingredients
FILLING
5 peaches, peeled and sliced
1 cup fresh blueberries
1/4 cup freshly squeezed orange juice
1/2 cup sugar
Pinch nutmeg (less than 1/8 teaspoon)
2 teaspoons cornstarch

BISCUIT TOPPING

5 tablespoons softened butter or
Spectrum Spread
2 cups flour plus 1/4 cup flour for rolling out
1 tablespoon sugar
1 tablespoon baking powder
1/2 teaspoon salt
3/4 cup milk

GLAZE

2 tablespoons sugar
Instructions
Preheat oven to 400°F.
Bring all the filling ingredients to a boil in a large saucepan, then turn down heat and simmer until the filling becomes thick.
Spoon the thickened fruit filling into a medium (at least 10 x 8-inch) baking or casserole dish, and spread it around evenly until it meets all sides of the dish.
Using clean hands, pinch the butter and the flour together between your thumbs and forefingers until the flour and butter become crumbly. Mix in the sugar, baking powder, and salt and slowly stir in the milk to make a soft dough. Sprinkle a work surface with the 1/4 cup flour, knead the dough lightly a few turns on the floured surface, and roll out to a perimeter approximately the size of your baking dish. With a cookie cutter or a glass cut out 10 biscuits and lay them slightly overlapping on top of the fruit filling, using scraps of leftover dough to fill in any uncovered spots.
Sprinkle the top with the sugar. Bake in the preheated oven for 20 minutes until biscuit topping turns golden brown. Cool for 10 minutes. To serve, scoop out a biscuit and fruit filling and transfer to a dessert bowl or plate.
---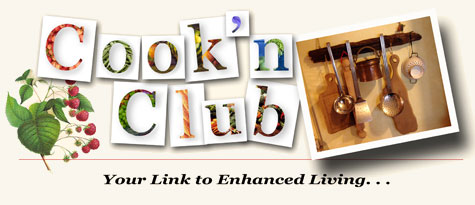 Contribute to the Cook'n Club!
DVO would love to publish your article, prose, photography and art as well as your cooking, kitchen and nutrition tips, tricks and secrets. Visit the Newsletter Submission / Win Win for All section in our Forum for more information and details.