Taking Cookie-Cutting to the next level
Cookie-Making Taken to a New Level
With the warm weather on its way (smile and nod), we can start to dream of and plan on picnics—picnics for all occasions and executed in lots of fun ways. Which brings me to the topic of cookies. They make a perfect dessert for a picnic because they are so easily toted—they travel well.
And who doesn't enjoy making cookies? Some of my best memories include cookie-making times with my children. With this idea in mind, I thought it would be interesting to see what's available in the way of cookie cutters. We all have our favorite cookie recipes, but do you have a favorite cookie cutter? An unusual and creative cookie cutter collection can take cookie-making to a whole new level.
Thus, upon Googling "cookie cutter," I found a delightful website, http://bakeware.nightcats.com/list6.shtml, that has one of the best assortments of cookie cutters I've ever seen. The products tend to be arranged according to category (holidays, baby showers, etc.), so the sleuthing is fairly easy. Below are just a few of the different kinds of cutters available, and we can get them from Amazon.com—a nice thing because of the affordable pricing Amazon offers. So have fun taking your cookie-making to a new level, and let's go on a picnic!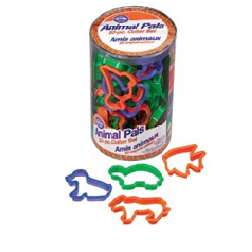 Wilton Animal Pals 50 Piece, Animal Pals Cookie Cutter Set. Use These Fun Cutters For Countless Food & Craft Projects, Make These Great Foods & Decorations, Plus So Much More, Animal Brownies, Sandwiches, Gelatin Treats & Crafts. ($12.46 on Amazon.com)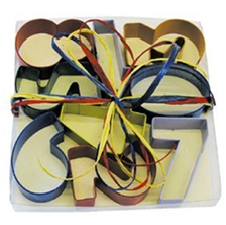 R & M Industries 9 piece numbers cookie cutter set. Make cookies extra special when cut into number shapes. Decorate with royal icing, colored sugars, and sprinkles. ($9.14 on Amazon.com)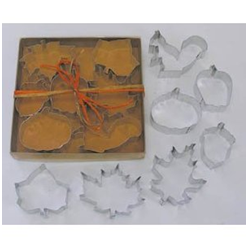 R & M Industries 7-piece autumn leaf cookie cutter set. Use this set of 7 mini cutters to punch out cookies and canapes in the shape of autumn leaves. ($7.48 on Amazon.com)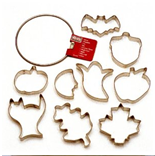 Kaiser Bakeware's set of 9 cookie cutter rings. Ghost, Cat, Pumpkin, Bat, Crescent, Moon, Apple, Maple Leaf, Oak Leaf and Acorn. ($3.71 on Amazon.com)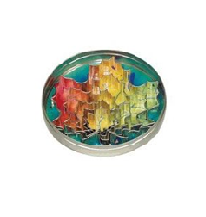 Fox Run's Maple Leaf cookie cutter set. Make beautiful fall maple leaves or for Canadians, a wonderful Canada Day cookie! ($8.86 on Amazon.com)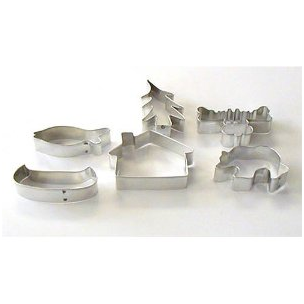 Foose's In the Woods cookie cutter set. Set Includes: Log Cabin, Canoe, Primitive Trout, Moosehead, Primitive Pine Tree, Grizzly Bear. ($12.95 on Amazon.com)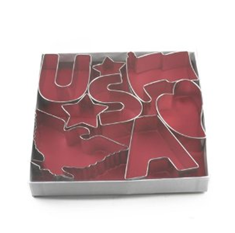 USA 8-piece cookie cutter set. This boxed set of United States of America patriotic cookie cutters tied with a decorative bow makes a great gift. Set of 8: 1¾" and 2¾" stars, 3¼" flag, 4½" eagle, 3" heart, and letters "U", "S", and "A". ($9.99 on Amazon.com)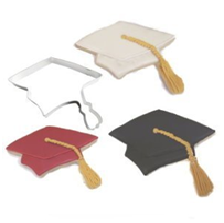 Knextion's Graduation Cap metal cookie cutter. Delight the grad in your life. ($1.50 on Amazon .com)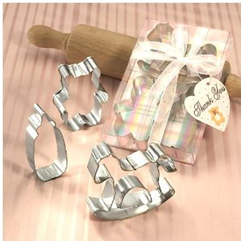 Foose's 6-piece Baby Shower cookie cutter set. Add some spizzazz to your next baby shower with the Baby Bottle, Baby Carriage, Hand, Foot, Teddy Bear, Umbrella cookies. ($12.24 on Amazon.com)
---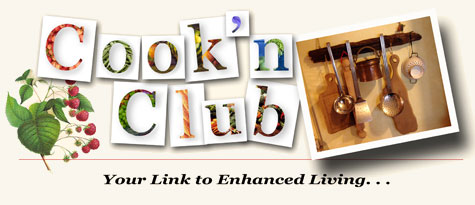 Contribute to the Cook'n Club!
DVO would love to publish your article, prose, photography and art as well as your cooking, kitchen and nutrition tips, tricks and secrets. Visit the Newsletter Submission / Win Win for All section in our Forum for more information and details.