Lets Go Fly a Kite
Aw…Go Fly a Kite!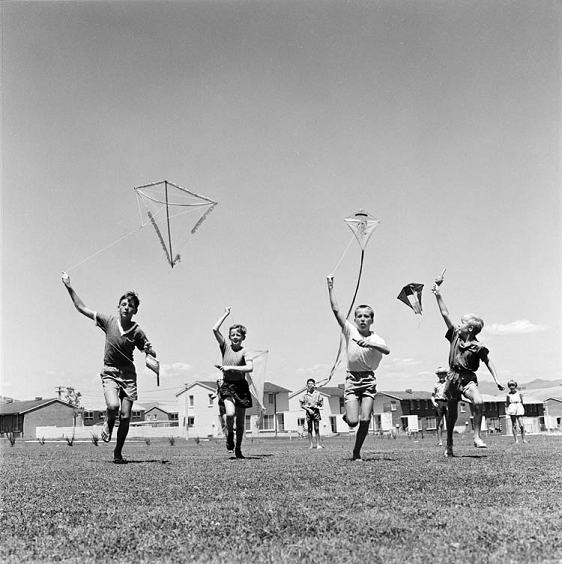 I just turned 62, am getting ready to retire, and have been thinking about all the wonderful things I want to do with this wonderful time of life (shades of "The Bucket List" here). One of the pastimes from my childhood that I still love to do is fly kites (my husband, Rich, and I even have our own kites). So we've been talking kites lately. Well, this said, you can imagine my dizzying delight when I found out that we're in the middle of National Kite Flying Month. Be still my heart.
Could there be a better way to celebrate the arrival of spring in April? The American Kitefliers Association (AKA) doesn't think so, and they've invited us to join the biggest kite happening ever planned in North America. The AKA, in cooperation with the KTAI (Kite Trade Association International) has declared "Let's go fly a kite!"
These two groups have some specific goals for this gala. They want to have 600 kite events worldwide during National Kite Month (March 26th - May 1st, 2011). They say an event doesn't have to be a big festival; they encourage local fun flies, kitemaking workshops, indoor flies, kite displays in public libraries and malls, and school demonstrations.
They urge individual enthusiasts of all ages, local kite clubs, local service clubs, schools, parks and AKA or KTAI members to plan and organize events. To make this possible, the National Kite Month Headquarters will even provide logistical support.
Doesn't this sound fun? What the heck, we're never too old, so while we have some April left, let's join in. Rich and I are planning a family kite fly with a yummy picnic to top it off. How about you—go find a kite, gather some friends and family, pack a picnic, and go fly a kite!
In case you like the idea, here are some fun picnic recipes to get you motivated:
---
Deviled Eggs with Parmesan Cheese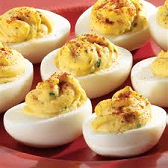 6 hard-cooked eggs
1/2 cup Parmesan cheese
1 teaspoon horseradish
1/2 teaspoon salt
1/2 teaspoon dry mustard
1/4 teaspoon pepper
3 Tablespoons salad dressing or mayonnaise
1/2 teaspoon paprika
1/4 cup black olives, sliced
Take a knife and cut eggs lengthwise in half. Next step is to remove yolk and put into a small mixing bowl. With a fork, mesh egg yolks. To the egg yolks, add Parmesan cheese, horseradish, salt, dry mustard, pepper, and salad dressing (or mayonnaise). Fill egg whites with yolk mixture and you want to have the mixture heaping. Garnish with paprika and add the olives to the top.
---
Alan's Chicken Salad Sandwich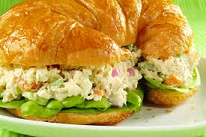 1  cup cooked chicken breast
2  stalks celery, quartered
1/2  onion, quartered
1/2  cup salad dressing (or mayonnaise)
1/2  teaspoon oregano
1/4  teaspoon salt
1/8  teaspoon pepper
1  hard-cooked egg, peeled
1  tomato, 8 slices
6  lettuce leaves
8  slices of bread (your choice of bread—we love putting this on croissants)
Into the food processor, add the cooked chicken breast, celery, onion, salad dressing (or mayonnaise), oregano, salt, pepper, hard-cooked egg in a food processor. Pulsate food processor about 4 times. You want ingredients well mixed; however, only coarsely chopped. Using a spoon or scoop, spread chicken salad mixture on a slice of bread; add 2 tomato slices, a leaf of lettuce and top with second bread slice.
---
Cranberry White Chocolate Shortbread Cookies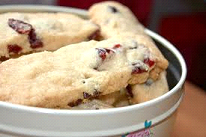 2  cups (4 sticks) butter, softened
1  cup sugar
4  cups flour
1  package (6 squares) Baker's Premium White Baking Chocolate, chopped
1-1/2  cups dried cranberries
Preheat oven to 350° F. Beat butter and sugar in large bowl with electric mixer on medium speed until light and fluffy. Add flour and mix well. Stir in chopped chocolate and cranberries. Drop rounded tablespoons of dough, 2 inches apart, onto ungreased baking sheets. Flatten each ball of dough slightly. Bake 10 to 14 minutes or until lightly browned. Cool 5 minutes on baking sheets. Remove to wire racks; cool completely. Store in airtight container at room temperature up to one week.
---
Grandma's Lemonade
(serves 6)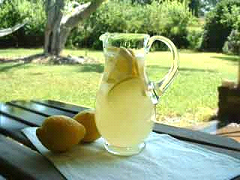 3/4 cup sugar (or to taste)
1 cup water (for the simple syrup)
1 cup fresh-squeezed lemon juice
3 to 4 cups cold water (to dilute)
This is best if made the day before. Make simple syrup by heating the sugar and water in a small saucepan until the sugar is dissolved completely. While the sugar is dissolving, use a juicer to extract the juice from 4 to 6 lemons, enough for one cup of juice. Add the juice and the sugar water to a pitcher. Add 3 to 4 cups of cold water, more or less to the desired strength. Refrigerate 30 to 40 minutes. If the lemonade is a little sweet for your taste, add a little more straight lemon juice to it. Serve with ice, sliced lemons. I freeze my lemon slices before adding to my juice glasses.
---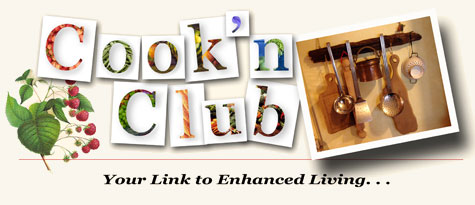 Contribute to the Cook'n Club!
DVO would love to publish your article, prose, photography and art as well as your cooking, kitchen and nutrition tips, tricks and secrets. Visit the Newsletter Submission / Win Win for All section in our Forum for more information and details.