The Perfect Light and Fluffy Cake To Make This Summer
There is a particular type of dessert that is very polarizing: bread pudding. I remember clear back when I was probably eight years old going to a buffet restaurant in Boise, Idaho with my family called Chuck-A-Rama and finding myself in line waiting for the dessert I couldn't get enough of. Strangely enough it wasn't the soft-serve ice cream loaded with toppings sky high with odd combinations like M&Ms, Fruity Pebbles and gummy worms that all the other kids my age were waiting in line for. No, I was bumping elbows with the senior citizens waiting in line for the bread pudding ready to fill my tiny bowl sky high with the stuff.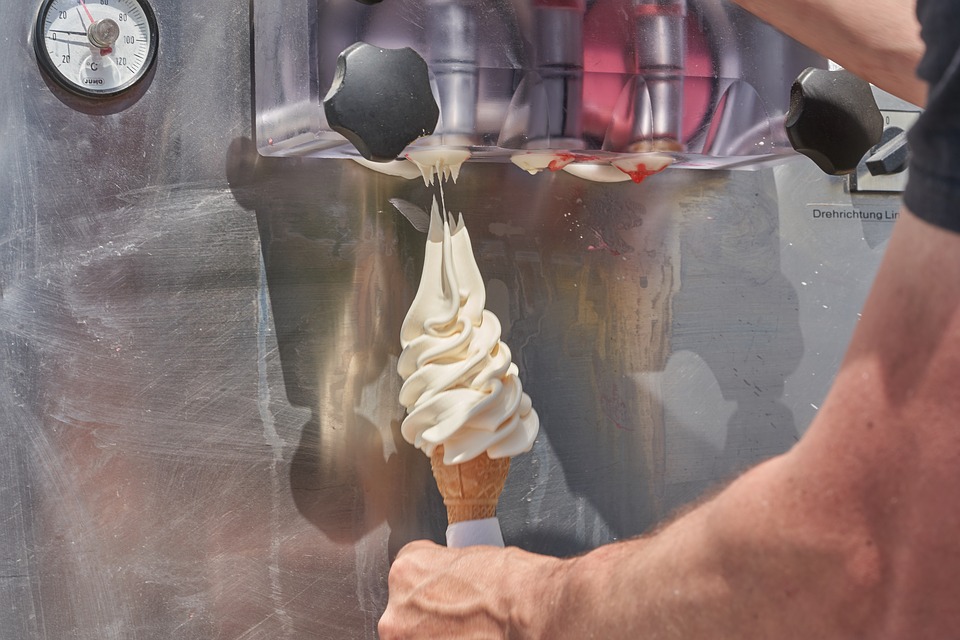 I think I was a little more ready for a world of soaked cake-type desserts because I grew up in a family that ate cornbread and milk quite regularly. Corn bread was one of two things my dad ever only baked so we loved when he would make a big batch so we could enjoy it and also have it for breakfast the next morning crumbled in a bowl with milk poured over it. 
There are a variety of these types of desserts, but I tried the king of them all a couple weeks ago. I picked up some Tres Leches Cake from my Cafe Rio order on a whim one night and I was blown away by how simple and delicious this cake is. Just like the name spells out, tres leches means "three milks", so it is typically either a sponge cake or a butter cake soaked in three different milks: evaporated milk, condensed milk, and heavy cream or whole milk and is usually topped with whipped cream. The origin story is pretty hard to pin down exactly, but it is extremely popular in Mexico and Latin America.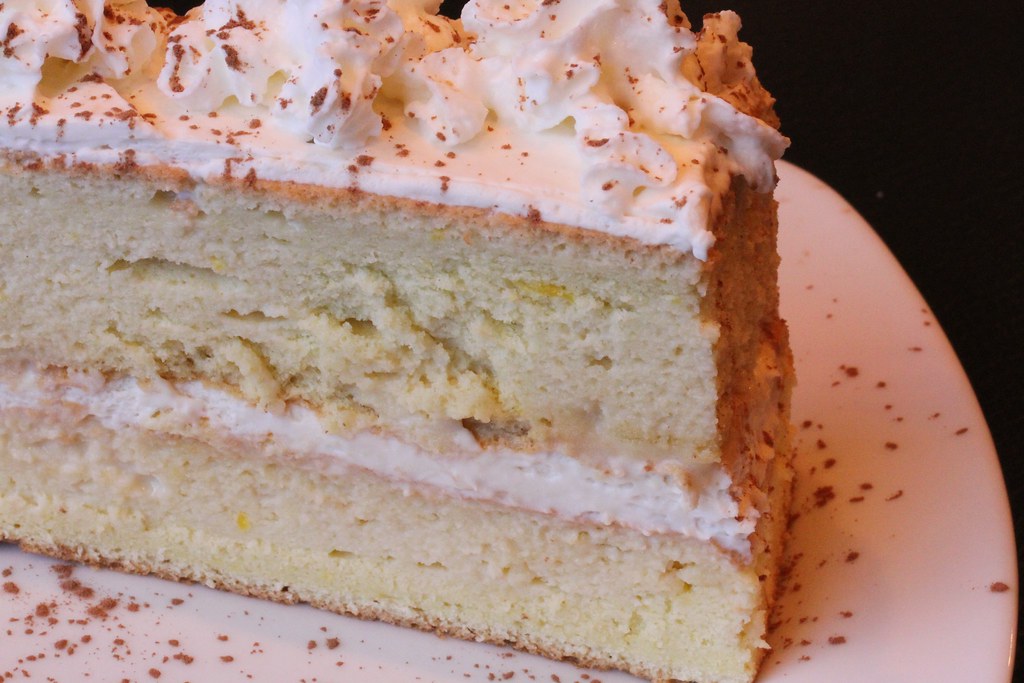 I have posted a five star authentic recipe with tons a great reviews for you down below, but if you don't feel like baking, you can order some the next time you eat from your favorite local Mexican restaurant. You will be so glad you did!
If you make the angel cake version like the recipe below, the whipped egg whites in the batter make it extra light and spongy. After you bake the cake, you poke holes in it and pour your three milks mixture over the top and let it sit in the fridge for at least an hour or overnight to soak up all the milk. Whip up some sweetened whipped cream and maybe add a dash of cinnamon on top, if you please, and you have yourself a perfectly simple, refreshing cake on a hot summer night. 
Have you tried tres leches cake before? And are you a fan of the soaked cake desserts like bread pudding and tres leches cake? Please share your thoughts in the comments below.
Tres Leches Cake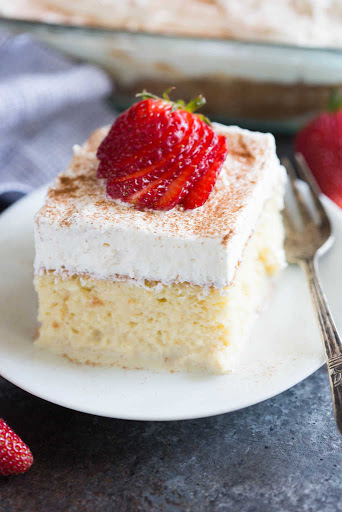 The BEST authentic Tres Leches Cake. An ultra light cake soaked in a sweet milk mixture and topped with fresh whipped cream and cinnamon. This simple Mexican dessert is one of our favorites! Author: Lauren Allen
Serving size:
12
Calories per serving:

418




Ingredients:
1
cup
all-purpose
flour
1 1/2
teaspoons
baking powder
1/4
teaspoon
salt
5
large
eggs
, separated
1
cup
granulated
sugar
, divided
1/3
cup
whole
milk
1
teaspoon
vanilla extract
12
ounces
can
evaporated milk
14
ounces
can
sweetened condensed milk
1/4
cup
whole
milk
1
pint
heavy
whipping cream
, for whipping
3
tablespoons
granulated sugar or
powdered sugar
1/2
teaspoon
vanilla extract
ground cinnamon
, for topping
Directions:
1) Preheat oven to 350 degrees F. Lightly spray a 9x13'' pan with non-stick cooking spray.
2) In a medium bowl combine flour, baking powder, and salt in a large bowl. Separate the eggs into two separate bowls.
3) Add 3/4 cup sugar to the bowl with the egg yolks and mix on high speed until yolks are pale yellow. Add the 1/3 cup milk and vanilla and stir to combine.
4) Pour the egg yolk mixture over the flour mixture and stir gently just until combined (don't over-mix).
5) Use electric beaters to beat the egg whites on high speed. Gradually add the remaining 1/4 cup of sugar as you mix and continue beating until stiff peaks.
6) Fold egg whites into the batter gently, just until combined. Pour batter into prepared pan. Make sure to smooth it into an even layer so your baked cake doesn't have divots in it.
7) Bake for 25 to 35 minutes, or until a toothpick inserted in the center of the cake comes out clean. Remove from the oven and allow cake to cool completely.
8) Combine the evaporated milk, sweetened condensed milk, and whole milk in a small bowl. Once the cake has cooled use a fork to poke holes all over the top of the cake.
9) Slowly pour the milk mixture over the the top of the cake, making sure to pour near the edges and all around.
10) Refrigerate the cake for at least 1 hour or overnight, to allow it to soak up the milk.
11) In the meantime, whip the heavy cream, sugar and vanilla until stiff peaks. Smooth over the top of the cake. Sprinkle cinnamon on top. Serve with fresh sliced strawberries, if desired. Enjoy!
Source:
tastesbetterfromscratch.com

Recipe formatted with the Cook'n Recipe Software from DVO Enterprises.
Add Recipe to Cook'n
Sources:
www.pixabay.com
www.flikr.com
www.tastesbetterfromscratch.com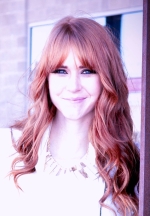 Mary Richardson
Weekly Newsletter Contributor since 2014
Email the author! mary@dvo.com
---
Subscribe to Cook'n Premium and get newsletter articles like this each week!