Proper Poaching Makes a WORLD of Difference!
Chicken salad is a summertime mainstay at our house. Maybe yours, too? There's one complaint I have about this dish, though. And that's how easy it is to end up with dry or rubbery chicken. Chicken salad lovers all know that the key to excellence with this favorite is tender chicken.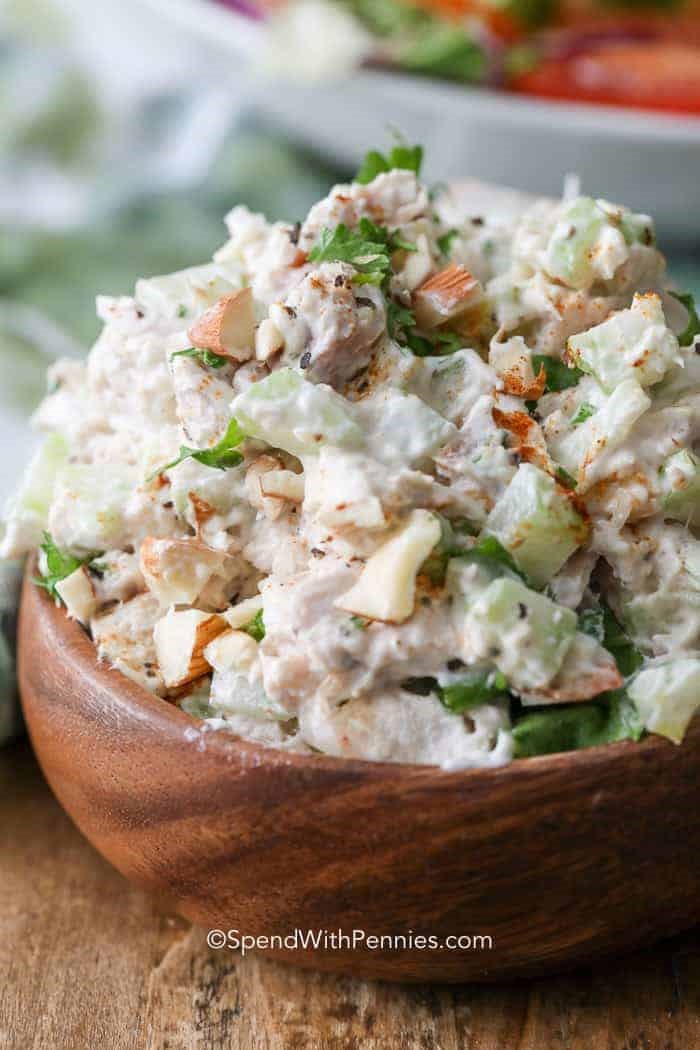 With this frustration in mind, I did some research and found that the answer lies in the cooking method. Kim, America's Low Carb Maven (www.lowcarbmaven.com) shares some very helpful information on the subject.
The bottom line? Old-school poaching is THE way to go. It's true that rotisserie chicken as an affordable option now-a-days, but sometimes I just don't want to deal with another leftover rotisserie carcass. So poaching thawed chicken breasts or fresh chicken breasts from the store is an easy option on those days when I don't have the time or inclination to mess with a rotisserie chicken.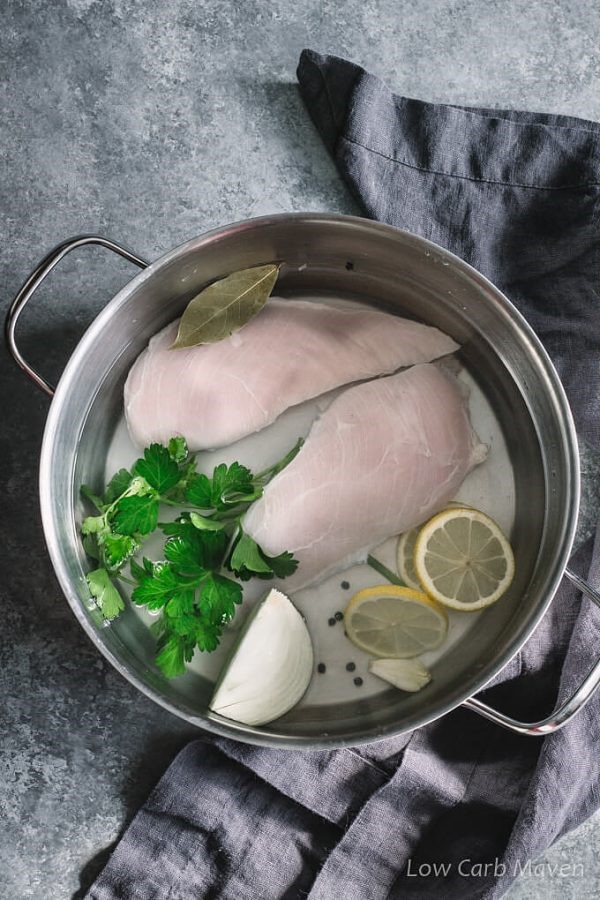 Kim explains that poaching is a wet cooking technique resulting in tender juicy protein with no caramelization or browning. It's commonly used with eggs, chicken, and fish, but poaching fruit in spiced fruit juice or wine is also popular. Poaching liquid is typically seasoned and imparts delicate flavor to proteins.
Poaching is an easy skill to master, but without proper attention it can go wrong, leaving you with rubbery dry chicken. Kim says her most important tip is to NOT let the poaching liquid come to a rapid boil. Cooking the chicken gently in the poaching liquid is the secret!
That said, here's her step-by-step process for tender-all-the-time poached chicken: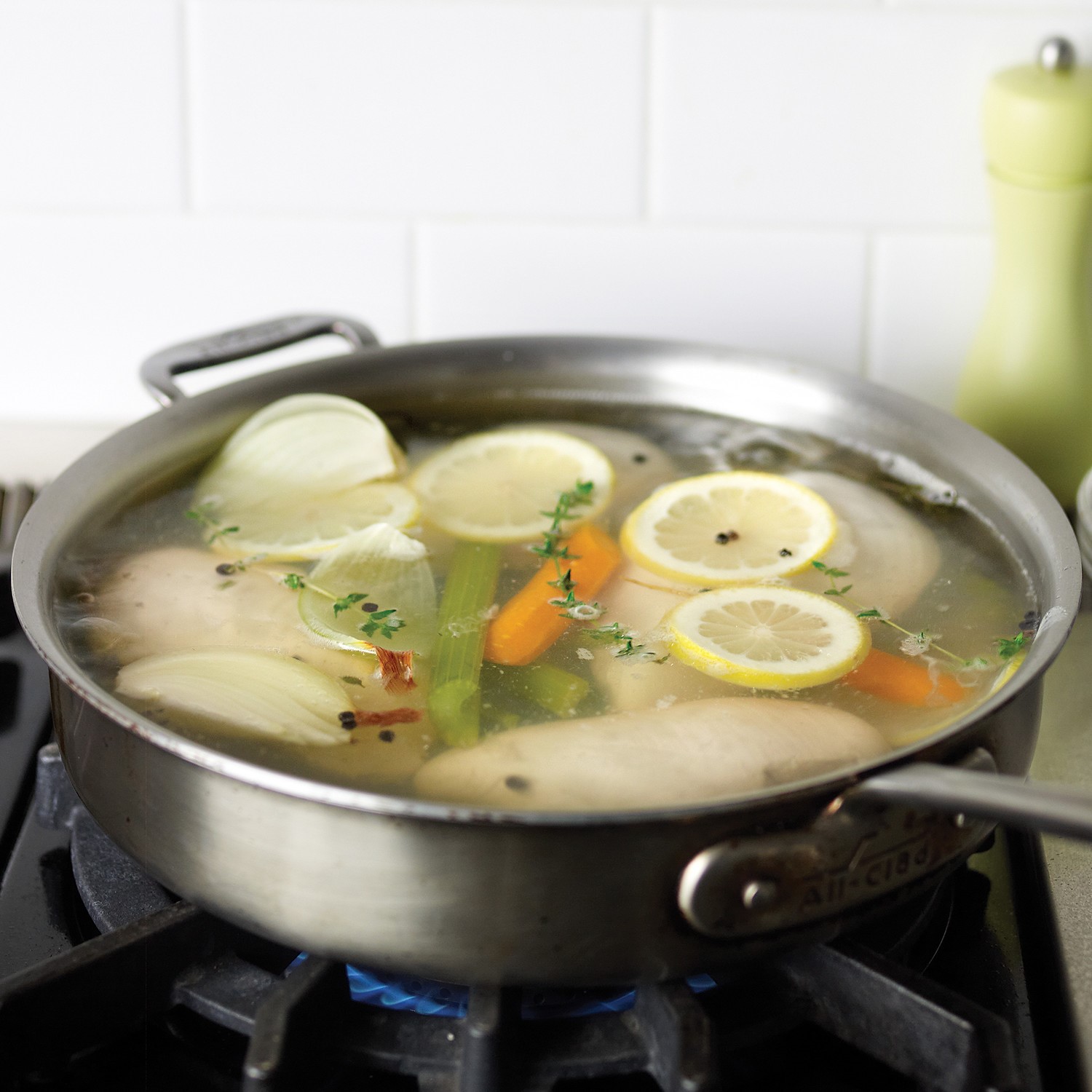 1. Let the chicken come to room temp for 20-30 minutes before starting and gently pound to flatten to a more even thickness.
2. Gather the aromatics for the poaching liquid. Common choices are lemon, parsley, bay leaf, peppercorns, thyme, dill, rosemary, onions, and garlic. Vary the aromatics depending on the finished dish. Add fresh ginger, garlic and dried chives for a Chinese inspired chicken salad or Indian inspired flavors for a curried chicken salad.
3. Place chicken into a large pot in a single layer. Cover the chicken with cold water (or broth or add a little white wine) to the depth of 1 inch over the surface of the chicken.
4. Season with plenty of salt.
5. Bring to a low simmer over medium heat.
6. Turn the heat down to low and cook for 8-10 minutes at a very slow simmer until cooked through. The chicken is done when the juices run clear when pierced with a fork and the internal temperature is 170 degrees F.
7. Let cool completely, then dice. Dicing while warm will result in ragged cuts, which may not matter if making a chicken salad, but may matter if the poached chicken is the star of the meal.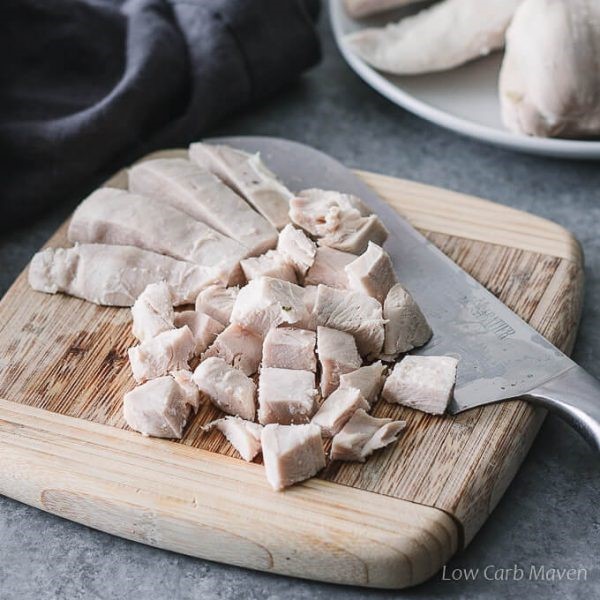 Now how about pairing these techniques with Kim's recipe for tender and tasty chicken salad? I love this recipe so much that I talked about it and all the ways to use chicken salad in the Cook'n newsletter last week. If you subscribe to that, then I apologize for the recipe repeat. And you may have a favorite chicken salad recipe already. Either way, though, do try poaching your chicken next time. It makes a world of difference!
(One note: I recommend adding thinly sliced green onions for a vitamin and flavor kick. But it's very good without them, as well.)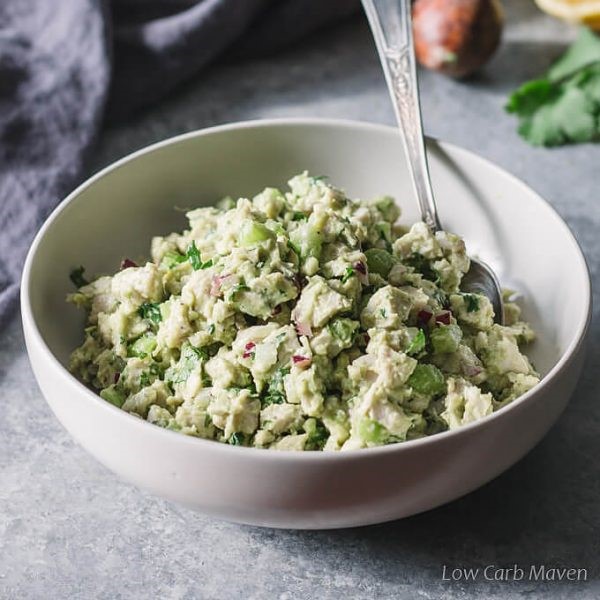 Tender Poached Chicken Salad
Prep time:
Cook time:
Yield:
Serving size:
1
Calories per serving:

726.884




Ingredients:
4
medium, boneless, skinless
chicken breasts
(about 1 1/2 pounds)
1
half
lemon
sliced
1/4
small
onion
peeled
1
clove
(large)
garlic
crushed
1
bay leaf
8 to 10
whole, black
peppercorns
1
handful
fresh
parsley
1 1/4
teaspoons
salt
water
to cover the chicken by 1 inch
Directions:
Let the chicken come to room temperature for 30 minutes and gently pound to even out the thickness a bit. Meanwhile, gather the ingredients for the poaching liquid. Slice the lemons, cut the onion and crush the garlic.
Add a few cups of water to a large pot and stir in the salt. Add the chicken to the pot in a single layer. Add the rest of the ingredients finishing with more water to cover the chicken by 1 inch.
Place the pot over medium heat and let the contents come to a simmer. Periodically, give the pan a gentle shake to help distribute the heat evenly.
Lower the heat to low and let gently and slowly simmer for 8-10 minutes until the internal temperature of the chicken reaches 170 degrees F. Another way to check if the chicken is done is to pierce the chicken with a knife or a fork and check that the juices run clear - not pink.
Remove the chicken from the poaching liquid and let cool completely before storing in the refrigerator or using in chicken salad. (My chicken was still warm when I took photographs and it cut a little raggedly. Chilling the chicken before dicing yields the best result.)

Recipe formatted with the Cook'n Recipe Software from DVO Enterprises.
Add Recipe to Cook'n