This is Halloween!
Halloween is one of my favorite holidays. One of my most favorite Halloween traditions is watching Nightmare Before Christmas. It is such a fun movie and really fills that niche of Halloween movies. There is also a lot of fun Halloween foods in that movie! Here are some of my favorites:
Worm's Wort Soup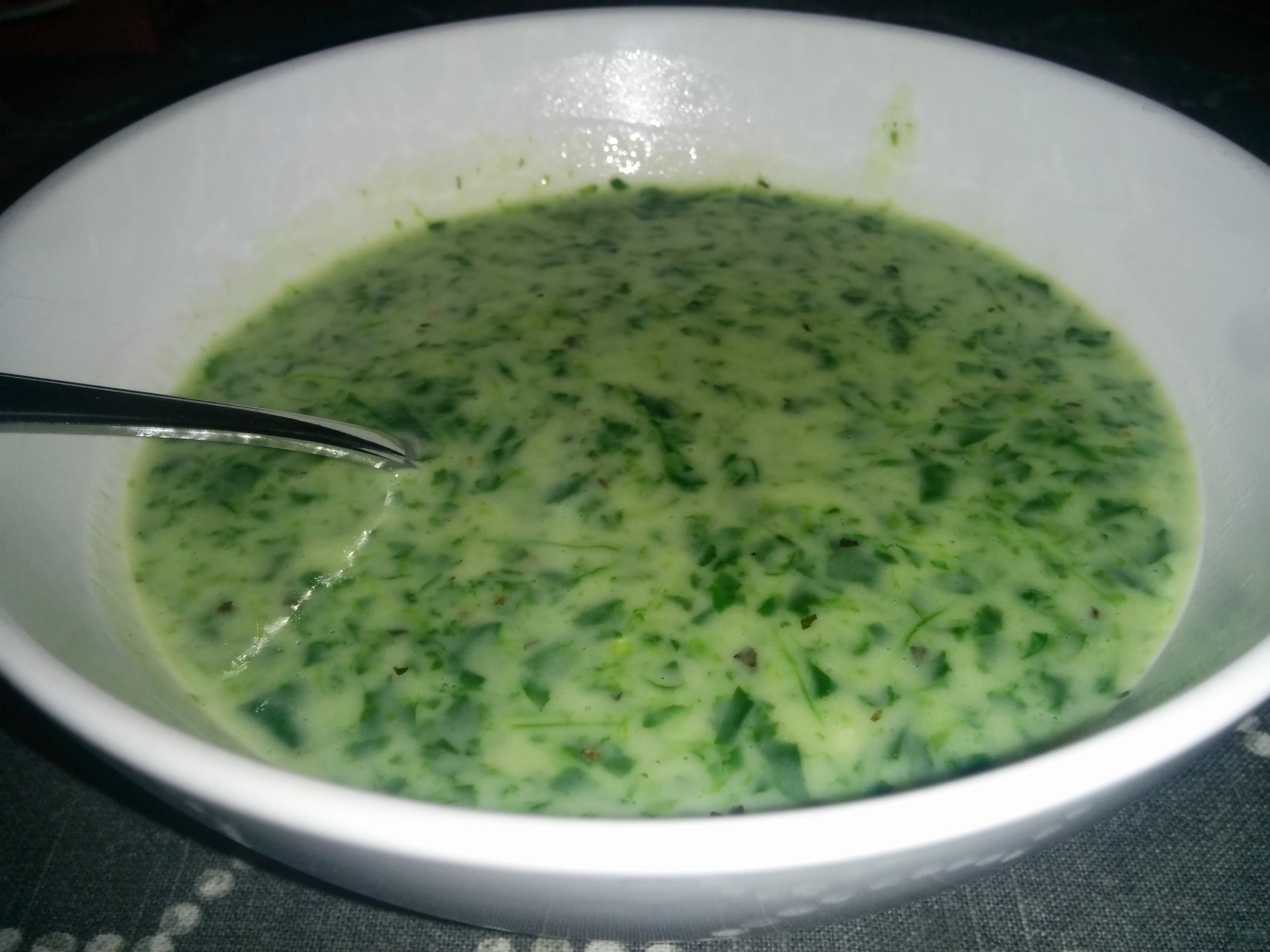 In the movie, Sally makes the evil scientist his favorite dish, Worm's Wort Soup. Since Worm's Wort doesn't really exist and frog's breath can't really be considered and ingredient, I had to improvise. Now, something I found out is that wort is different than wart. Wart is the skin condition, but wort is a medicinal plant. So, I came up with my own green soup with plenty of Worts.
Ingredients
1 3/4 cups water
3 cubes chicken bouillon
1 (10 ounce) package frozen chopped spinach
1/4 cup fresh aloe (Worm's Wort)
4 tablespoons butter
1/3 cup all-purpose flour
2 1/2 cups milk
1/2 cups cream
1 tablespoon dried minced onion
1 tsp basil (frog's breath)
1 clove garlic
salt and pepper to taste
Instructions
In a medium saucepan, combine water, bouillon, aloe and spinach.
Bring to a boil, and cook until spinach is tender and aloe has dissipated.
Melt butter in a large saucepan over medium heat.
Add garlic
Stir in flour, and cook for 2 minutes.
Gradually whisk in cream then milk.
Season with minced onion, basil, salt, and pepper.
Cook, stirring constantly, until thickened.
Stir in spinach mixture.
Serve with crushed bones or spider legs.
Snake and Spider Stew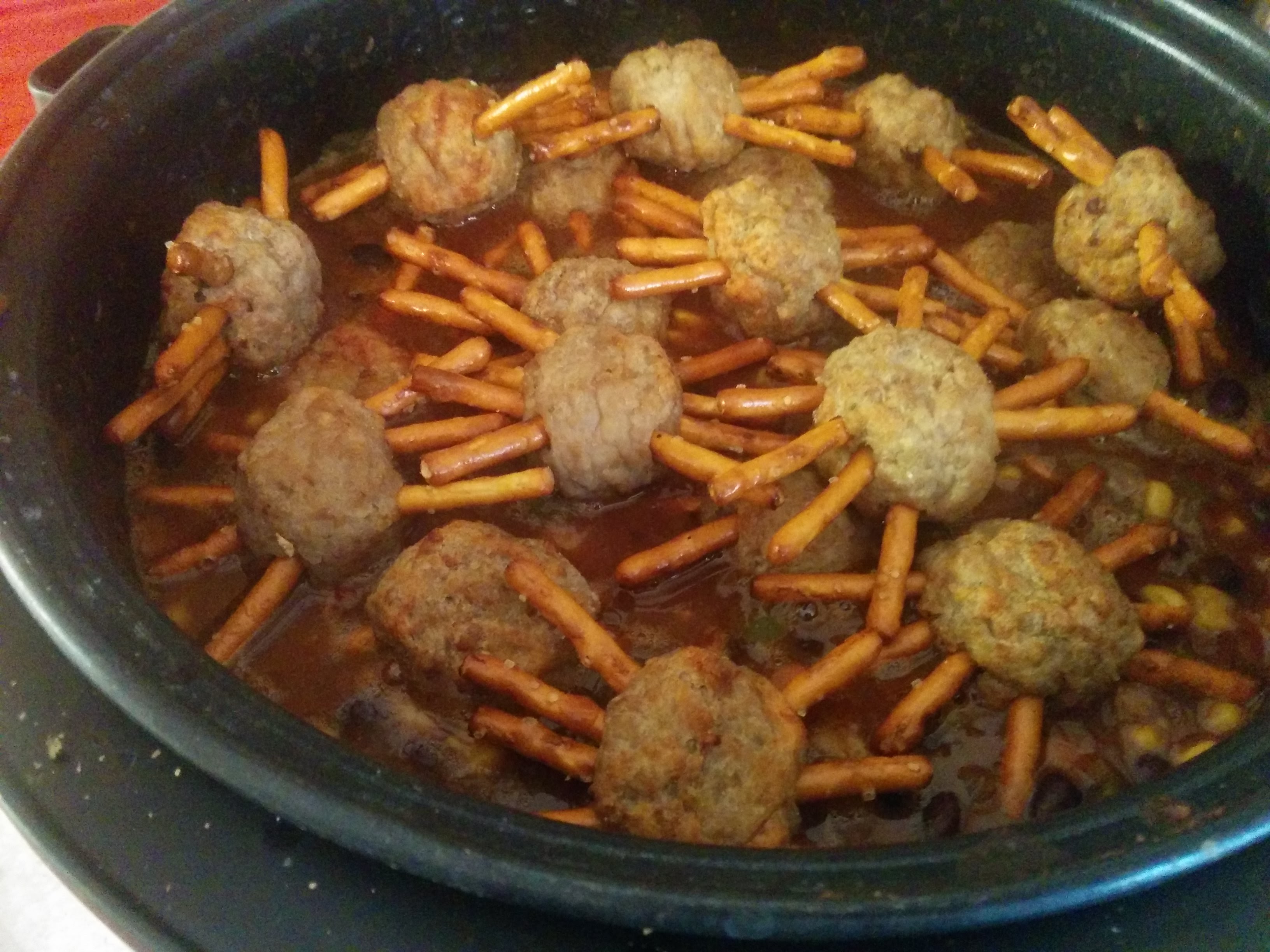 This might be Oogie Boogie's favorite meal. Here's a fun stew that will give your recipients creepy-crawlies. It's a chili-esque stew with meatball spiders and noodle snakes!
Ingredients
2 Medium Onions
2 tsp minced garlic
1 tbs olive oil
3 cans of black beans
1 can hot chili beans
1 can great northern beans
3 diced green peppers
2 cans of corn (drained)
2 cans petite dice tomatoes (lightly drained)
1 1/2 tsp apple cider vinager
1 tbs dried oragano
3 tsp red chili peppers
2 tsp salt
2 tsp black pepper
1 tps paprika
1 tbs chili powder
2-3 tsp cumin
1 package meatballs
pretzel sticks
1/2 package Bucatini
Instructions
Mix all of it (besides the meatballs, pretzel sticks and bucatini) in the slow cooker and cook for 6 hours. Or cook on stove top until, heated thru, simmer for awhile to let flavors soak together.
While that is cooking, prepare the meatballs.
Break the pretzel sticks in half and jab them into the cooked meatballs. 4 to a side to make spider legs.
Cook the bucatini in a pot of boiling water until mostly cooked through
Drain
30 minutes before the stew is done, stir in the cooked bucatini, then place the meatball spiders on top.
Halloween Candy Canes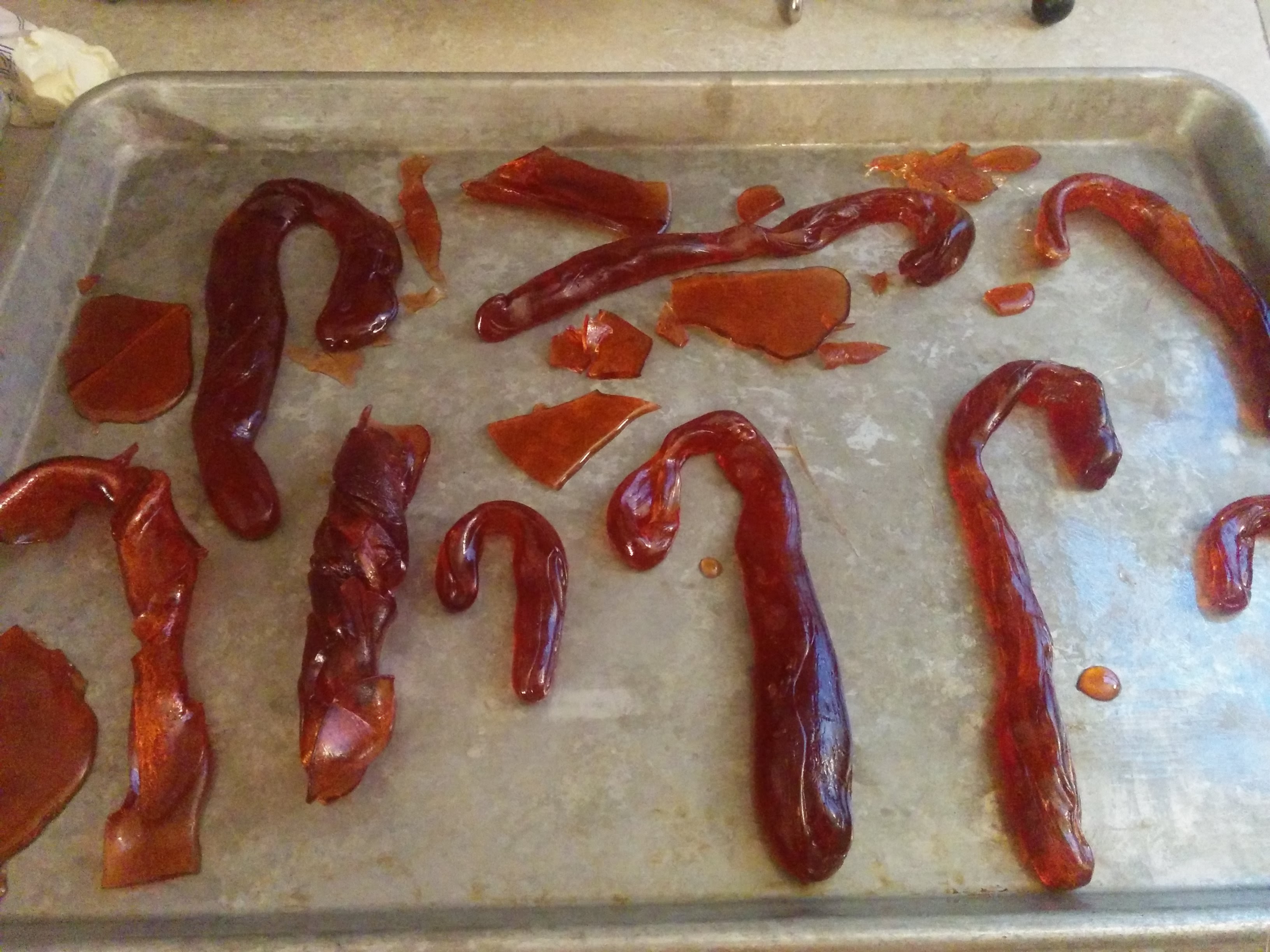 What a perfect mix of Christmas and Halloween. These are a twist on the Christmas staple. These Halloween candy canes are a maple and rum flavored. It's a little hard to make, but they are pretty yummy.
Ingredients
1 teaspoon butter
1 cup sugar
1 cup water
1 cup light corn syrup
1/4 teaspoon cream of tartar
1/4 tsp rum extract
1 tsp maple extract
1/4 tsp nutmeg
1/4 tsp cinnamon
2 drops red food coloring 6 drops yellow
Instructions
Grease 2 large baking sheets with butter. Set aside.
In a large saucepan, combine sugar, water, corn syrup and cream of tartar and bring to a boil. Let boil, without stirring until a candy thermometer reads 280F.
Remove pan from heat and stir in the extracts, nutmeg, cinnamon and food coloring
Immediately pour onto prepared pans in 8x1 in strips. You have to be quick or else it will harden.
Let stand until cool enough to touch (1-2 minutes). It will still be very hot so move fast and/or wear gloves.
Work very quickly and roll each strip into a rod and curve the top for the cane. It helps to have 2-3 sets of hands helping.
Let cool completely and store in an airtight container.

Rhett Hildebrandt
Monthly Newsletter Contributor since 2017
Email the author! rhett@dvo.com