Insider Tips on Making the BEST Apple Pie
You know what's always a good idea? Apple pie. It's the right answer to every question, including "What should I bring to my sister-in-law's baby shower?" and "What is the greatest dessert of all time?"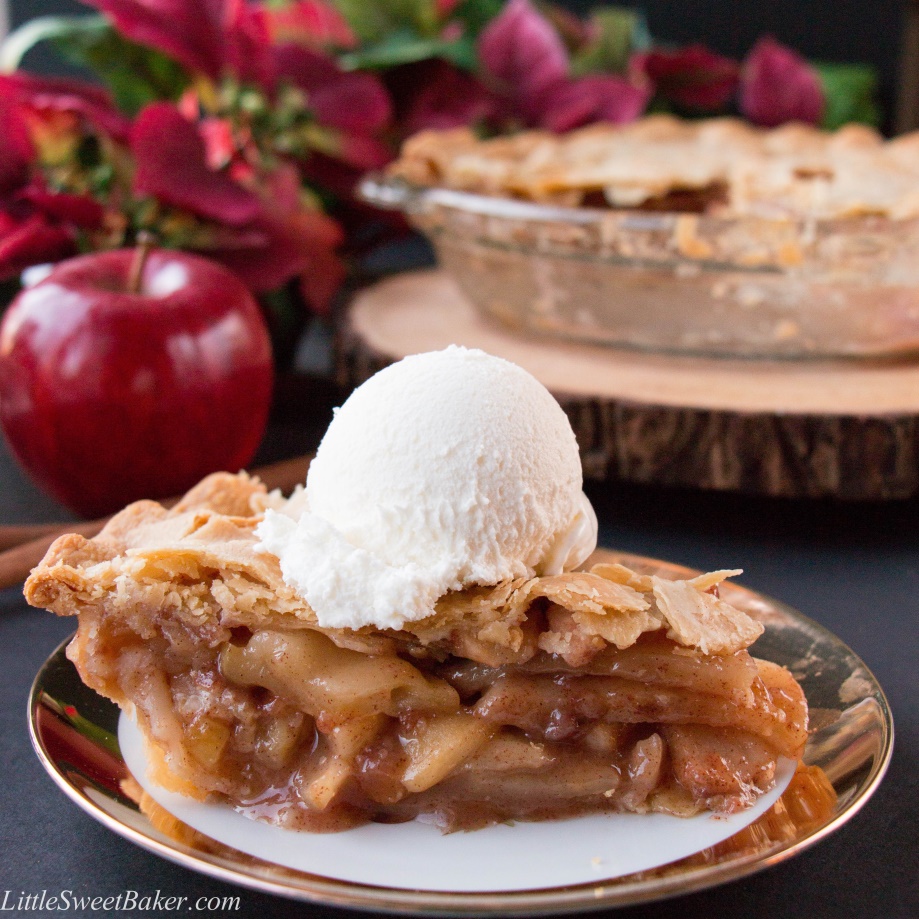 "You can't have a great pie without a great crust," says every pastry chef on the planet. And a great crust starts with great dough. Now, there are plenty of ways to mix together a pie dough, from a food processor to a pastry cutter. But according to most pastry chefs , the best tools for the job are your hands. Here's what to know:
Using your fingers to cut the butter into the flour allows you to know when the ingredients are fully combined. Don't be afraid if the dough feels a little shaggy; it's better to have a loose dough than to add too much water, which will lead to a dense and heavy crust.

Don't forget to taste your dough. Think it's weird to eat raw pie dough? That's exactly what the pros do, and one that expert bakers never skip; you'll know before baking if the dough is too salty, too sweet, or needs any adjustments.
With crust mastered, you move to the filling. Don't be tempted to reach for any old apples; you want a balance of flavors with a crisp bite. (And don't forget to peel them before coring and chopping—those skins are too tough and fibrous for pie.)
So what are the best apples for apple pie? What you want is an apple that'll hold its shape when cooked -- you don't want an applesauce pie, after all. Sometimes you'll see apples labeled as "cooking apples" or "baking apples" in the store -- of course, you can eat those raw, too, but they're exactly what you need for pie.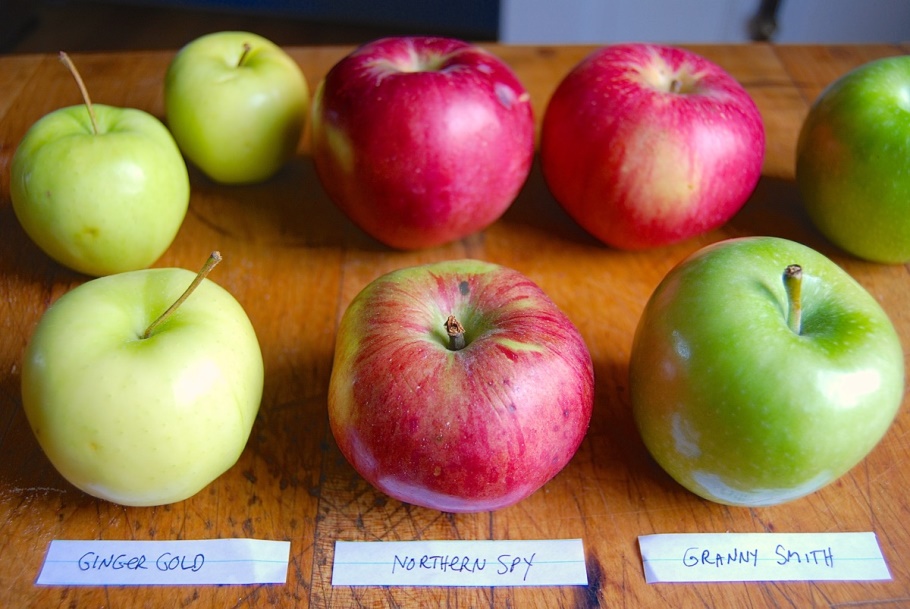 Pastry chefs have their favorites:
Jonagolds

Galas

Ginger Gold

Northern Spys

Braeburns

Granny Smith (the most popular pie apple ever!)
Why is Granny Smith so popular? Because it gives you the best combination of juicy and tart.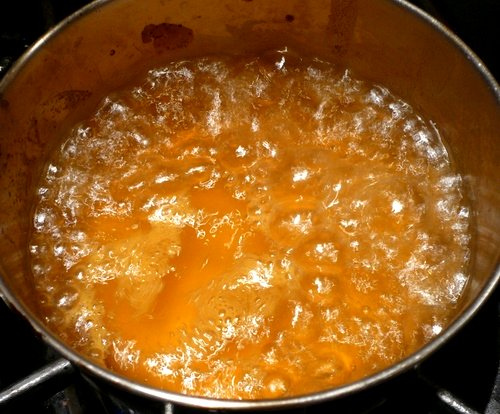 And speaking of juicy apples: If yours are particularly juicy, cook the filling before adding it to your crust, or add extra thickener.
And speaking of thickeners, the professional consensus is instant tapioca. This is a top choice because it fades nicely into the background, letting the apples and spices shine.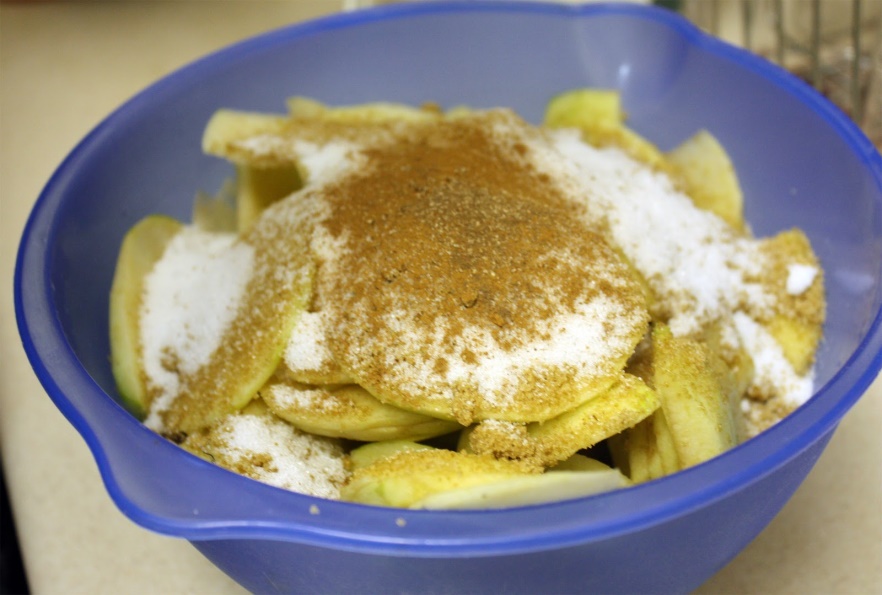 But here's the biggest insiders' secret for great apple pie:
Toss your apples with the rest of the filling (including spices, flour, butter, and both light and brown sugars), and let it sit overnight. The sugar will draw out the liquid from the apples, which is key for a moist, not soggy, filling.
Don't discard those juices though; they're liquid gold. Reduce them in a sauce pot, then once the liquid is thick and syrupy, add it back to the apples. You'll be rewarded for your hard work with a more concentrated, deep and rich flavor.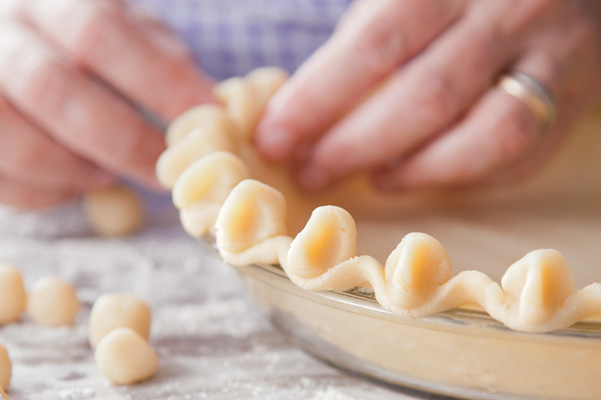 And of course, no apple pie is complete without a crimped crust. Luckily, this technique is a lot easier than it looks. To become an expert crimper, all you have to do is tear off any ragged edges and fold the bottom crust over the top. Then use your thumb and index fingers on both hands to pinch together a ruffled pattern. Pushing with your left, and then squishing around your After all, at the end of the day, you're still gonna have an apple pie.
Still talking crust, one more thing: A deep golden-brown crust really seals the deal on a hot apple pie—it's what makes it a true show-stopping number. Don't rely on your oven's heat alone to get that burnished color. Brush the crust generously with egg wash before baking; the egg will help it brown without over-baking.
With these insiders' secrets to making the BEST apple pie under your belt, try them out on this fantastic apple pie recipe straight from one of our favorite sites, Bon Appetit (www.bonappetit.com):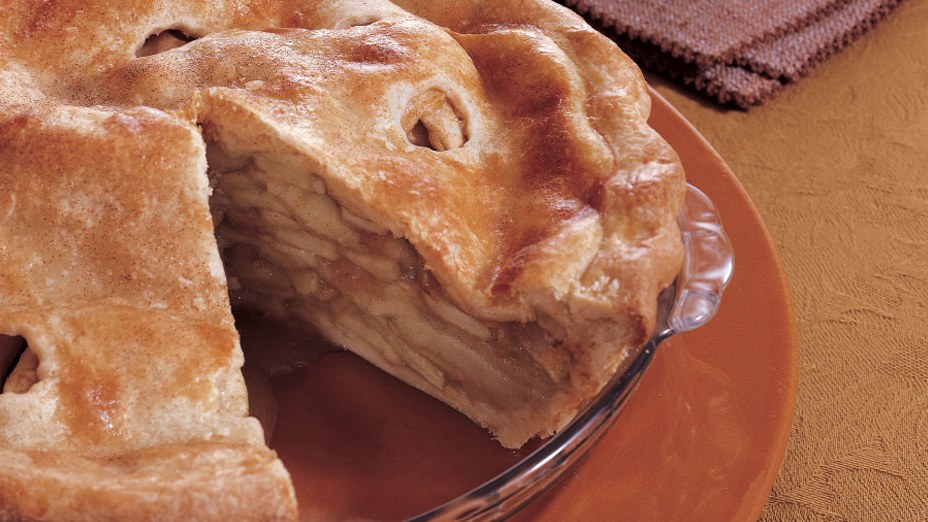 HEAVENLY APPLE PIE
CRUST:
2¼ cups all-purpose flour
2 tablespoons sugar
½ teaspoon kosher salt
1 cup unsalted butter, cut into 1" pieces, chilled
FILLING and ASSEMBLY:
3 pounds Granny Smith apples (about 5 large), peeled, cored, and thinly sliced
2 tablespoons unsalted butter
¼ cup sugar
¼ cup (packed) light brown sugar
1 tablespoon fresh lemon juice
2 teaspoons ground cinnamon
½ teaspoon kosher salt
¼ teaspoon freshly grated nutmeg
2 tablespoons all-purpose flour, plus more for dusting
1 large egg, room temperature
2 tablespoons demerara sugar
Sliced cheddar cheese (for serving; optional)
FOR CRUST:
Pulse flour, granulated sugar, and salt in a food processor to combine. Add butter and pulse until pea-sized pieces of butter remain. Transfer mixture to a large bowl; cover and refrigerate at least 30 minutes (you want the butter to be really, really cold).
Drizzle ½ cup ice water over mixture and, using your hands, mix thoroughly (as though you were kneading) until no dry spots remain and dough stays together when pressed. Divide dough in half and press into 2 discs, about 1" thick; wrap tightly in plastic wrap. Refrigerate at least 1 hour.
Do ahead: Dough will keep in refrigerator up to 5 days or in freezer up to 1 month.
FOR FILLING AND ASSEMBLY:
Toss apples, butter, granulated sugar, brown sugar, lemon juice, cinnamon, salt, nutmeg, and 2 Tbsp. flour to combine in a large bowl. Cover and refrigerate at least 4 hours, preferably overnight.
Preheat oven to 350°. Drain apples and reserve liquid in a small saucepan; return apples to bowl. Bring liquid to a simmer and cook, stirring constantly, until reduced by half, about 4 minutes. Pour over apples and toss to combine.
Line a baking sheet with parchment paper. Roll out 1 disk of reserved dough on a lightly floured surface to a 13" round. Transfer round to prepared sheet and chill while you roll out remaining piece of dough to another 13" round. Stack second round on top of the first, separated by parchment.
Beat egg to blend with 1 tsp. water and set aside. Using a rolling pin, carefully transfer 1 crust to a 9" pie dish. Lift up edges and allow dough to slump down into dish. Scrape in apple filling along with any accumulated juices.
Place second crust on top of filling and press edges of crusts together to seal, crimping as desired. Brush top of pie with egg wash and sprinkle with demerara sugar. Line a rimmed baking sheet with foil and place pie on sheet. Bake until crust is deep golden brown on top and bottom and juices are bubbling, 90–100 minutes (some of the juices might bubble over onto the sheet—this is what the foil is for). Transfer to a wire rack and let cool at least 4 hours before slicing. Serve on top of cheese, if desired (and you probably desire).
NOTES:
Demerara sugar is a large-grained, somewhat crunchy, raw sugar. It resembles brown sugar, but it's unlike brown sugar, because brown sugar is just refined white sugar lightly bathed in a bit of molasses.

Pie can sit out overnight, or wrap in foil or plastic and refrigerate up to 3 days.
Add Recipe to Cook'n
Sources:
www.littlesweetbaker.com
www.kingarthurflour.com
www.foodlovehappiness.com
www.razorfamilyfarms.com
www.bakepedia.com
www.bonappetit.com

Alice Osborne
DVO Newsletter Contributor since 2006
Email the author! alice@dvo.com