New York City Food Recommendations: Part 1
My family lived in Manhattan for 2 years, and even if I talked for 2 years straight without taking a water break, there would always be more to say about the food scene in NYC. I could give and take food recommendations around the dinner table for hours, so it's only appropriate that I write a Table Talk article about my very favorites!
This article is a compilation of the places I have eaten and I can personally vouch for and recommend! This is (obviously) not an all inclusive list of every good food in New York City, just what I have tried and love! There are several different categories of good eats. Here, I will cover the best of the best- dessert shops and snack foods. In Part 2 next month, I will highlight pizza joints, sit down restaurants and cheap eats/food on the go!
Let's get the table talk going!
Dessert Shops:
Magnolia Bakery – Known for its banana pudding (I've known multiple people who fly this home in their carry on!) I much prefer the key lime pie. It is unbeatable. In fact, I asked every guest who stayed with us in New York to pay me in Magnolia's Key Lime Pie. The perfect strength of lime, the best soft gingersnap crust, and the perfect cream and lime slice to top! Located in the West Village which is the dreamiest location, or grab a bite in the Grand Central station location.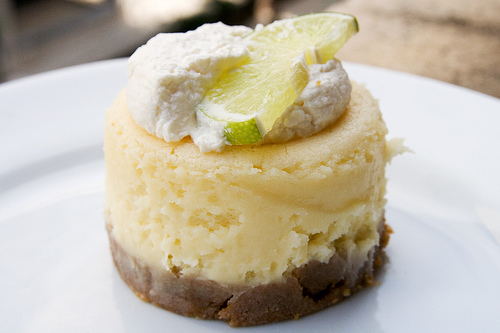 Levain Bakery- All their cookies are good, my preference is the chocolate chip walnut. It's as good as they say. I once had an altercation on a bus ride across town that left me quite upset, and Scott brought home a Levain cookie to me after school, which made everything instantly better!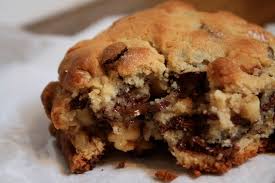 Dominique Ansel Bakery- The cronut flavor changes each month, so look ahead and see what will be served while you're there. I was lucky enough to meet Dominique himself when I tried his lavendar cronut- delicious! They don't reheat well, so eat them in the shop! The milk and cookie shots look so fun too- can't wait to try those one day!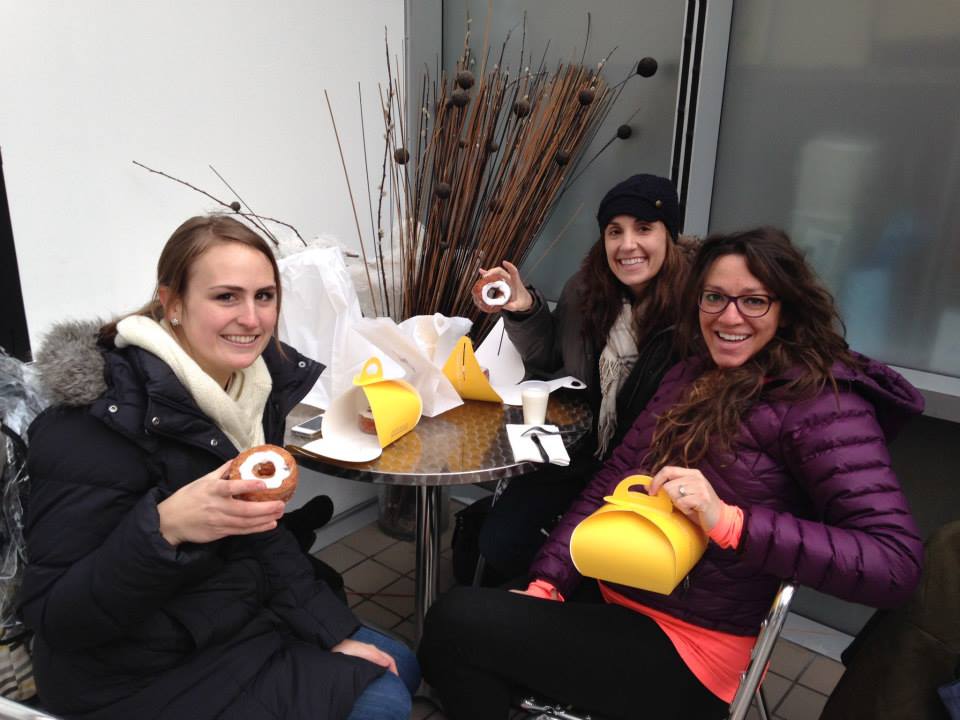 Lady M Confections- I ate at their Plaza Hotel food court location, but I'm sure the real boutiques are even quainter! They are famous for their Mille Crepe Cake, which is light and layered, just as you'd hope a crepe cake to be!
Juniors for Cheesecake in Times Square! This is the place to go before/after a show for a bite! The restaurant itself serves large tour groups, but the cheesecake is really, really good!
Bodega Negra serves the Don Huevo dessert! It's a white chocolate globe that melts with hot caramel poured on, revealing a brownie delight inside. After we ate here once, we took every guest here from then on. It's just the most memorable in experience and flavor. You can walk in and be seated for dessert only in the café downstairs, instead of going into the main restaurant.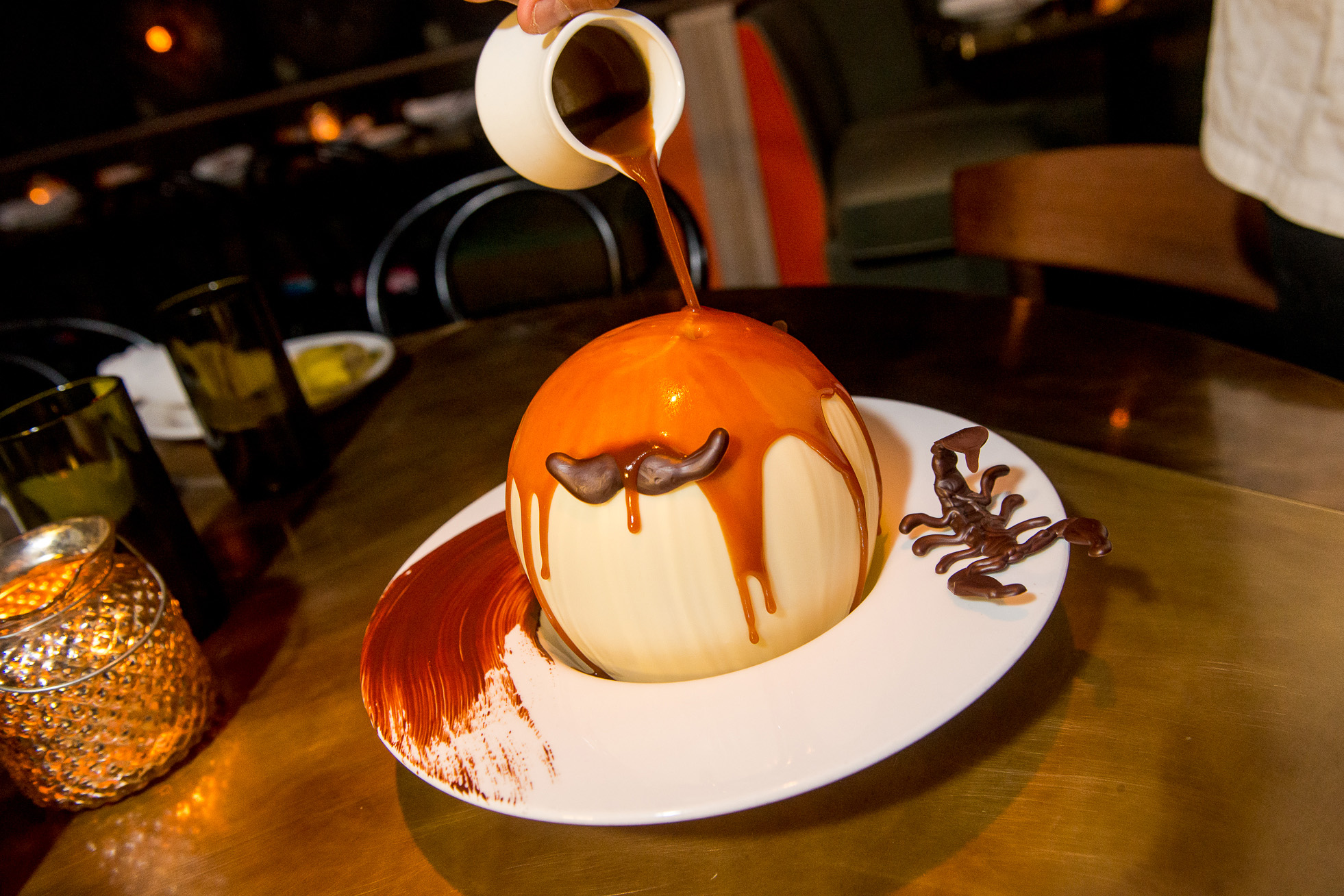 Steve's Authentic Key Lime Pies- These pies on a stick are such a fun experience AND a fun food! We got some with friends, and walked over the park afterward for views of Lady Liberty. The frozen pies on a stick are delicious, and the whole experience just feels very New York. It's part of Red Hook in Brooklyn.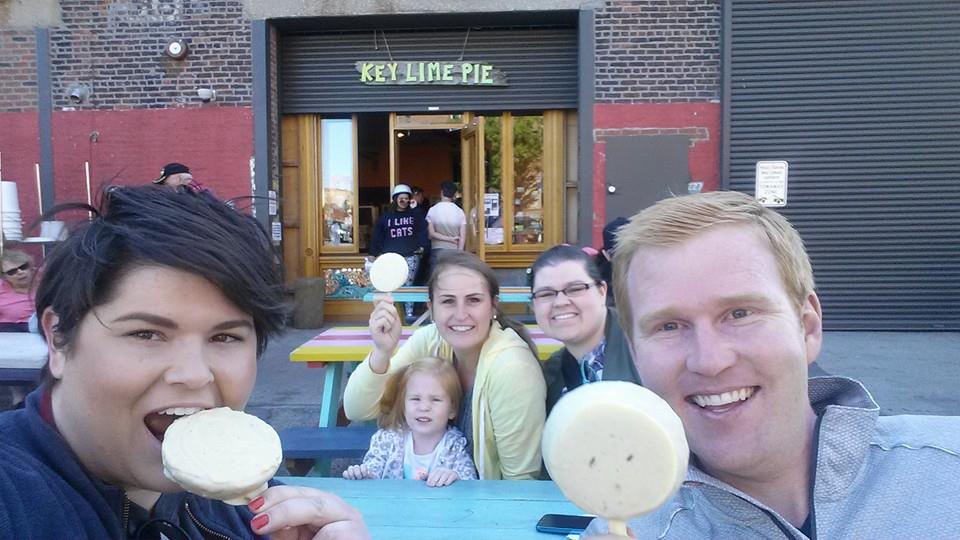 Arthur Avenue in the Bronx is the REAL Little Italy, so go there if you're in search of the best Italian food! Gino's Pastry Shop has the best cannoli, get the Bavarian cream filling!
Grom- Really good gelato. My first outing with our new baby was to Grom- She went there before even getting her first bath! The location near Columbus circle is nice and you have access to the bottom of Central Park- Heckshire playground with kids is a don't miss it!
Brooklyn Ice Cream Factory- It's good ice cream. The location is spot on. This is a nice sweet treat after a walk across the bridge!
The Doughnut Plant- It's famous, and has good doughnuts. I'm not super into doughnuts, but if you are, this is a place to check out! My preference is a maple bar, which I never found in the entire state of New York!
Waffles and Dinges- Our first trip to New York, we wandered the streets of Soho looking for this food truck and we found it! Really great Belgian waffle topped with nutella and strawberry. Yum!
Snacks:
Absolute Bagels- This was on my path to take my daughter to joy school. So I went, a lot. I like every flavor bagel, and there are about 15 flavors of cream cheese. But you can't go wrong with a plain bagel toasted with butter. My favorite is probably the cinnamon raisin to go! Remember, it's cash only!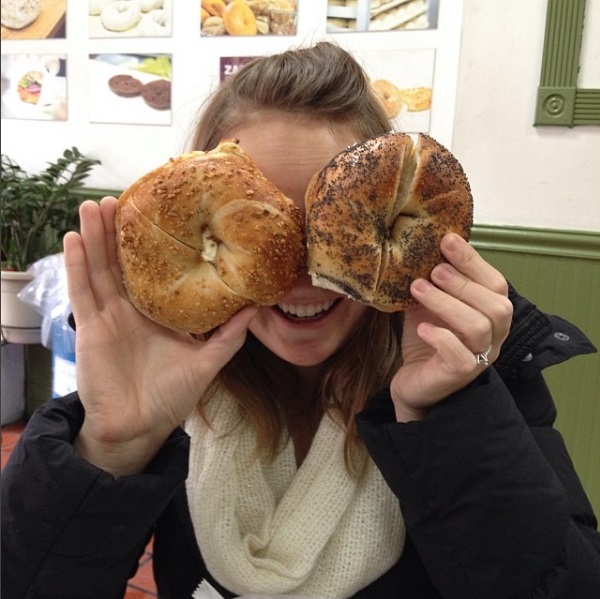 Pommes Frites- We went here for a friend's birthday party in the East Village. It was the perfect place because we all just shared fries with various dipping sauces, so we didn't spend too much and got to talk and connect over a fun, good food. EVERYONE loves French fries, so this place is a hit for sure!
Yonah Shimmel Knish Bakery- The potato knish is a flaky, potato filled pastry… a fun new thing to try!
Alice's Tea Cup- Cutest little whimsical tea shop, perfect for a day out with girl friends or daughters. This is a magical, life-long memory for sure!
Max Brenners- This is the place for sipping chocolate, if you like sipping chocolate. It's a bit too thick and rich for me, but many people love it. I went to the sit down restaurant for fondue with my brother in law and daughter, while my husband and his mom went to a Broadway show. It was a funny night, essentially being on a date with my orange-haired brother in law and orange-haired child, but the fondue line up was great and it's a nice, memorable meal in a chocolate wonderland in NYC! The chocolate pizza looks amazing too!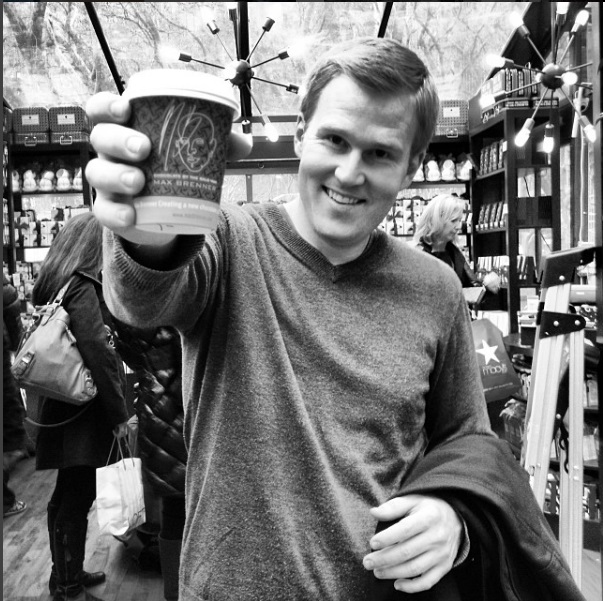 Zabars on the Upper West Side is a great place to grab some specialty cheeses, a loaf of bread and maybe some other prepared foods to take for a picnic in central park. Let the cheese mongers work for you- they know they're stuff and make great recommendations. I can't count how many times we did this as a family, and it's one of the experiences I most look forward to repeating next time I go back!
Prosperity Dumpling- I dare you to find a joint with faster or better food than the dumplings at Prosperity! They're 5 for $1 and sooo delicious! There are only 7 stools in the shop, so take your food (don't forget sauce!) to go sit in the park in Chinatown. They also sell their dumplings frozen, and you better believe we always had reserves at home!
Do you have any dessert or snack food items in New York you recommend? This list is definitely not all-inclusive, and I'm always looking for new places to add to my running list. Let me know in the comments! And stay tuned for next month's article covering pizza joints, sit down restaurants and cheap eats!
Sources:
https://thenypost.files.wordpress.com/2014/04/140328_collazo_gp_16.jpg
http://newyork.seriouseats.com/images/20081008-key-lime.jpg
https://usercontent2.hubstatic.com/13144055.jpg

Stefanie Hathaway
Monthly Newsletter Contributor since 2016
Email the author! stefanie@dvo.com