How to Keep Your Food Cold in the Summer Heat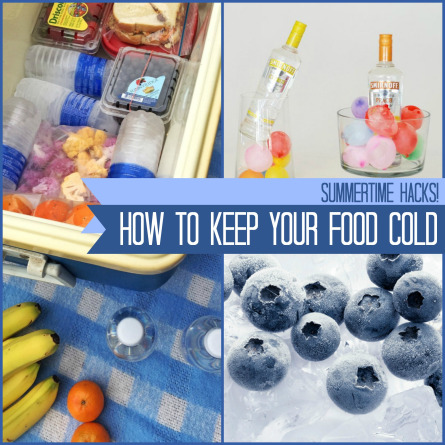 Spring has sprung and summer's just around the corner. This means barbecue cookouts, road trips, camping, parade going, and picnics as we enjoy the longed-for warm-to-hot weather. And since these activities usually involve lots of perishable foods (fresh fruit, deli salads, meats, cheeses, desserts, or the like), keeping your food cold, despite boiling summer temperatures becomes a prime concern.
Whether you're just trying to keep your edibles cold in transit or you need them cold longer for outdoor entertaining, picniking, or camping, these ideas I found on a very helpful site, Hobbeehive (www.hobbeehive.com) will help you keep your cool and refreshing treats, well, cool and refreshing (and safe, health-wise).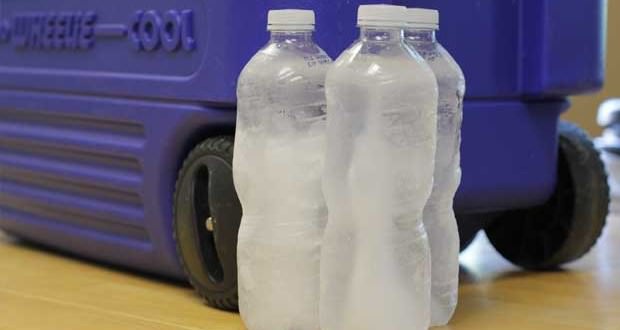 Place bottles of water in the freezer and use them to keep food cold when traveling. You'll need to remove a little of the water so the bottle doesn't burst as it freezes. If frozen at least a week in advance, the bottles could stay frozen for up to a day, much more economical than that gas station ice that lasts about 2 seconds. And as the bottles thaw, there's no sloppy mess in the bottom of your cooler, and of course, you can drink what's thawing!
When hosting the backyard BBQ, keep your drinks cold by placing them in a mixture of water and ice. Using just ice won't distribute the cold as evenly as water will, so placing your drinks in an ice bath will keep them colder longer.
Since full coolers tend to stay cold longer, fill any empty spaces with frozen water bottles.
When on a road trip, place your cooler of food in the passenger area of the car, if possible. The temperature is usually cooler inside the car than it is in the trunk.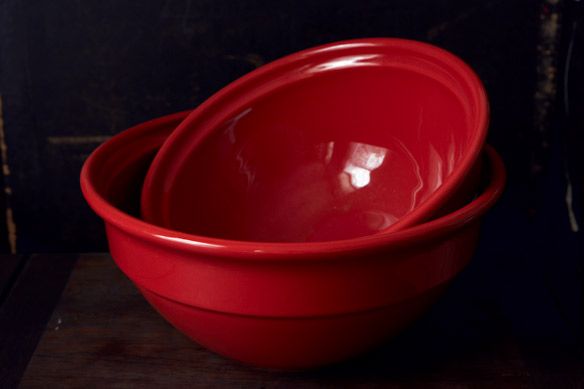 When doing any outdoor entertaining or on a picnic, put an ice bowl to work. To create an ice bowl, put a medium-sized bowl inside a larger bowl, then fill the larger bowl with water and freeze the two together. Serve your salad or fruit in the insulated bowls.
If possible, freeze part of your dish. If you're serving a fruit salad, for instance, mix in frozen blueberries before you head out the door. They'll help keep the salad cool and should defrost in about 30 minutes.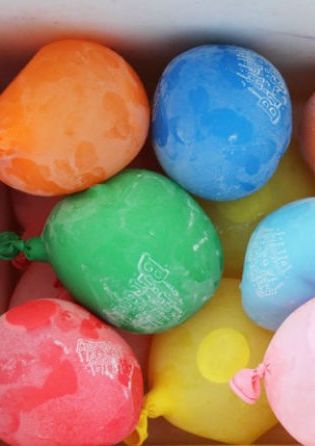 Fill small water balloons with water and place them in the freezer. Set them around your food to keep your food cold and your table decorative! OR, add some food coloring to the water before you freeze the balloons. Then when ready eat, just peel the balloons off the frozen water and place the balloons in large bowls in which you then set your dishes of food that need to be kept cool. This is a fun way to decorate a summer outdoor meal.
And maybe you've already thought of this tip: If you're traveling a long distance, consider waiting to assemble your dish until you arrive at your destination. Mayonnaise, for example, can be kept at room temperature until the container is opened. It might also allow for easier travel if you don't have to worry about your bowl tipping over. Just cut and package everything and assemble when ready.
Finally, in honor of all the outdoor eating we'll all be doing this summer, I'll close with a couple of our favorite easy-to-make and take salads. Keep 'em cool and enjoy!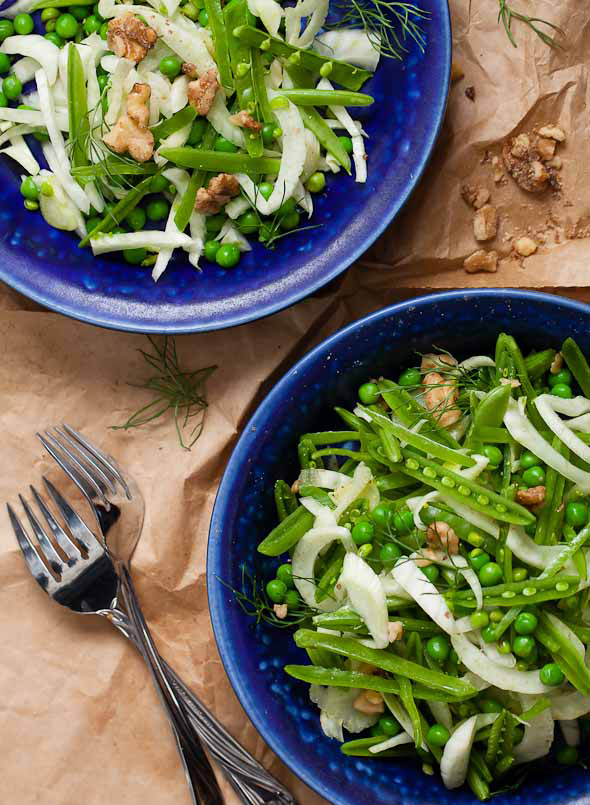 SUGAR SNAP PEA AND FENNEL SALAD
(thank you to
Gourmande in the Kitchen
, www.gourmandeinthekitchen.com)
1 tablespoon apple cider vinegar
2 tablespoons extra virgin olive oil OR walnut oil
1 teaspoon Dijon mustard
2 teaspoons finely chopped shallots
1/4 teaspoon fine sea salt
2 cups sugar snap peas, tough strings removed, cut into thin strips
1 cup frozen peas, thawed
1 small fennel bulb, trimmed and cut into thin strips (reserve a few fronds for garnish)
1 tablespoon chopped fresh tarragon (if fresh isn't available, 1 ½ teaspoons dried will work)
Freshly ground black pepper, to taste
½ cup toasted walnuts
Whisk together the vinegar, oil, mustard, shallots and salt in a large bowl. Add the snap peas, peas, fennel, tarragon to bowl. Toss to coat and season to taste with pepper. Garnish with fennel fronds and top with toasted walnuts. Season to taste with additional salt and pepper if necessary. Serves 2to 4.
Add Recipe to Cook'n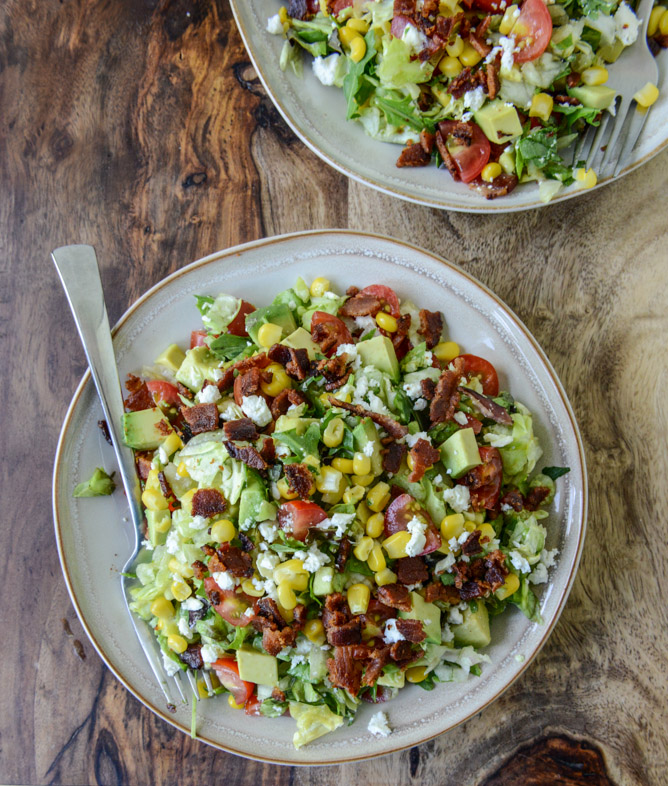 BLT CHOPPED SALAD
(thank you to
How Sweet It Is
, www.howsweetitis.com)
2 cups butterhead lettuce, chopped
2 cups fresh arugula, chopped
1 pint grape tomatoes, quartered
4 slices thick-cut bacon, fried and crumbled
1 cup sweet corn
2 avocados, diced
4 ounces feta cheese, crumbled
1 1/2 tablespoons olive oil
1 lime, juiced
1/4 teaspoon salt
1/4 teaspoon pepper
In a large bowl, combine lettuce, arugula, tomatoes, corn and avocado. Add in salt, pepper, olive oil and lime juice then toss well to coat. Fold in bacon and feta then divide evenly amount 2 plates. Serves 2.
NOTE: To quickly and easily chop lettuce, lay it out on a big cutting board and just continuously run your knife through it (in all different directions) until it's chopped as much as you like.
Add Recipe to Cook'n
Sources:
www.hobbeehive.com
www.50campfires.com
www.food52.com
www.pinterest.com
www.gourmandeinthekitchen.com
www.howsweetitis.com

Alice Osborne
DVO Newsletter Contributor since 2006
Email the author! alice@dvo.com