Protein Power for a Baby Shower!
Both of my babies were born in the spring, which has worked out so well for our family. Sick in the fall, feeling a little better by Christmas, getting huge in the winter, baby comes in the spring and ready to play once summer comes! It seems there are lots of other families who like spring babies too, because there is such a baby boom in March, April and May! Which means… we're coming into baby shower season!
It's a lot of fun for me to throw showers, and I'm always looking for new food ideas to serve. Pregnant women need good nutrients and party guests (especially as the new year begins) like a healthy alternative to sugar cookies in the shape of onesies too! A few years ago, I decided to throw my friend Joanna a shower, but thought my small New York apartment would be a bit too tiny for the crowd. So we did it at Central Park, which was amazing but logistical! I really thought through each food item I served and planned how I would get it through the subway and up to the Great Hill while keeping it in good condition.
The biggest hit at the party were these little veggie cups with ranch dip in the base. I brought ziplock bags full of each prepared veggie, the plastic cups, and a bottle of Ranch to assemble them on location. They were pre-portioned, colorful, cute, crunchy, and appealed to almost everyone!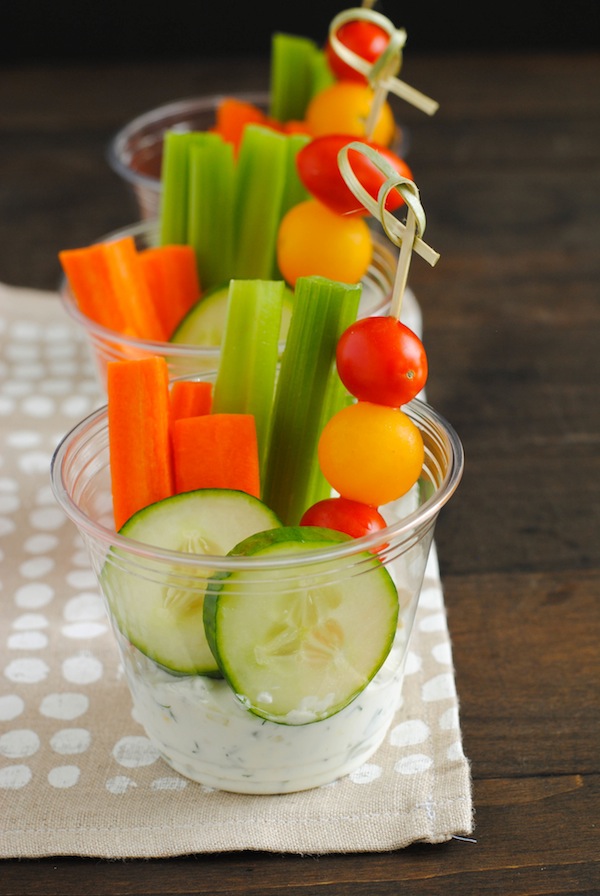 You could also include olives, bell peppers of every color or jicama in addition to the carrot, cucumber, tomato and celery! Find a ranch dressing you really like, because you taste it more as a dip than you would if used as a dressing. You could even add a little "Baby Jones" flag or printed text to the top of the toothpick to make it extra festive for the party.
Another idea to pack some protein into a baby shower could be to serve these protein power muffins, made with bananas, oats and yogurt.
Add Recipe to Cook'n
It's important to eat protein so that the calories we're taking in are counting for us! Carbohydrate or sugar heavy foods don't help our body to feel good or perform well. When my kids eat a sugary breakfast, they generally have worse attitudes and are hungry 10 minutes later. I have to believe that it's the same for adults—that our bodies crave real food and enable us to think and do better when we feed them healthy food!
Sources:
http://foxeslovelemons.com/sangria-party-week-2-appetizers/
http://trinaholden.com/high-protein-muffins-your-kids-will-love/

Stefanie Hathaway
Monthly Newsletter Contributor since 2016
Email the author! stefanie@dvo.com