The Softball Waffle Bar
Two of my granddaughters are softball players at the local high school. Once during the softball season, each mother is asked to make a meal for the girls before their game. These meals vary in creativity depending on how much time the mother has and her desire to cook. My daughter, Jill, took her turn recently and worked her magic with a delicious and crowd pleasing waffle bar. It was very intoxicating to walk into the school and get a whiff of those waffles. As you might have guessed, the waffle bar was a huge success!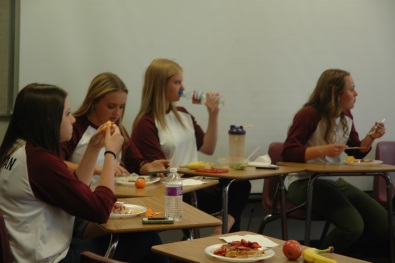 In our trial run at home, we tried two different waffle recipes, a Belgian Style Yeast Waffle and a Norwegian Waffle. These were both great recipes. What really made these recipes superior was the added pearl sugar. The pearl sugar is added to the waffle mix and softens under the heat of the waffle iron. But after the waffle is removed from the iron, the sugar hardens again and continues to stay a little crispy throughout the waffle.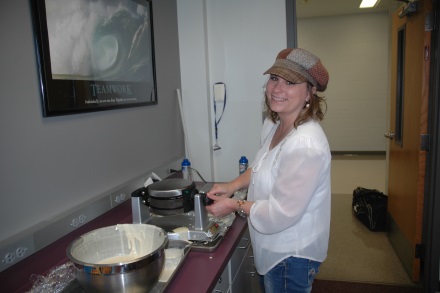 We particularly loved the yeast waffle with the pearl sugar. They tasted like a giant sugar waffle cone and I wondered where the ice cream was, which of course, you could use as a topping!
Because we weren't sure how many waffles we were going to end up making at the girls' breakfast, we went the easiest route; we opted to use a store bought package mix. We still added the pearl sugar, which made them outstanding. Although the store bought packaged mix was not as crunchy as the two recipes we tried at home, the girls didn't know what they were missing and they were still delicious.
We provided toppings of strawberries, bananas, peanut butter syrup, caramel buttermilk syrup, whipped cream, nuts, and chocolate chips. The girls loved putting on their own toppings. Most got a little adventurous but I saw one teacher being very conservative by topping his waffle with only maple syrup. We did go through a lot of waffle batter that day but most importantly the girls thought the waffle bar was the best idea ever!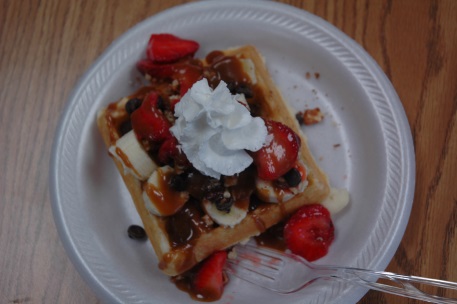 Let me tell you a little bit about the pearl sugar. It was a mystery to me when I first heard about it and I had no idea where to find it, so we ordered it from Amazon. Come to find out, it is carried in some of the kitchen specialty stores such as Sur La Table and Williams and Sonoma. It is not likely that it will be found at your local grocery store. Because using pearl sugar seems to be a new trend it will probably start popping up in some markets. Pearl sugar is often used in Scandinavia countries and other Northern Europe countries in desserts. The best way to explain what pearl sugar looks like is to imagine a crushed sugar cube. It basically is very small chunks of sugar. Since Pearl sugar does not melt easily, it can be mixed into the waffle batter or other desserts and retain that remarkable little crunch. It can also be sprinkled on top of desserts such as cakes and cookies.
Well, just as I suspected, after some research, I found that Pearl sugar can be homemade. I think you might like the ease and cost of making your own. I am including a website for those of you who want to try something new.http://www.instructables.com/id/A-European-Style-Waffle
I hope you enjoy making and sharing these waffle recipes as much as we did!

Jeanne Wolfley
Monthly Newsletter Contributor since 2008
Email the author! jeanne@dvo.com
---
Recipe
Leige Belgian Waffles
Serves: 10
Prep Time: 15
Cook Time: 20
Ingredients:
1

(.25 ounce) package active dry

yeast

1 1/2

tablespoons

sugar

3/4

cup

lukewarm

milk

3

eggs

1

cup

melted butter

2

teaspoons

vanilla

3

cups

all-purpose

flour

1/2

teaspoon

salt

1 1/2

cups

pearl

sugar
Directions:

1. Sprinkle the yeast and white sugar over warm milk in a small bowl. The milk should be no more than 100 degrees F. Let mixture stand for 15 minutes until the yeast begins to form creamy foam.
2. Whisk the eggs, melted butter and vanilla into the yeast mixture until evenly blended; set aside. In a separate large bowl stir in the flour and salt. Make a well in the center of the flour. Pour the egg mixture into the well, Stir together until it becomes soft dough. Cover with a light cloth and let rise in a warm place until dough has doubled in volume, about 30 minutes. Gently fold in the pearl sugar.
3. Preheat a waffle iron according to manufacturer's instructions.
4. Place a baseball- size ball of dough on the preheated waffle iron. Cook waffles until golden and crisp, about 2 minutes. Repeat with remaining dough. Allow waffles to cool for 2 to 3 minutes.
Add Recipe to Cook'n
---
Recipe
Norwegian Waffles
Serves: 10
Prep Time: 10
Cook Time: 25
Ingredients:
3

cups

flour

3

teaspoons

baking powder

1/2

teaspoon

salt

4

tablespoons

sugar

6

tablespoons

butter

, melted

3

cups

milk

4

eggs
Directions:
Preheat waffle iron. Combine dry ingredients in a large bowl. In another bowl, beat wet ingredients together. Add the liquid mixture into the dry ingredients and stir until just combined. Spoon batter onto your waffle iron according to manufacturer's instructions and cook until golden brown. Repeat with remaining batter, keeping cooked waffles warm until serving.

Add Recipe to Cook'n