Faux Fondant
The Easy Way!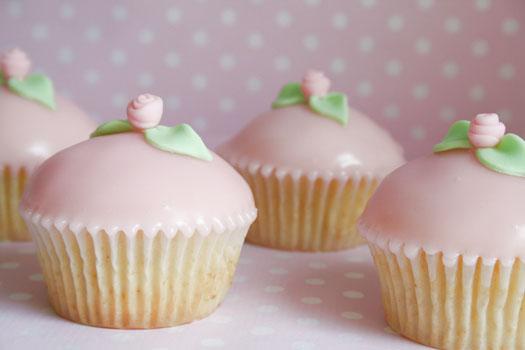 This is a super easy way to make your baked goods look so cute and professional. It is sure to impress! It is fast, it is easy, and even an older child could do it! It is also inexpensive, and can be fit to a particular color scheme.
This is a perfect way to beautifully decorate cakes, cupcakes, cake pops, brownie bites and petit fours.
You need:
Cooled, prepared baked good(s), frozen is even better, because the crumbs stay stuck. One can of prepared frosting, try Pillsbury Creamy Supreme. If you want to color the frosting, choose white. Food Coloring, if desired. I recommend paste food coloring, but liquid might work just fine too. Other decorations, like sprinkles.
First, set your baked good on a wire rack; setting this over parchment or waxed paper will help make cleanup a breeze. Then, remove the foil liner from your frosting can. Of course you can put the frosting in a microwave-safe container, but I am lazy and my frosting container has never melted on me. Add coloring if desired. Mix well, so the color is even through the frosting. Microwave frosting for 15 seconds, stop, stir and heat an additional 15 seconds. Let this sit until it has lost most of the heat, about a minute or two. Then pour over the cake, in a circular motion, allowing the cake to be fully covered, but go light, you can always do another layer. Let the frosting set up, this will take about 15 minutes, depending on how big the cake is, how much frosting was poured, and how cool your home and baked good are. If your cake looks super lumpy, at this point smooth it out and go for your second layer. For the second layer, microwave frosting another 15 to 20 seconds, allow to cool, and then pour another layer. If an additional layer is needed after this, you can repeat the last few steps. If you like how even and beautiful the frosting is looking, let it cool for a couple minutes before the addition of sprinkles and decoration (otherwise they will sink into the frosting). Remove your faux fondant yumminess from the rack and add to display plate, and refrigerate that cute little puppy until it is time to make its debut!
I promise you that even beginners can do this quick and easy little cheat!
Additional tips:
Runny frosting is too warm, let it cool a little longer. One can of frosting does about a cake mix worth of baked goods. Try the fudge flavor frosting, or pink lemonade, or caramel apple!
Sources:
http://cakejournal.com/tutorials/how-to-cover-cupcakes-with-poured-fondant/

Sharon Ng
Monthly Newsletter Contributor since 2012
Email the author! sharon@dvo.com