Thai Style Pineapple
Being a busy mom, Thai food has always seemed mysteriously and deliciously out of my reach as a cook. However, when you can walk into your favorite little Thai restaurant, be greeted by name and just say 'the usual', that's when you know it is time to learn.
I adore the sweet and spicy Thai flavors. The tangy Pineapple blends beautifully into so many Thai dishes, which is great because pineapple is not only tasty, it is full of antioxidants, and enzymes that help with protein digestion, sore throats, and arthritis.
Here are just a few mouth-watering Thai pineapple recipes that, I am proud to say, don't need to come out of a take-out box but are simple to prepare fresh at home.
---
Thai Fried Rice in a Pineapple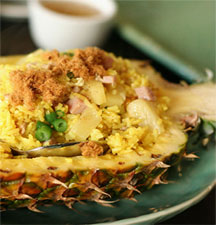 1 fresh pineapple
2 teaspoons oil
2 cups cooked rice, cold
1/4 cup baby shrimp
1 cooked chicken breast, cut into bite size pieces
1/4 cup diced cooked ham
2 green onions, sliced
1/4 cup peas
Slice pineapple in half. Hollow out each half by removing the pineapple meat. Discard the tough core and reserve 1/4 cup chopped pineapple. Store the rest of the pineapple in an airtight container, refrigerated for other uses.
Heat wok. Meanwhile, grill cut sides of pineapple halves on the grill, gas stove or under the broiler until heated through.
Add oil to hot wok. Add rice and stirfry 2-3 minutes. Add shrimp, chicken, ham and stirfry another 2-3 minutes. Add peas, green onions, and chopped pineapple. Stirfry another two minutes until all ingredients are mixed and hot.
Serve rice in heated pineapple halves.
Serves 2
---
Pork Satay with Pineapple Sauce
16 ounces lean pork
1 teaspoon cumin powder
1 teaspoon turmeric powder
1 teaspoon salt
3 teaspoons sugar
1/2 small onion
1 stalk lemon grass
1 small can of crushed pineapple
1 Tablespoon oil
Satay sticks
Lime wedges, for garnish
Slice the pork thinly across the grain and place in a mixing bowl. Grind the lemon grass and the onion and add to the bowl. Add the cumin, turmeric, salt and one tbsp of sugar and the oil. Mix well and leave to marinate for up to an hour.
Skew thinly on the satay sticks two and a half inches long.
Grill on high heat very quickly on both sides and remove while still moist and juicy.
Pineapple Sauce:
Boil the crushed pineapple and juice with the remaining sugar and pinch of salt for 10 minutes and serve with the grilled meat.
Serves: 2
---
Thai Pineapple Chicken Curry
2 cups uncooked jasmine rice
1 quart water
1/4 cup red curry paste
2 (13.5 ounce) cans coconut milk
2 skinless, boneless chicken breast halves - cut into thin strips
3 tablespoons fish sauce
1/4 cup white sugar
1 1/2 cups sliced bamboo shoots, drained
1/2 red bell pepper, seeded and sliced
1/2 green bell pepper, seeded and sliced
1/2 small onion, chopped
1 cup pineapple chunks, drained
Bring rice and water to a boil in a pot. Reduce heat to low, cover, and simmer 25 minutes.
In a bowl, whisk together curry paste and 1 can coconut milk. Transfer to a wok, and mix in remaining coconut milk, chicken, fish sauce, sugar, and bamboo shoots. Bring to a boil, and cook 15 minutes.
Mix the red bell pepper, green bell pepper, and onion in the wok. Continue cooking 10 minutes, until chicken is cooked through and peppers are tender. Remove from heat, stir in pineapple. Serve over the cooked rice.
Serves: 6
---
Spice up the culture in your kitchen by testing all of these tasty Thai meals. เพลิดเพลิน (enjoy).
---
An unbeatable value with exclusive benefits for members only.
Get a newsletter like this each week when you join the Cook'n Club.