Here's the Scoop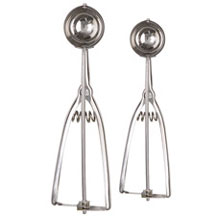 If you don't have a variety of cookie scoops, you might want to think about investing in a couple. If you purchase a scoop that is well made, it will last forever! I bought mine from a restaurant supply place. The price seemed reasonable and the quality was superb. I have and used mine for many years.
Using a cookie scoop for uniformity for the size of your cookies is eye appealing but it is also quicker, easier and less messy.
As you start using scoops, you will become more and more aware of the variety of its possible uses. One that comes to mind, besides making cookies, is the renowned meatball. Meatballs look so nice when they are all the same size and you don't have to take a long time measuring them out. I also like scoops for meatballs because I don't particularly like the feel of uncooked meat. I will handle it, but I really don't like to; a cookie scoop solves some of that problem.
A small scoop is just right for melon balls. Do you remember Kathy's cake bites? If not, watch her video. This is another good idea for a scoop. It is also a great size for brownie bites. Brownies work well using a small scoop, making them uniform in size and then dipping them in chocolate and rolling the freshly dipped brownie in finely chopped nuts or sprinkles.
A standard size ice cream scoop is great for measuring out cake batter into cupcake pans. This way they are all the same size. I love this method because it can be done quickly and it's less messy.
Occasionally, it is fun to make monster cookies. Again, they should be uniform in size. Monster cookies make fun gifts. Cookies that are denser work well when you are making them big. They have less chance of falling apart. Is there anything cuter than a 2-year old holding a monster cookie? Yeah, maybe the look on the mother's face!
I adapted this recipe from a Paula Dean recipe. You can substitute the butter with margarine if you are dairy intolerant, just don't tell Paula Dean! And, look – no flour – it's Gluten Free!
---
Monster Cookies
3 eggs
1 1/4 cup packed brown sugar
1 cup white sugar
1/2 Teaspoon salt
1 Teaspoon vanilla
1 (12 ounce) jar of peanut butter
1/2 cup butter
1/2 cup multi colored candies
1/2 cup chocolate chips
1/2 cup chopped peanuts
2 Teaspoons baking soda
4 1/2 quick cooking oatmeal
Preheat oven to 350 degrees. Line the cookie sheet with parchment paper.
In a very large mixing bowl, combine the eggs and sugars. Add salt, vanilla, baking soda, peanut butter and mix well. Stir in oatmeal and fold in the nuts, chocolate chips and candy. Using a large cookie scoop, drop dough 4-5 inches apart onto the cookie sheet.
Bake for 10 to 12 minutes. Do not over bake. Let stand for 3 minutes before transferring the cookies to a wire rack to cool.
---
Italian Meatballs
1/2 pound ground sausage
1/2 pound ground beef
1 egg
1/2 cup breadcrumbs
1 Teaspoon salt
1/2 Teaspoon pepper
1 Teaspoon oregano
1 Tablespoon fresh parsley
1/2 Teaspoon garlic powder
1/4 Parmesan, Romano cheese
Mix all ingredients together. Use small cookie scoop to make meatballs uniform in size. Bake at 350 degrees for 25 minutes. Add your favorite sauce.
---
Homemade Vanilla Cupcakes
1/2 cup margarine or butter
1 1/3 cup sugar
3 Teaspoons baking powder
1/2 Teaspoon salt
1 1/2 Teaspoons vanilla
2 eggs
1 cup milk
2 1/4 cups flour
Preheat oven to 350 degrees. In a large mixing bowl, cream together the sugar and eggs. Add baking powder and salt and blend together. Add flour and milk alternately; add vanilla.
With a round ice cream scoop, fill each cupcake liner with one scoop. This should make it about ¾ of the way full.
Bake for 20 to 25 minutes or until an inserted tooth pick comes out clean. Remove cupcakes from pan, cool and frost.
---
Fluffy Lemon Frosting
1/2 cup butter (softened)
3 1/2 cups powdered sugar
1/4 cup milk
2 1/2 Tablespoons fresh lemon juice
1/2 Teaspoon vanilla
In a mixing bowl, beat the butter with the eggs. Add sugar, vanilla and lemon juice. Beat on high for 2 to 3 minutes. You can use a little yellow food coloring to make it a prettier color. The frosting can be spread on with a knife or piped through a bag.
---
---
An unbeatable value with exclusive benefits for members only.
Get a newsletter like this each week when you join the Cook'n Club.