Grilled Pineapple Perfection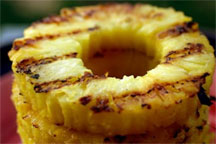 As far as I am concerned, fresh pineapple is one of Heaven's little treats. My little family eats quite a bit of this wonderful fruit, but we recently discovered a new favorite way to eat it! As much as my husband loves his ribs, steaks, and all things barbecue; it should come as no surprise that our favorite way to eat pineapple is grilled!
Grilling does wonderful things to fruit as it caramelizes the sugars creating a golden brown color and intensity of flavor. Whether you are eating it as a side dish or a dessert, grilled pineapple is a delicious treat!
You add a little something sweet, the warmth of the grill, and the ease of tossing it on with everything else you are grilling and you have a down-right amazing combination! These recipes should provide something for everyone and with summer temperatures right around the corner we are all sure to be enjoying the grill soon! Try them out and they are sure to be a hit at your next barbecue!
---
Simply Wonderful Grilled Pineapple
1 large ripe pineapple
3 Tablespoons melted butter
½ teaspoon honey, warmed
Small pinch of salt
Preheat the grill to high.
Cut the top and bottom off the pineapple. Place on the pineapple on its side and cut into 1 inch thick rounds. Using small and large round cutters core the pineapple and trim the edges.
In a small bowl, mix together butter, honey, & salt. Brush both sides of the pineapple rings with glaze.
Place pineapple wedges on the grill and cook until grill marks form. Turn rings over and repeat.
Serves 6.
Notes:
1. Pineapple will get mushy if cooked too long. Just sear and warm through.
2. 1 teaspoon brown sugar can be substituted for honey.
---
Grilled Pineapple with Agave Nectar and Coconut Flakes
1 Tbs. Extra Virgin Olive Oil
1 pineapple, trimmed, cored, and sliced into 1/2-inch slices
4 Tbs. agave nectar or honey
1 tsp. lime or lemon juice
freshly cracked pepper
Coconut flakes, to garnish
Add oil to indoor grill pan and place on high heat.
Mix nectar or honey, lemon/lime juice, and pepper in a small bowl.  Brush on both sides of sliced pineapple.
Grill for 3-5 minutes or until grill marks appear.  Flip pineapple and repeat.  Make sure not to overcook otherwise pineapple will fall apart.
Garnish with coconut flakes. Serves 4-6.
---
Cinnamon-Sugar Grilled Pineapple
1 fresh pineapple - peeled, cored and cut into rings
1/4 cup canned coconut milk
1/2 cup cinnamon sugar
Preheat a grill for medium heat. When the grill is hot, lightly oil the grate.
Place the coconut milk and cinnamon sugar into separate dishes. Dip slices of pineapple into coconut milk, then coat in cinnamon sugar.
Grill slices for 6 minutes on each side. Remove to plates, and serve.
Serves 8.
---
Sweet 'N' Spicy Grilled Pineapple
1 fresh pineapple - peeled, cored and cut into 1 inch rings
1/4 teaspoon honey
3 tablespoons melted butter
1 dash hot pepper sauce
salt to taste
Place pineapple in a large resealable plastic bag. Add honey, butter, hot pepper sauce, and salt. Seal bag, and shake to coat evenly. Marinate for at least 30 minutes, or preferably overnight.
Preheat an outdoor grill for high heat, and lightly oil grate.
Grill pineapple for 2 to 3 minutes per side, or until heated through and grill marks appear.
Serves 12.
---
Aloha Grilled Chicken and Pineapple Kabobs
1/2 cup pineapple juice
1/2 cup vegetable oil
1/2 pineapple peeled and cubed
1/4 cup lime juice
2 cloves garlic
2 tablespoons oregano
2 whole ripe plantains (optional)
4 strips bacon
8 whole chicken thighs
1 large onion
On eight 10-inch skewers, thread chicken, bacon, pineapple, onions and plantains, alternating ingredients. Set skewers on a tray with sides or in a glass baking dish.
In small bowl, stir together the pineapple juice, lime juice, oregano and garlic cloves. Pour the pineapple juice mixture over skewers, coating all sides thoroughly. Cover the skewers with plastic wrap and refrigerate them for at least 30 minutes. Kabobs come out best if they marinate for a full 24 hours. Please remember to turn them once in a while.
When you're ready to cook these kabobs, heat your grill to medium-hot or start a charcoal fire. Don't put the skewers on the grill until all the black has burned away from the charcoal.
If you put them on too soon, they'll end up tasting funny. Remove the skewers from the marinade and set the remaining marinade aside. We're going to use if for a sauce. Brush the kabobs with cooking oil and grill them for about 20 minutes turning them regularly.
Here's a great dipping sauce to go with these chicken kabobs:
Dipping Sauce:
Remaining marinade from the kabobs

2 tablespoons cooking oil

1 large onion minced

1 10 ounce jar of pineapple fruit spread
To make the dipping sauce just stir all the ingredients together in a medium or large bowl and boil over medium to high heat for 10 minutes. Serve the dipping sauce separately and allow you guests to dip to taste.
Serves 8.
---
Grilled Pineapple with Vanilla Ice Cream and Rum Sauce
1 (3 to 4 pound) pineapple
Cooking spray
2 teaspoons butter
1/4 cup brown sugar
1/4 cup rum
1 pint light vanilla ice cream
Cut the top and bottom off of the pineapple, peel and cut it crosswise into 8 rings, about 1/2-inch each. Use a spoon or apple corer to carve out the center core of each ring.
Spray a large grill pan with cooking spray and heat over a medium flame. Grill the pineapple, in 2 or 3 batches, for 2 to 3 minutes on each side, until it is nicely brown and grill marks have appeared. (You can also grill this on an outdoor grill sprayed with cooking spray before being heated.)
While the last batch of pineapple cooks, heat the butter, sugar and rum in a small saucepan over a low heat, stirring, until the sugar is dissolved and the sauce has thickened slightly, about 2 minutes. Remove the sauce from the heat.
Place a pineapple ring on each plate, scoop 1/4 cup of ice cream into the center of the ring, and drizzle about 2 teaspoons of sauce on top.
Serves 8.
---