Coconut-Pineapple Paletas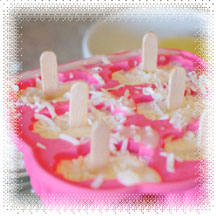 Paletas, Mexican popsicles, are a deliciously refreshing treat on a warm day. Only lightly sweetened and made with fresh ingredients, they are a much healthier alternative to popsicles that contain artificial colors, flavors and sweeteners.
Paletas can be made from just about any overripe fresh fruit: Strawberries, mangos, watermelon, blueberries, any fruit you like!
My family favors the pina-colada flavor. Because of the sweet pineapple juice there is no need to add extra sugar to this frozen treat.
Coconut-Pineapple Paletas
1 cup chunked pineapple, fresh, frozen, or canned
1 cup sweetened shredded coconut
2 Tablespoons whipping cream, half and half, or coconut milk (my favorite)
1-2 Teaspoons pineapple juice (if needed to thin mixture)
popsicle molds, cups, or ice cube trays
popsicle sticks (mini ones if using ice cube tray as a mold)
Blend pineapple chunks and shredded coconut in blender or food processor (or for chunkier pops, simply mix). Stir in whipping cream and pineapple juice (if needed). Pour into popsicle molds, cups, or ice cube trays; add sticks. Freeze for 2-3 hours until completely frozen. To remove paleta's from molds or cups, simply run warm water briefly over the outside of the mold to loosen.
Serves 4
---
This is just one delicious paleta recipe. Let your family experiment in the kitchen to discover your own favorite flavors.
If not using pineapple juice as a sweetener, here is a simple thick syrup recipe that can be combined with 2 cups of just about any fresh fruit to make 4 of any flavored paletas.
---
Simple Thick Syrup
4 Tablespoons white sugar
2 Tablespoons water
In a small saucepan, combine sugar and water. Heat over medium low heat, stirring constantly, until sugar dissolves completely. Remove from heat.
---
Special Hint: Add a squeeze of lime juice to any fruit paleta mixture for a zesty twist!
Mixing and making paletas together in the kitchen is great but even better, is fun in the sun together enjoying a cool frozen treat. I hope you enjoy some with your family!