Six Tricks for Great Summer Squash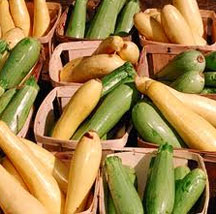 One of the greatest things about summer squash is its versatility. It makes a good addition to so many meal plans, but the very reason that it is so wonderfully versatile is the reason that it sometime lacks that, shall we say, excitement of a great dish. So what is this two-faced reason? Water! Zucchini is made up of lots and lots of H2O – up to 95%!
So how do we use this little morsel of knowledge for our good? Knowing all this clarifies the mission for everyday cooks:  If we want to take advantage of squash's many strong points we can prepare it in a way that is flavorful and enjoyable!  The key lies in knowing how to concentrate and coax.  
Here are six tips for making more savory summer squash.
The secret lies in concentrating the flavors. By getting rid of some of the water and leaving the water behind you will capitalize on the natural flavors. Once you've achieved this you want to coax those flavors out using flavor boosters that will really punch them out!
1.  Minimize External Cooking Water:  To begin with, avoid cooking methods that introduce more water, like boiling and poaching.
2.  Evaporate Internal Water: Instead, use dry-cook methods (like grilling and roasting) and fast-cook methods (like sautéing and stir-frying) that evaporate the water and leave the flavor behind.       
3.  Salt and Pepper, Generously: Even concentrated, squash's flavor can use a little boosting.  Start with salt and pepper.  As always, go slowly when seasoning, but you may well find that squash requires a little more salt and pepper than usual.  You'll also get better results by seasoning before cooking, so the flavor can better permeate the squash.
4.  Brown Nicely: When cooking summer squash, don't be afraid of a little browning.  A nicely browned surface adds great flavor.  
5.  Partner Strategically: Finally, balance squash's milder taste with stronger flavors like chilies, curry, ginger, garlic, lemon, goat cheese and so on.  
6.  Compensate for Flavor Dilution: Sometimes, summer squash must be cooked in a liquid, as in a soup, stew, or saucy dish like Chicken Cacciatore.  Without the flavor-concentrating benefits of dry-cooking and fast-cooking, summer squash can tip an entire dish to the unexciting side.  Recipes generally compensate for this dilution potential by boosting other herbs, spices and condiments, but don't hesitate to add more (gradually, of course) if a taste test warrants it.
Resources: vegetableamonth.com