Citrus Sippers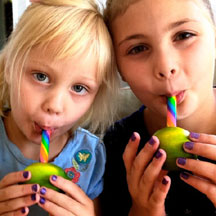 No cups or messy powder packets needed for this creative juice drink. Citrus Sippers are 100% fruit juice and 100% fun!
The idea is simple, poke a lemon with a candy stick to make a straw and let the lemonade make itself as you sip. No stirring required!
My 4, and 7-year-old are absolutely obsessed with this new idea. Every citrus in the fruit bowl is riddled with candy cane punctures. We have tried lemons, limes, oranges, grapefruit, and all were very yummy with our strawberry flavored candy sticks. My 7 year-old even tried a tomato but she doesn't recommend that one.
Keep the kids cool and entertained during the heat of the summer. It only takes 2 easy ingredients to create some vitamin C filled fun!
---
Citrus Sippers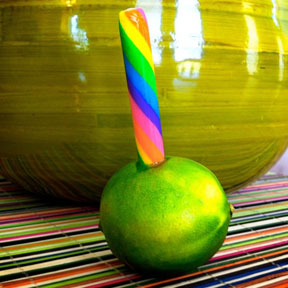 1 peppermint stick or any flavor candy stick, broken in half
2 lemons (you can also use limes, oranges, or grapefruits)
Break candy stick in half and insert the broken end directly into an uncut lemon. Hint: use a knife tip to poke an X through the skin of the lemon if necessary to get the candy straw in.
Suck on the candy stick for a while. Sucking on the candy will create tiny holes and turn the stick into a straw and soon you will taste juice. The sour lemon juice combines with the sweet candy stick for an instant, refreshing citrus treat.
Serves 2
---
Enjoy your time together as much as your sweet & sour treats and keep your camera handy as you watch your little sippers smile.