Light & Satisfying No-Cook Meals That Please!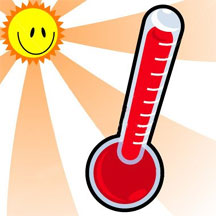 I have spent the last two weeks in a house with a broken air conditioner and I assure you that turning on the oven to cook dinner was the last thing I wanted to do! That got my mind turning and forced me to come up with some options for great meals without heating up my inferno of a kitchen! I think if I had turned on the oven in our 91 degree kitchen nobody would have had an appetite by dinner.
Now add in a table full of finicky little ones and you have quite a challenge. A few evenings I was a little frustrated with the task of coming up with something healthy, that wouldn't heat up the house, and that they would all eat and enjoy.
As I started writing this article I realized that this challenge is not unique to my household. Many of you have picky eaters, hot houses, or just wish to make simple, healthy, meals this summer. So try these ideas and recipes to cook up something satisfying without adding to those already climbing summer temperatures.
---
Tropical Chicken Salad Wrap

2 cup(s) cooked skinless chicken shredded
1 can(s) (11-ounce) mandarin oranges , drained
1/2 cup(s) shredded coconut, toasted
1/2 cup(s) roasted cashews
1 bunch(es) scallions, chopped
Juice of 1 lime
1/4 teaspoon(s) salt
1/4 teaspoon(s) pepper
1/3 cup(s) mayonnaise
1 handful(s) lettuce leaves (optional), for garnish
1. Combine first 8 ingredients in a large bowl. Add mayonnaise, tossing to coat evenly.
2. Place lettuce on flour tortillas, if you like. Add chicken mixture and roll up. Serves 4.
---
Muffaletta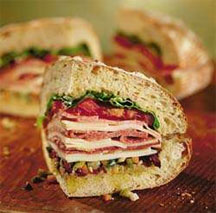 1  round loaf of Italian bread
1/4 pound(s) thinly sliced hard salami
1/4 pound(s) sliced provolone cheese
1/4 pound(s) thinly sliced deli ham
1 jar(s) (7-ounce) roasted red peppers, minus the oil (optional-- you can substitute tomato slices, or just leave both out.)
Olive Salad:
Green olives
Black olives
Cocktail onions (found with pickles and olives in the grocery store)
1 stalk(s) celery, diced small
Italian herbs (Use premixed Italian seasonings, or combine oregano, basil, rosemary, marjoram, and/or thyme.)
Olive oil
1. Slice the bread in half horizontally, and pull out some of the soft insides to make it hollow. Eat the extra bread, save it to make breadcrumbs, or feed it to the birds—just don't waste it.
2. To make the olive salad: Coarsely chop the olives and cocktail onions. On average, the pieces should be about the size of a raisin. Combine all ingredients. Olive Salad will keep in a sealed container in the refrigerator for up to one month.
3. Spoon half of the olive salad into the bottom portion of the loaf. Layer the meats, cheese, and roasted red pepper on top of that. Add the remaining olive salad, and quickly put the top half of the bread on before olive salad spills everywhere. If you're starving, go ahead to step 3, but if you can stand the wait, let the sandwich rest for at least 10 minutes so that the bread soaks up the juices. (Put it in the fridge if you're letting it rest for longer than 15 minutes.)
4. Cut the giant sandwich into quarter-rounds to serve. Can you fit it in your mouth? Serves 4.
---
Smokey Ham and Corn Salad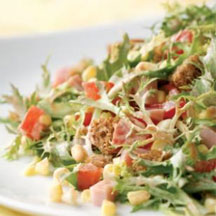 1/3 cup reduced-fat sour cream
2 tablespoons distilled white vinegar
1 teaspoon paprika, preferably smoked
1/4 teaspoon salt
8 cups trimmed frisée, (about 1 large head) or 8 cups mixed salad greens
1 medium tomato, diced
1 cup fresh corn kernels, (from 1 large ear)
1 cup croutons, preferably whole-grain
3/4 cup diced ham, (about 4 ounces)
Whisk sour cream, vinegar, paprika and salt in a large bowl. Add frisée (or salad greens), tomato, corn, croutons and ham; toss to coat. Serves 4.
---
For more ideas follow these 18 No-Cook Meal Suggestions:
Appetizers
Rather than rifle through entrees, why not focus on the hors d'oeuvre chapter of your favorite cookbook? Perhaps some proscuitto-wrapped cantaloupe would satisfy your salty-sweet craving. Maybe some greek salad skewers can fill your grumbly stomach cavity. And who's ever turned down a mozzarella and tomato stack? No one, my friends. No one.
Canned fish
You may not find the old mayo and tuna combo fabulous, but with a little lemon juice, a few herbs, and a dollop of olive oil, canned seafood like tuna, salmon, and sardines can be kept light and fresh as the day it was pulled mercilessly from the sea.
Ceviche and tartare
The practice of marinating seafood in citrus can create some amazing and fresh flavors! If you have a few extra bucks, grab a lemon, some quality shrimp, and start soaking.
Cold soups
You've heard of Gazpacho, the tomato-and-cucumber-based concoction Lisa Simpson pushes on barbecues, but did you know there are hundreds of fruit and veggie soups requiring only a food processor and a basket of produce? A Google search for "cold soup recipes" yielded 1,230,000 results. Get browsing.
Crostini / bruschetta
While most recipes in this genre call for toasted bread, you can fudge it with a super-crusty baguette, a little rubbed garlic, and some olive oil. Honestly, the additional toppings are usually so tasty, no one will complain.
Dessert
Sorbet, granita, simple whipped creams, various balls and cookies, frozen pies, no-bake cheesecakes, ice cream treats, trifles … I could go on, but I'm all drooly now. So I'll let you take it from here!
Dips and spreads
Hummus, tapenades, and pestos are not just stunningly simple to make at home. They're inexpensive, highly edible with pita chips or crudite, and eminently spreadable on sandwiches or wraps. Plus, you don't even need a food processor. Just grab your potato masher and dub the dips "rustic."
Fruit and fruit salad
Pedestrian cantaloupe-n-honeydew salads may understandably cause some egregious eye-rolling. But with warm weather comes a tremendous variety of in-season fruits. Whether they're eaten whole or chopped and mixed in some sublime concoction, there are few healthier, less expensive options for summer. A bowl of fresh fruit makes for a great summer dessert too.
Guacamole
Two avocados + 1/3rd a red onion + a small tomato + one lime's worth of juice + a handful of chopped cilantro + salt and pepper = a dip that'll be devoured in ten minutes. Marinated vegetables
With a little vinegar and oil, vegetables are surprisingly simple to marinate yourself. If you're not in the mood, a jar of roasted red peppers will do the trick just as well.
Salads (green)
You know what I'm talking about… When the thermometer reads like a radio dial, there's nothing quite like stuffing your face with a pile of leaves. If you can accent those greens with additional veggies - tomatoes, cucumbers, carrots, what have you – all the better. And healthier.
Salads (non-green)
Of course, non-stop lettuce marathons can become tiring after a while. So why not spruce up your dinner with a bean or bread salad? There are gazillions of options online so get your google on!
Salsa
What simple condiment can top chips, be stuffed in a burrito, and perk up chicken breast? If you said "chocolate" … ew. If you said "salsa," you win! Cheap, low in fat and calories, and high in various nutrients, salsa is the superfood that keeps on giving.
Sampler plates
Great for a barbecue or other party. Assemble a variety fruit, assorted olives, lots of dip, some fine cheeses, and several kinds of crackers, breads, and pita chips. A little something for everyone!
Sandwiches, wraps, and pitas
You may love a simple turkey sandwich or something a little more gourmet, but either way there are recipes out there that will send your tastebuds soaring. Mix it up by using a variety of bread, pitas, etc and try fillings you have never tried before. Variety is the spice of boring sandwiches….I mean life.
Slaws
The world of slaws extends well beyond mayo-soaked iceberg lettuce. We recently had an apple slaw that my husband was certain was from Heaven. There are lots of variations on "slaw" and whether you are a fan of cole slaw (me- not so much!) I am sure there is a slaw out there you would love.
Smoothies, lassis, parfaits, and enhanced yogurts
Cool, fresh, healthy – Need I say more? Cool off with one of these no-cook treats and get as casual or as fancy as you want with your concoction.