This and That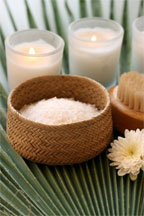 In summer time, the need to exfoliate and to have hydrated skin is not always an easy task. With the wearing of sandals, swimming and other outdoor activities, it's amazing how much time it takes to keep one's skin soft, especially the feet.
Salt scrub is such an easy recipe and it can vary in ingredients depending on what you find works the best for you. I had some family members spend a week with us and totally got them hooked on it!
---
Salt Scrub
1 cup fine sea salt
1/2 cup light oil such as grape seed, light olive oil or sweet almond oil
15 drops of essential oil
2-5 drops of liquid soap (optional)
Pastel food coloring (optional)
If adding food coloring, add 1/8 teaspoon coloring using a knife or back of spoon to the salt. With deposable rubber gloves, work the color into the salt. At this point, you won't see much color. Add the essential oil to the oil of your choice and mix with the salt, stirring well with your hands. Add 4 or 5 drops of liquid soap (it's simply a cleaning agent). Display in an attractive jar and give as a gift. I put mine in a plastic container and keep it in the shower.
The only important ingredients in the salt scrub are the salt and the oil, everything else is optional.
---
Pre-Wash
I still get most stains out of clothing by using a Fels Nathpa bar, but if you want a good spray & wash, try the following recipe. This is really good for almost any stain. The secret is the spray bottle. Make sure you have a good one.
1 cup distilled vinegar
1/2 cup ammonia
1/2 cup of liquid soap
1/2 cup of water
15 drops lavender essential oil
Place all ingredients in a spray bottle and keep with laundry supplies.
---
Raspberry Butter
My husband and I have a restaurant that we particularly like because of its wonderful raspberry butter. I finally found a recipe and thought you might like to try it as well. Fruit butter is a way to add a gourmet touch to your rolls or even toast. There are two ways to make raspberry butter, with fruit preserves or with fresh berries.
---
Fresh Raspberry Butter
1/2 cup butter
1/4 Teaspoon vanilla
3/4 cup fresh raspberries or 2/3 cup frozen
2 Tablespoon powdered sugar
Mix all ingredients in a blender or food processor until well blended.
---
Raspberry Butter (Preserves)
1/2 cup of butter
1/2 cup of raspberry preserves
1/4 Teaspoon salt
Mix in blender or food processor until well blended.
---
Orange Julius
I love an Orange Julius but I forget to make them until the warm weather hits and I remember how delicious and easy they are to make. An Orange Julius is a fruity, refreshing drink! Maybe this recipe will remind you to enjoy a homemade Orange Julius.
1/2 cup sugar
1-6 ounce can orange juice concentrate
1/2 cup milk
1 1/2 cups ice
1 Teaspoon vanilla
Mix together in a blender.
---
I hope you enjoy some of "This and That."
---
An unbeatable value with exclusive benefits for members only.
Get a newsletter like this each week when you join the Cook'n Club.