Summer's Sweet Abundance
Summer has its own charm for so many reasons and the one I want to talk about today is undeniably one of its best! So many of the other magical characteristics of this season have come in to question with age. I used to believe the "lazy days of summer" meant something wonderful, but now that I am a mother I have come to understand that it just means that my children are more lazy and I am more exhausted from keeping up, entertaining, and cleaning up after them all day.
The idea of laying by the pool getting a golden tan was quickly squashed by the reality of slathering smelly sunscreen on my terribly fair and easily burned skin, And the "freedom" that summer vacation lends was abruptly ended by the incredible boredom my kids suffer when they aren't in school. So what is this undeniable gem? The variety of fresh fruit that is readily available in these warm summer months! Thank goodness I have the fruit!!!
While we are all trying to keep (or get, in my case) a beach body for this summer I wanted to share some recipes for fresh fruit desserts! So, trade in that double fudge brownie and grab a bag of fruit and we will make some light and delightsome desserts!
---
Melon & Apple Granita
4 cups cubed ripe melon
1 cup unsweetened apple juice
1/4 cup lime juice
1 cup fresh blueberries
1 cup fresh raspberries
Fresh mint leaves, for garnish
1. Combine melon, apple juice and lime juice in a blender; puree until smooth. Pour the mixture into a 9-by-13-inch glass or metal pan.
2. Place the pan on a level surface in your freezer. Freeze, stirring and scraping with a fork every 30 minutes, moving the frozen edges in toward the slushy center and crushing any lumps, until the granita is firm but not frozen solid, 3 to 4 hours.
3. Remove from the freezer; use a metal spatula or large spoon to break up the frozen ice into small slivers. Pack into an airtight plastic container and freeze for at least 1 hour more.
4. Remove from the freezer about 20 minutes before serving to soften slightly. Use a wide spoon or ice cream scoop to scrape the granita into shallow bowls. Sprinkle blueberries and raspberries over each portion and garnish with mint leaves, if desired.
Tips & Notes
Make Ahead Tip: Freeze for up to 1 week. Remove about 20 minutes before serving to soften slightly.
Serves 8.
---
Chocolate Covered Banana Pops
4 large ripe bananas, peeled and cut into thirds crosswise
3/4 cup semisweet or bittersweet chocolate chips, melted
1/4 cup shredded coconut
1. Peel 4 large ripe bananas, cut in thirds and insert a popsicle stick into the cut end of each piece. Melt 3/4 cup semisweet or bittersweet chocolate chips. Cover each piece of banana with melted chocolate and sprinkle with coconut. (Reheat chocolate, as needed, to keep it melted.) Place the bananas on a baking sheet lined with parchment or wax paper and freeze until frozen, about 2 hours. Serves 6
Tips & Notes
Make Ahead Tip: Store airtight in the freezer for up to 1 week. | Equipment: 12 wooden popsicle sticks
Tip: To melt chocolate, microwave on Medium for 1 minute. Stir, then continue microwaving on Medium, stirring every 20 seconds, until melted. Or place chocolate in the top of a double boiler over hot, but not boiling, water. Stir until melted.
---
Fruit Kabobs with Two Dips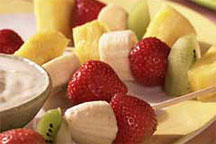 Chocolate Dipping Sauce
1 cup (6 oz) semisweet chocolate chips
1/2 cup heavy (whipping) cream
2 Tbsp light corn syrup

Orange Dipping Sauce
1 cup (8 oz) fat-free sour cream
3 Tbsp sugar
1 tsp freshly grated orange peel
2 Tbsp fresh orange juice

16 large strawberries
2 kiwis, peeled and quartered
8 2-in. chunks fresh pineapple
2 plums, quartered
8 2-in. chunks ripe honeydew melon
Sixteen 10- to 12-in. wooden skewers
Chocolate Sauce: Microwave chocolate chips and heavy cream in a medium microwave-safe bowl on high at 30-second intervals until cream is steaming hot. Let stand 1 minute, then stir until chips have melted and sauce is smooth and starts to thicken. Stir in corn syrup. Cool to room temperature or, stirring often, refrigerate to cool quickly. Sauce will thicken more as it cools. If sauce is too thick, warm gently in microwave.
Orange Sauce: Mix ingredients in a small bowl, cover and refrigerate.3. Using 2 skewers per kabob, thread a strawberry, piece of kiwi, pineapple chunk, plum wedge, honeydew chunk and another strawberry. Cover and refrigerate until ready to serve. Accompany with the sauces for dipping.
Planning Tip: Prepare Chocolate Sauce and store up to 8 hours at room temperature or refrigerate up to 5 days (to serve, heat, then cool to room temperature). Make Orange Sauce up to 1 day ahead; refrigerate. Prepare and/or cut fruit and skewer up to 8 hours before serving. Refrigerate covered. Serves 8.
---
Fruit Pizza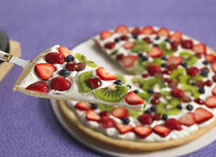 1 (18 ounce) package refrigerated sugar cookie dough
1 (8 ounce) package cream cheese, softened
1 (8 ounce) container frozen whipped topping, thawed 
2 cups sliced fresh strawberries
Fresh fruit such as kiwi, peaches, berries, etc 
1/2 cup white sugar
1 pinch salt
1 tablespoon cornstarch
1/2 cup orange juice
2 tablespoons lemon juice
1/4 cup water
1/2 teaspoon orange zest
1. Preheat oven to 350 degrees F (175 degrees C). Slice cookie dough and arrange on greased pizza pan, overlapping edges. Press dough flat into pan. Bake for 10 to 12 minutes. Allow to cool.
2. In a large bowl, soften cream cheese, then fold in the whipped topping. Spread over cooled crust. You can chill for a while at this point, or continue by arranging the fruit.
3. Begin with strawberries, sliced in half. Arrange in a circle around the outside edge. Continue with fruit of your choice, working towards the middle. If bananas are used, dip them in lemon juice so they don't darken. Then make a sauce to spoon over fruit.
4. In a saucepan, combine sugar, salt, corn starch, orange juice, lemon juice and water. Cook and stir over medium heat. Bring to a boil, and cook for 1 or 2 minutes, until thickened. Remove from heat, and add grated orange rind. Allow to cool, but not set up. Spoon over fruit. Chill for two hours, then cut into wedges and serve. Serves 8.
---
Simply Delicious Fruit & Dip
This is a family favorite and it is served at most family gatherings as an appetizer, side, or dessert.
Sliced fruits of choice (strawberries, peaches, apples, pineapple, cantaloupe, you name it!)
2 cups Cool Whip
2 cups yogurt (lemon, strawberry, vanilla, etc)
Mix equal parts yogurt, cool whip, dip your fruit, and enjoy! Serves 8.
---
---
An unbeatable value with exclusive benefits for members only.
Get a newsletter like this each week when you join the Cook'n Club.