Not Your Everyday Salad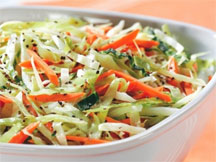 I have a deep appreciation for attractive, delicious salads. I could eat salad every day. I am always on the lookout for an innovative salad. It's easy to get in a rut with salads. Sometimes people get so used to the same old salad they rarely try anything new. Big Mistake!
When you are asked to bring a salad to a function do you automatically think – green or fruit? I revel in finding a new, well appreciated salad recipe.
I just tried my daughter-in-law's coleslaw and it was much more than I hoped it would be. Luckily everyone in our family feels that recipes are for sharing, which is a good thing because that is where I get most of the recipes I love. This recipe tastes better the second day and is good for 5 days. How is that for handy?
---
Sweet and Sour Slaw
Cook's Illustrated Recipe – 1995
1 pound cabbage (red or green)
1 large carrot, peeled and grated
1/2 cup granulated sugar
2 Teaspoons kosher salt
1/4 Teaspoon celery seed
6 Tablespoons vegetable oil
1/4 cup rice vinegar
Ground black pepper
Toss cabbage and carrots with sugar, salt and celery seed in a colander set over a medium bowl. Let stand until cabbage wilts – at least 1 hour, possibly up to 4 hours. Pour out the drained liquid from bowl; rinse bowl and dry. Dump wilted cabbage and carrots back into bowl. Add oil and vinegar; toss to coat. Season with pepper to taste. Cover and refrigerate until ready to serve. This recipe can be refrigerated for up to 5 days. Don't worry, it won't last that long!
---
Fresh Green Bean Salad
1 10-ounce bag edamame
1 can drained and rinsed white beans
11/2 pounds fresh green beans cut into 1/2 inch pieces
1/2 cup chopped red onion
1 lemon
1/4 canola oil
1/4 cup fresh lemon juice
1 Teaspoon salt
1 teaspoon sugar
Steam green beans for 3-4 minutes and place in ice water. Steam edamame for 3 minutes. Drain both the edamame, green beans. Place along with onion in a large bowl.
Dressing: Whisk in a small bowl; zest of 1 lemon, lemon juice, salt and sugar. Toss to coat beans.
---
Blue Cheese Bacon Salad
This recipe is somewhat like the old fashion wilted lettuce salad. The balsamic vinegar gives it a special touch.
3 heads of Romaine lettuce or one large bag of spinach
1 cup chopped red onion
1/2 lb. cooked bacon (crumbled)
1/2 cup balsamic vinegar
1 Tablespoon olive oil
Wash and tear greens in large pieces in a large salad bowl. In a frying pan, cook the onion and bacon until bacon is done enough to crumble. Drain off about half of the bacon grease. Add olive oil and balsamic vinegar, remove from heat and let set for 5 minutes. Drizzle the dressing over the greens and top with blue cheese crumbles and fresh ground pepper.
---
Parmesan Vegetable Salad
2 cups fresh broccoli florets
2 cups cauliflower florets
1 small red onion
1/2 lb. bacon cooked and crumbled
1/2 cup mayonnaise
1/2 cup yogurt
1/2 cup Parmesan cheese
1/2 Teaspoon dried basil
1 Teaspoon salt
In a large bowl, add the mayonnaise, yogurt, cheese, sugar, basil and salt. Add broccoli, cauliflower, onion and toss until well covered. Sprinkle with crumbled bacon just before serving.
---
Pea Salad
3 cups fresh or frozen peas
1 cup finely chopped salad
1 cup finely chopped cauliflower
1/4 cup finely chopped green onions
1/2 cup sour cream
8 ounces finely chopped ham
3/4 cup ranch dressing
Do not cook the peas. Mix the above ingredients and let set overnight in refrigerator.
---