---

Recipe from the August 2011 Newsletter
---
Ingredients:
1 head fresh broccoli, cut into bite size pieces
1/2 cup raisins
1/4 cup red onion, chopped
2 tablespoons white sugar
3 tablespoons white wine vinegar
1 cup mayonnaise
1 cup sunflower seeds
10 slices bacon




---

Directions:

1. Place bacon in a large, deep skillet. Cook over medium high heat until evenly brown. Crumble and set aside.

2. In a salad bowl, toss together broccoli, raisins and red onions. In a separate bowl, whisk together the white sugar, vinegar and mayonnaise. Pour over broccoli mixture and toss to coat. Refrigerate for at least 2 hours.

3. Before serving, sprinkle with sunflower seeds and crumbled bacon. Toss and serve.

August 2010 Newsletter

Be sure to check the Cook'n Recipe Archive for more recipes.
---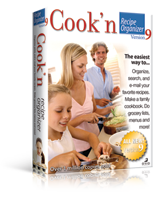 Be sure to check the Cook'n Recipe Archive for more recipes.
Piles of recipe cards in your drawer? Download Cook'n today and get organized!
Buy the CD or download of Cook'n right now! Includes over 300 of our best recipes.
---
"I might learn how to cook yet with all this software of yours. You can't believe how much it has helped. I've had friends come over (I'm just a single guy with a dog - but looking for the right woman) and rave about the meals I prepared for them. It's not all that hard if you just follow the directions. In the end I have to tell them my secret, it's not talent - it's your software.
Oh well, the food is still delicious. Now if I could just figure out how to use the dishwasher.
-John
Cook'n Is Several Products in One!