Cook'n is the best Recipe Software on the Mac
Cook'n

Recipe Organizer


PC & Mac

---

---

The Easiest Way to...
---
Cook'n the easiest way to keep track of your Favorite Recipes
Whether preparing a home-cooked meal for loved ones, printing a family cookbook, making a menu to simplify meal preparations, analyzing nutrition to help you eat healthier, or syncing a shopping list to your mobile device to save time and money at the grocery store, Cook'n puts your favorite recipes at your fingertips to help you creat the things that make mealtime enjoyable.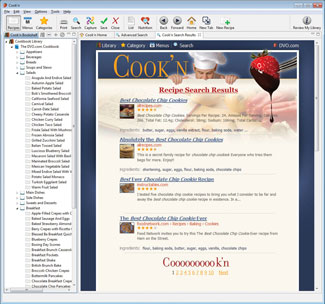 Find
Search the Internet for the perfect recipe
Enter what you have on hand and Cook'n will find you a meal you can prepare
Search your own recipe library in seconds
Use Cook'n's proprietary seach engine to find the best recipes on the Internet. Do an ordinary keyword search or tell Cook'n what ingredients you have on hand and Cook'n will search the web for recipes that match. Narrow search results and sort them to help you find the perfect dish!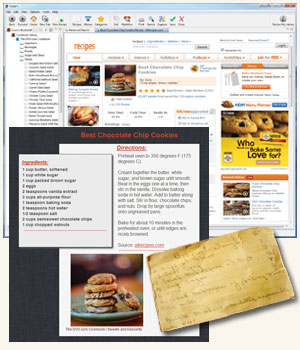 Capture
Capture recipes you find on the internet directly into your recipe library
Import articles from weekly and monthly newsletters
Add decorative themes to make recipe browsing more enjoyable
When you find a great recipe on the internet simply click Capture and Cook'n will instantly impor the recipe into your Cook'n Library. Cook'n lets you customize your recipes with colorful Themes so they look just the way you like!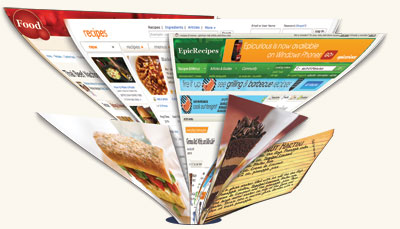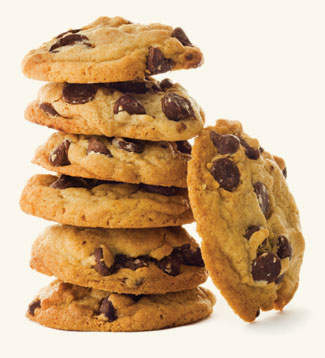 Enter your Own Recipes
Enter your personal recipes
Use the Cook'n quick-fill feature to enter units and ingredients with just one stroke of a key
Share your personal recipes with your friends and family
It's easy to just type your own personal recipes into Cook'n. The Cook'n Recipe Window looks just like a recipe card and "Quick-fill" editing does much of the typing for your
---
Cook'n is five products in one
The Cook'n Recipe Manager is an easy-to-use program that makes recipe management and organizing using your home computer a snap.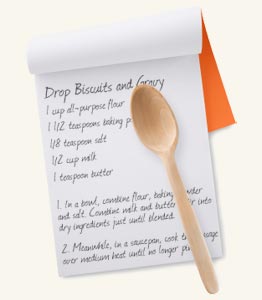 Electronic Cookbook
Search thousands of recipes in seconds
View hundreds of full color photos
Download recipes from internet
Simply tell Cook'n what ingredients you have on hand and in seconds, Cook'n will suggest several delicious recipes. Or, use Cook'n's exclusive "Recipe Browser" feature and page through pictures of finished dishes to look for ideas.
Download new recipes every week from this web site. You can also import recipes from other web sites or other cooking software.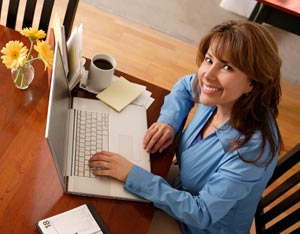 Recipe Manager
Add your own recipes
Easily adjust recipe serving sizes
Print recipes, menus and shopping lists
E-mail recipes to friends
Organizing your family recipe collection in the computer is easy with Cook'n. You already know how to put in your recipes, that's because Cook'n's recipe window looks just like a recipe card. And, "Quick-Fill" editing does much of the typing for you.
Cook'n has simple cookbook-like chapters and categories that make it easy to find your recipes fast.
Cook'n's Recipe Manager makes entertaining a snap. Simply select the number of guests you will be serving and enter it into your favorite recipe. Cook'n calculates the new ingredient amounts for you. No more of that measuring madness!
Sharing recipes is easy. Print recipes, and menus, or just have Cook'n e-mail recipes to a friend.
Menu Planner
Simply drag and drop recipes to create your menus
Build your own weekly, monthly and yearly menus
Automatically generate a shopping list from your menus
With Cook'n you can simply drag recipes into the days of the week to create a menu. Then combine weekly menus into monthly and even a yearly menu.
Plus, you can combine recipes and food items to make complete meals. Then, drag and drop meals to make your own weekly or monthly menus.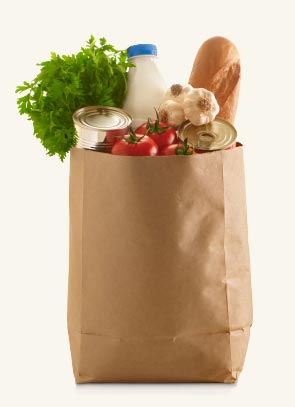 Grocery Shopping Assistant
Compiles your family's shopping list automatically
Organizes shopping list items by aisle
Converts to package sizes (ie; tablespoon tomato paste to 8 oz. cans)
Calculates your grocery cost
Cook'n automatically combines the food on your menus and makes a grocery shopping list. It even converts tablespoons of tomato paste to 8 oz. cans! Cook'n organizes your shopping list by aisle to save you time at the store.
Cook'n also calculates the approximate cost of your shopping list. You can print off these detailed lists for easy access while shopping.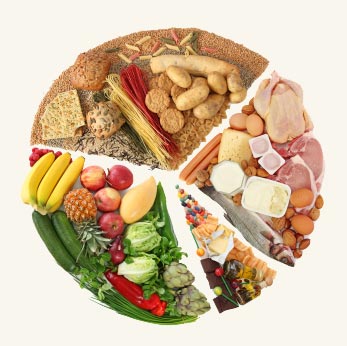 Personal Home Nutritionist
Analyze the nutritional elements of recipes and menus (even the ones you add!)
Choose between brands to satisfy dietary needs
Cook'n will analyze the nutritional value of any recipe or menu (even the ones you add!). You don't have to be a nutritionist to understand it either -- that's because Cook'n nutrition facts window looks just like the label on a can.
Cook'n has nutrition facts from the labels of 10,000 food products. You can choose between different brands to see what the nutritional effect is. Stop the guesswork among different brands and know which one is most appropriate for your needs.
Now you can plan menus based on dietary needs and tastes. Prepare one delicious meal for the entire family.
---
System Requirements for the Cook'n Recipe Organizer:
PC SYSTEM REQUIREMENTS

Windows 8/7/Vista/XP
1GIG RAM
300MB Hard disk space
CD-ROM drive
MAC SYSTEM REQUIREMENTS

Intel Processor
OSX v10.6 or higher
1GB RAM
CD-ROM drive
300MB Hard disk space
---
Mac Support Page
---
Software Team,
I first want to express my heart-felt GREAT JOB!!! to the team. I just downloaded and installed the Mac version. I then did a restore from my PC Cook'n backup. It worked perfectly with no problems. In fact, Where the PC version took 3-5 minutes to start up and load all my cookbooks, the Mac version does so in well under a minute! SWEET!!
I am just so thankful to finally have Cook'n running native on my Mac. My hat is off to the entire development and support team.
Best regards,
Mark
---
I am so excited I just went and purchased a new MacBook
17-inch:2.3GHz quad-core Intel-Core i7
4GB 133MHz
750GB 5400-rpm
IntelHD Graghics 3000
AMD Radeon HD 6750M with 1 GB GDDR5
Built-in battery (7hours)

Just for my kitchen, I can't wait for the new version to come out so I can get all my cookbooks in it. Kinda expensive recipe box, but just easy access for me and my wife. Great with morning coffee too, LOL Dan I hope that's big enough for all you have coming
Rob
---
Dan, You are the manWhen I got the good news Friday. I spent the day cleaning my Mac to get ready for this great software, cannot wait to start typing recipes.
Thanks shallot, I am most grapefruit, For all your Wok.
-Charles
---
Fabulous Dan!!! Can't wait!! Thanks a bunch!!
Dee
---
Fabulous!!! I'm one of the ones who has been hounding you about the Mac version. Congratulations and I can't wait to get started!!!
Nancy Woodall
---
This is what my sister and I have been waiting for....it's looking good.
Barbara Allen
---
I viewed it and love it. Please hurry as I am really looking forward to it. A MacIntosher
Connie
---
Dan just watched the Demo twice I can't wait I really hope it's very soon! Thanks for the heads up and the demo
Thank you, Phil
---
It looks AWESOME! I can't wait to actual use it. Thanks for all the hard work.
Tammra
---
I am so excited, hope it is complete soon; I've been waiting a long time. The video looks wonderful.
Thanks, Lillian
---
Can't wait....I love my PC version and use it all the time. Would like to see the Mac version as I use Mac too....hurry!
Kathy M.
---
YOU HAVE MADE MY DAY!!!!!!! I CAN NOT WAIT TO START. ESPECIALLY AFTER SEEING YOUR DEMO! I HAD A PROGRAM IN THE PAST BUT WAS UNABLE TO USE IT ON THE MAC MISSED IT. I COOK ALL THE TIME AND LOVE TO TRY NEW RECIPES OUT MAGAZINES OR WHATEVER. MY HUSBAND NEVER KNOWS WHAT HE IS GOING TO GET FOR DINNER. BUT THIS LOOKS SO MUCH BETTER !!!! GOING TO BE WORTH THE WAIT. THANK YOU!
Kathleen
---
Can't wait! When Cook'n for Mac is released, my Mac will be released from its Windows programs -- as soon as I export my Cook'n recipes, of course :o)
Donna
---
I am glad to hear I can transfer recipes to the new MAC version. After so many years, I have a lot of recipes on my old Cookin disk'! Please keep me informed. Thanks much. Enjoy your emails and demos!
Regards, Alma MacCallum
---
The Mac version looks great. Started using Mac about a year ago and it's now my main computer. I look forward to the Cook'n Mac version. Congratulation!
Angela
---
Thanks Dan for the MAC message. I am thrilled that your software will soon be ready. I have enjoyed your software very much but do want it on my Mac which is a fabulous machine. I am behind organizing my recipes and look forward to getting back up to date again soon.
Joyce Morrison
Cook'n Is Several Products in One!