Hearty, satisfying recipes for busy families...from fridge to table in 30 minutes or less!
From: Gooseberry Patch
We all love sharing cozy, comforting meals with family & friends. But how to put yummy homemade food on the table when our lives are so busy...that's the big question!

For Homestyle in a Hurry, we've chosen over 200 delicious, quick & easy recipes. Start the day right with a California Omelet and a basket of Quick Poppy Seed Muffins...yum! Share a cozy lunch of Triple-Take Grilled Cheese and mugs of Tomato-Basil Bisque, or invite friends over for Tailgating Taco Soup...it feeds a crowd, yet takes just minutes to make.

Feed your family well with flavorful casseroles and skillet dishes made simple with pantry staples. Serve up Parmesan Pork Chops, 3-Cheese Spinach Rigatoni or Stuffed Artichoke Chicken...they'll all come running when you announce, "Dinner's ready!" Round out the menu with speedy, veggie-packed sides and salads like Aunt Mary's Calico Beans, Rosemary Roasted Potatoes and Sunshine Coleslaw.

But wait, there's more! It's a snap to treat your family to desserts like Berry Cream Tarts, E-Z Chocolate Chip Bars and Caramel Apple Cake that use just a few ingredients. For casual get-togethers and after-school snacking, Sweet & Salty Party Mix, English Muffin Pizzas and Yummy Onion Dip are sure to please.

We've added lots of shortcuts and quick tips to take you from the kitchen to the table in a jiffy. So come on in, everybody...it's time to eat!

Reviews

"'Homestyle in a Hurry' is the latest cookbook from Gooseberry Patch and it came into my life at the perfect time. I've already started working on my New Year's resolutions. One of my main resolutions for the new year is to save money by cooking more and eating out less. "Homestyle in a Hurry" is filled with recipes that contain inexpensive ingredients, most of them are probably already in the pantry. And, the dishes come together in 30 minutes or less.

I found appealing recipes from breakfast with Megan's Cinnamon Pancakes to appetizers such as Heavenly Warm Corn Dip and Creamy Spinach Spirals. If you're like me, you're always looking for appetizers that are cheap, easy, and crowd-pleasing. I can sometimes get in a rut with my side dishes. Yes, there are many ways to cook pasta and rice, but sometimes we need some vegetables. I can't wait to try Country-style Pepper Cabbage and Barb's Bacon Green Beans. These sides will go perfectly with Sourdough Chicken Casserole and Super-fast Tilapia Parmesan. Of course, dinner isn't complete without dessert and Chocolately Chewy Brownies are the perfect ending to a warm winter meal." -- Kimberly McCallie

---
"This cookbook makes quick meals in a hurry for busy or rushed families who perhaps have sports to attend or for working moms to come home to make meals after a long hard days work. They have everything from appetizers to desserts and sides. The gooseberry books are the best cookbooks around. I love them all!!"
-- Janet L. Dolbow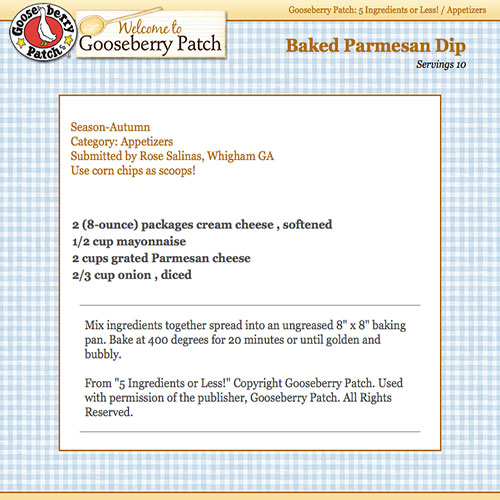 Includes the Gooseberry Patch Theme
About the Author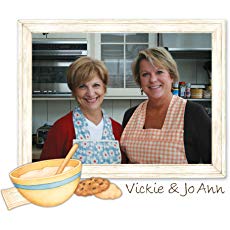 Gooseberry Patch was founded in 1984 by Vickie Hutchins and Jo Ann Martin, two moms looking for a way to do what they loved and stay home with kids too.

25 years later, they're best known for their collection of family-friendly, community-style cookbooks. Each book is created with today's time-strapped, budget-conscious families in mind and filled with recipes shared by cooks all across the country. Along with treasured family recipes, each book includes the stories the go along with these tried & true dishes.