Best of the Best from Georgia
From: Best of the Best
Imagine sipping iced tea in your rocking chair on the front porch, a gentle breeze sending the sweet fragrance of magnolia blossoms through the air, friends and family showing up to enjoy a menu of Fried Green Tomatoes with Remoulade, Bacon-Wrapped Grilled Corn on the Cob, Honey Pecan Fried Chicken, Sweet Onion Cornbread, and Company's Coming Peach Pie.

You won't find these easy-to-make recipes in just any old cookbook. But you will find them in this unique collection of over 370 mouth-watering recipes from 87 of Georgia's best cookbooks.

The original Best of the Best from Georgia was the ninth volume in the acclaimed Best of the Best State Cookbook Series. This all-new edition continues the mission of Preserving America's Food Heritage. With more than 2 million copies sold, this series is known nationwide as the definitive source for state and regional cooking.

Reviews

"What a fun and enjoyable book!!! The recipes are so varied and easy to follow. The pictures of the recipes are outstanding. I would really recommend this wonderful Best of the Best cookbook to anyone's collection." --David Beltre

---
"Love these state cookbooks from Best of the Best. They are easy to read and understand."
--Amanda Rimke
---
"Looking forward to trying out a few recipes, like Southern Fresh Fruit Tea, Sweet Potato Biscuits, Cashew Rice Pilaf With Baby Green Peas, many of the fried chicken recipes, and Toasted Butter Pecan Cake to name a few."
--Spencer Howell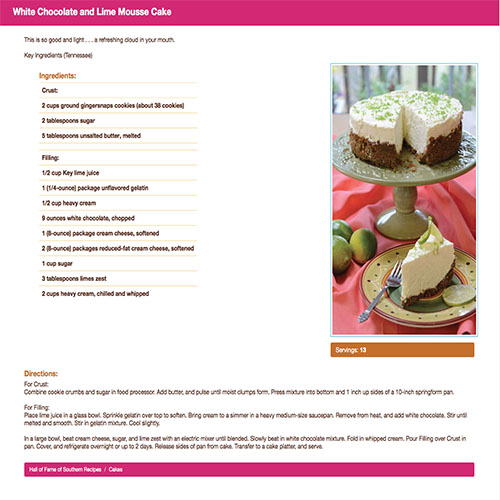 Includes the Southern Recipes Theme
About the Author
Gwen McKee is a publisher with a mission. As the co-founder (with her husband, Barney) and the editor-in-chief of Quail Ridge Press, she has dedicated the past two decades to preserving America's food heritage. Through Quail Ridge Press, Gwen has now accomplished much of this task by creating the 50-volume Best of the Best State Cookbook Series that includes over 20,000 classic recipes. Today Quail Ridge Press is one of the most successful regional publishers, and certainly one of the most thriving publishing houses owned by a woman.

Gwen's interest in preserving "real" American food came naturally. Like most native Southerners, she was influenced by a family immersed in the traditions of Southern cooking and entertaining. Over a period of many years, Gwen collected recipes that were handed down through her family for traditional holidays and reunions.