Pink and Girly Foods- Because It's A Girl!!
I am 25 weeks with baby number 6 and we found out about a month ago that it's going to be a little girl!! We are so thrilled. My last two were boys, so it's been 6 years since we've had a tiny little lady around, and I am so ready. Bring on the pretty dresses and ruffles and bows! This will also make it an even 3 and 3 for us, so it feels pretty perfect. We just can't wait to meet this new little one.
In celebration of this little girl, let's talk about some foods that are perfect for little girls! My boys love food- and they certainly giggle when I make silly frog sandwiches or think it's pretty cool when I make pumpkin bread bowls- but my little girls truly love it. They are fascinated with the cakes I make, anything pink and covered in sprinkles, or anything tiny, cute and tea-party worthy. To them, presentation can almost make more of an impact than the taste itself! So let's talk about some foods that are sure to win the heart of any little girl.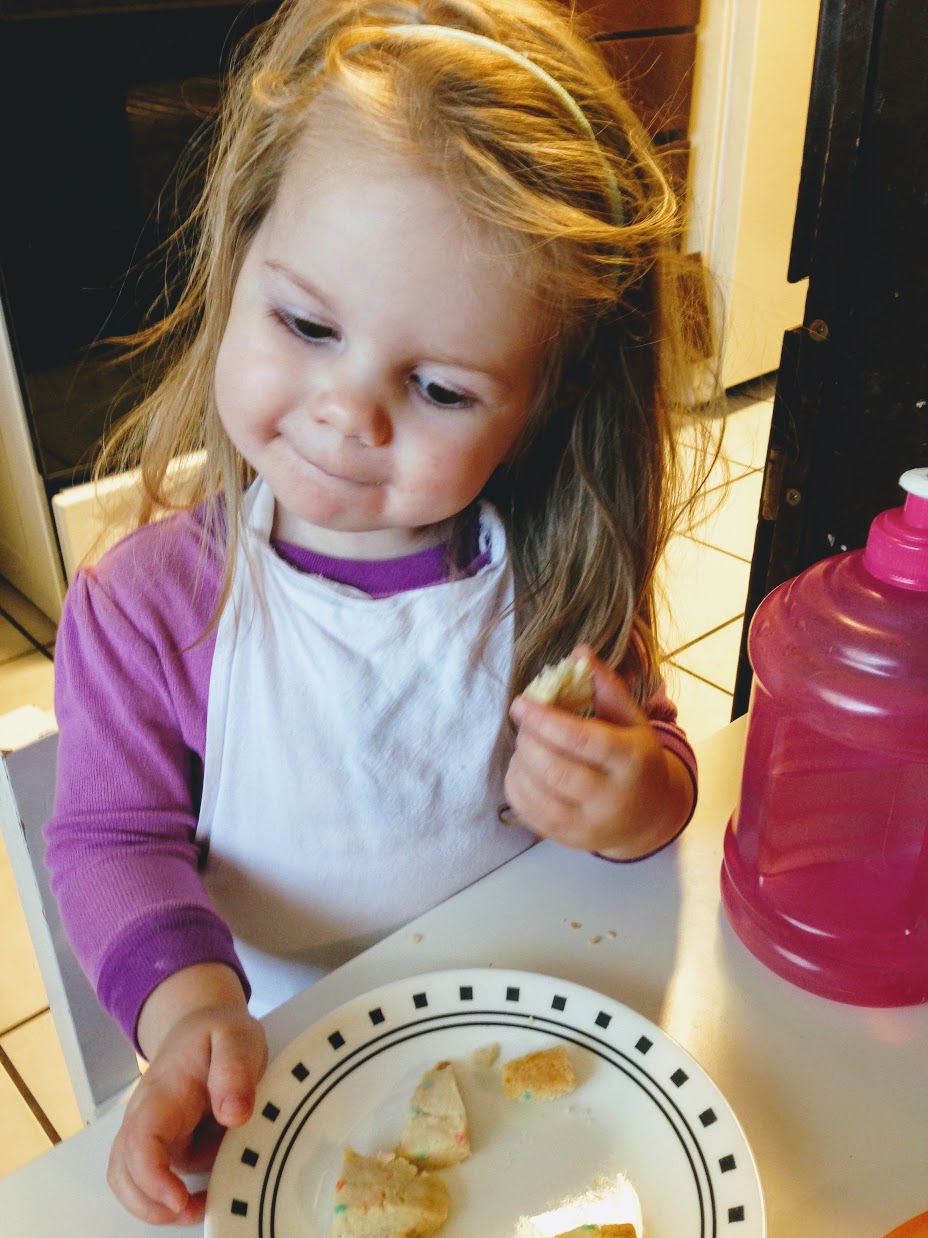 These fairy bite cookies are the perfect little tea party food. They are tiny, sprinkle-filled, and the name has FAIRY in it, so obviously it's just what every little girl needs! I made these a few years ago when my husband took our son on a fishing trip, and at the time I was just home with my two little girls. We made these together and my oldest just loved them. (My youngest was only a month old, so she couldn't quite appreciate them- yet!) I've included the recipe for you at the bottom of the article!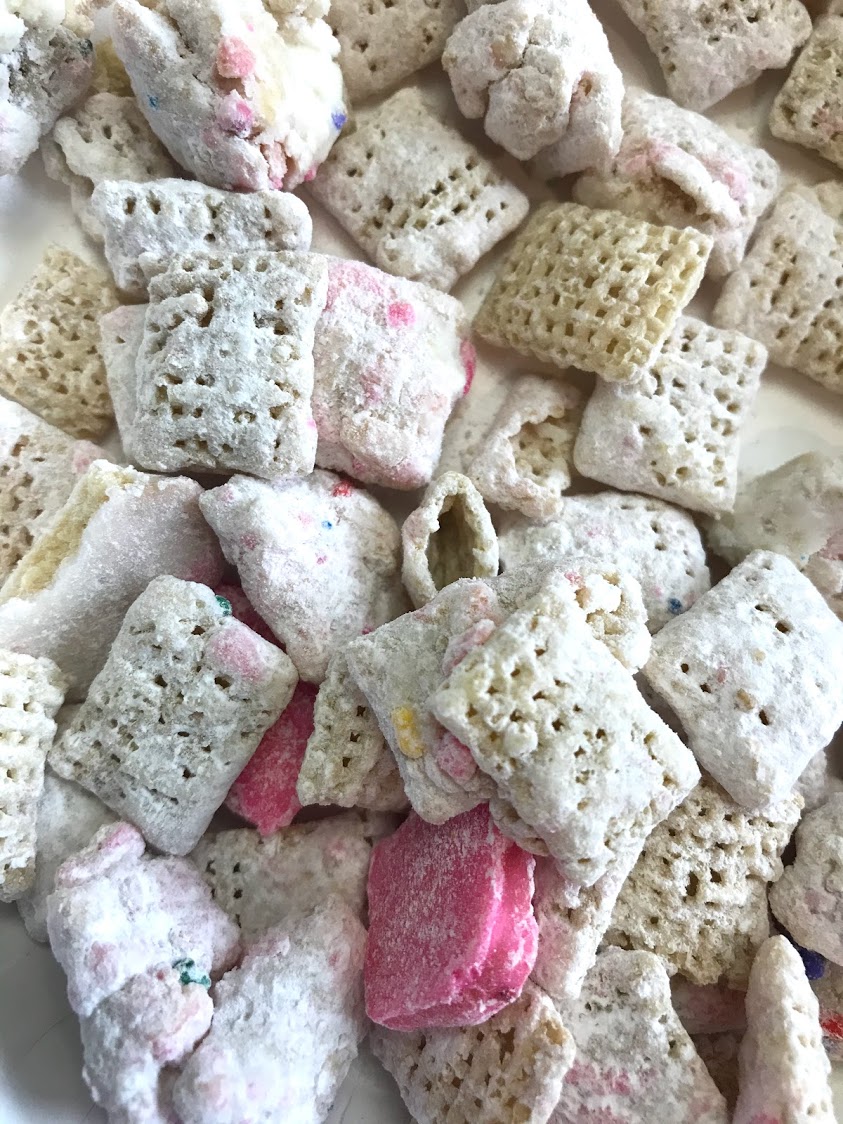 Sprinkled animal cookies are perfect for any little girl party- white and pink and tiny and sprinkles! (Are we seeing a pattern here?) While there are so many ways you could incorporate these cute little cookies in a dessert, my girls loved this muddy buddy version. Muddy buddies are just so much fun to make with kids because they love shaking the bag at the end- and they're the perfect tasty snack! Simply use white chocolate in place of your regular peanut butter and milk chocolate, and toss in some sprinkles with your powdered sugar. Throw in some animal cookies and what little girl wouldn't be in heaven? (It's even better if you crush some animal cookies and add it to your powdered sugar mixture!)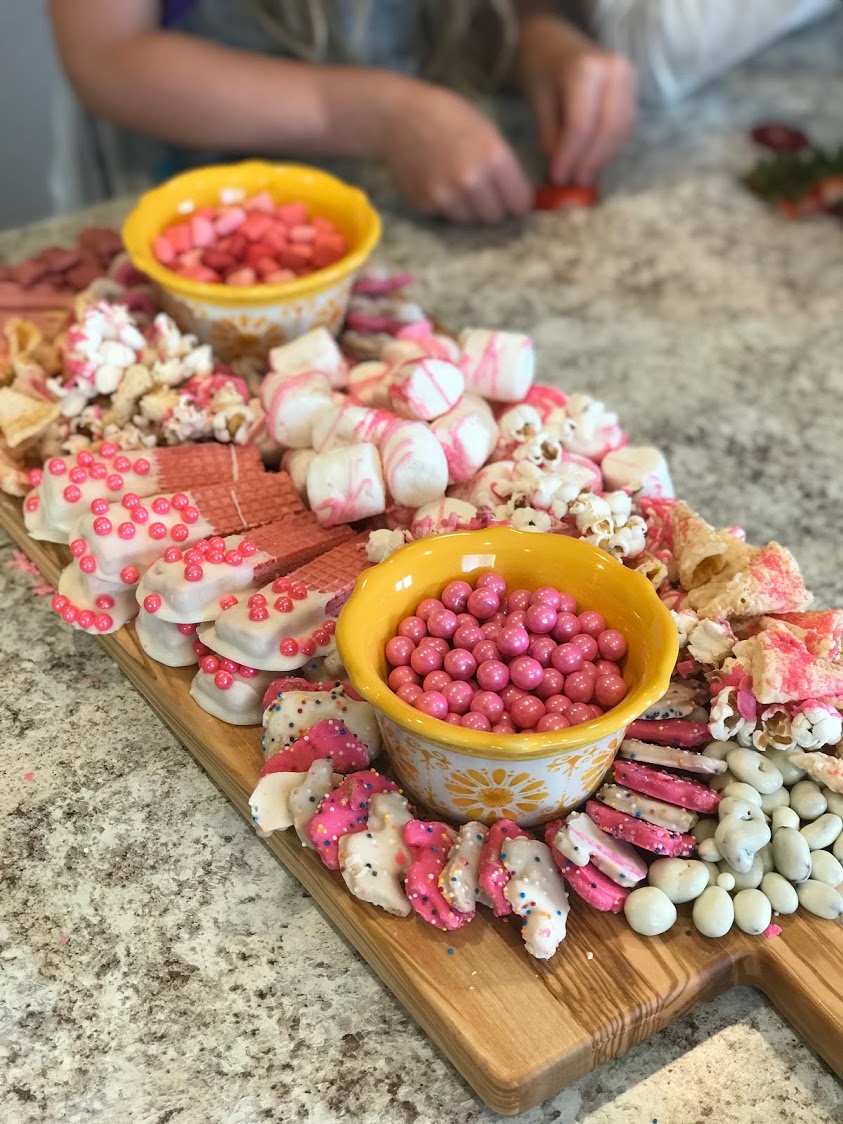 This princess board was a HUGE hit with my girls when I made it (and if we're being honest, my boys were too- who doesn't love a board full of tasty treats??). I got this idea from my Beautiful Boards cookbook, but you could put anything pink and colorful on a board to create a similar theme! There is no shortage of pink candies and cookies- all you have to do is walk down the aisle at your local grocery store!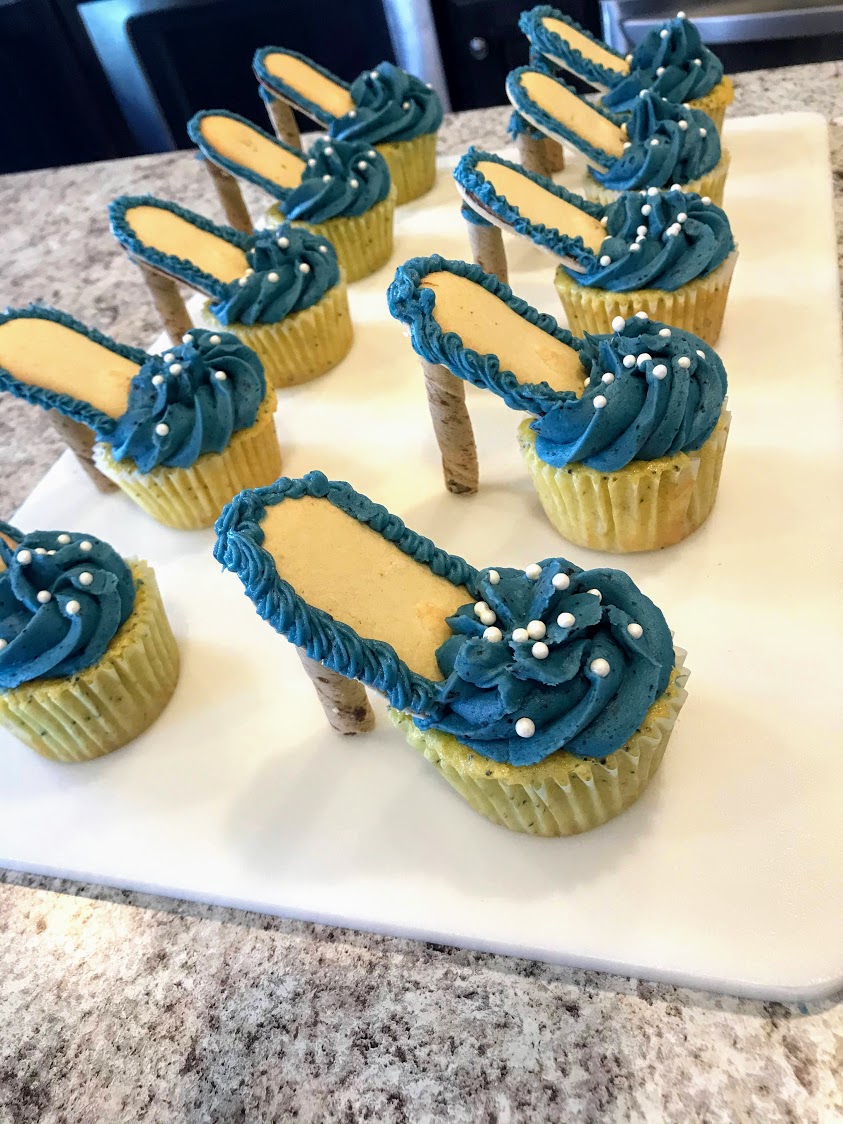 I made these cupcake shoes for a recent Disney night- and don't you think they are just so cute?? We did blue frosting for Cinderella, but you could do beautiful pinks and purples for that extra girlish flair! All you need is a cupcake, some frosting, a Milano cookie, and a Pepperidge Farm Pirouette Crème Filled Wafer sliced in half. Easy and elegant!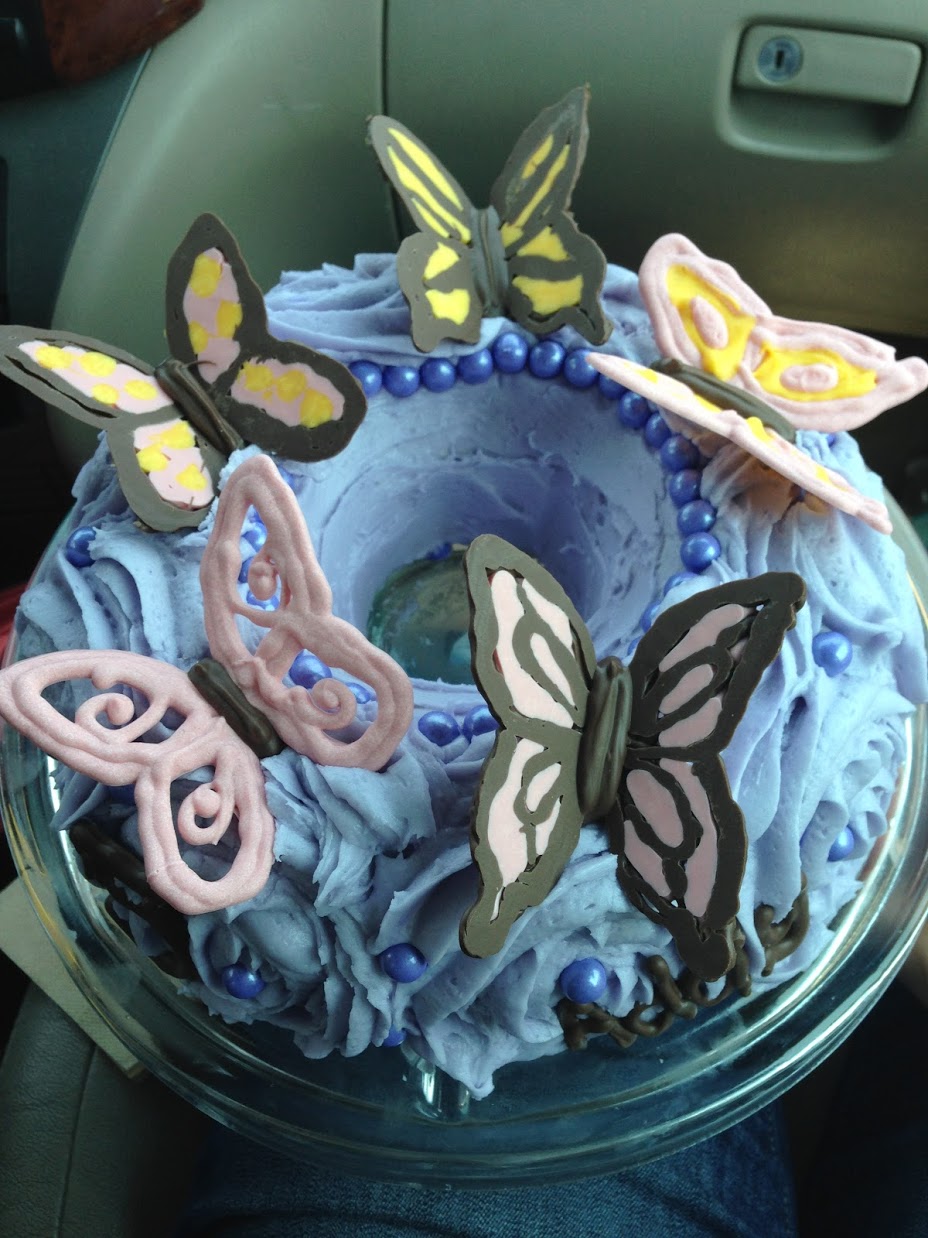 These butterflies make any little girl's heart flutter! Candy melts put in Ziploc bags and carefully squeezed onto a folded cardstock makes these butterflies tasty and beautiful. (You can check the sources below for a full tutorial.
When in doubt, just add sprinkles. And pink.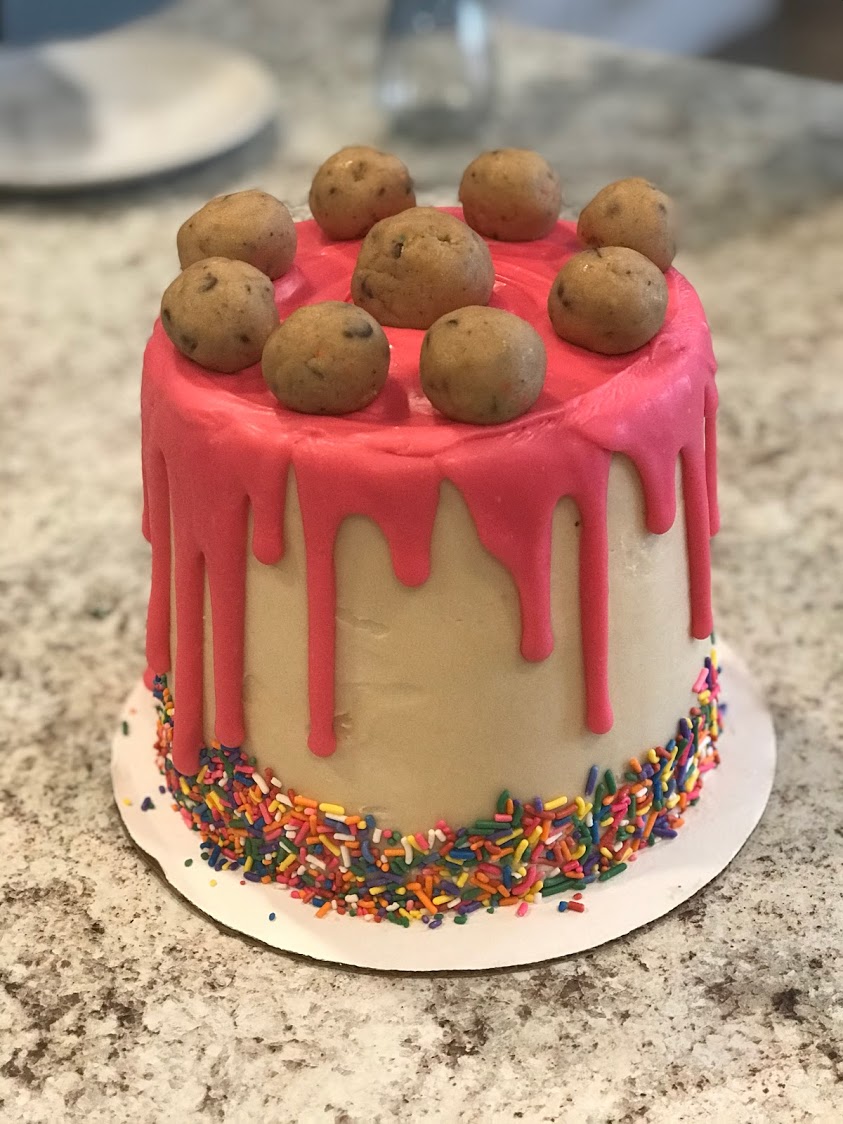 What are some of your favorite girly recipes? Share with us in the comments below!
And here is that cute Fairy Bite recipe!
Fairy Bites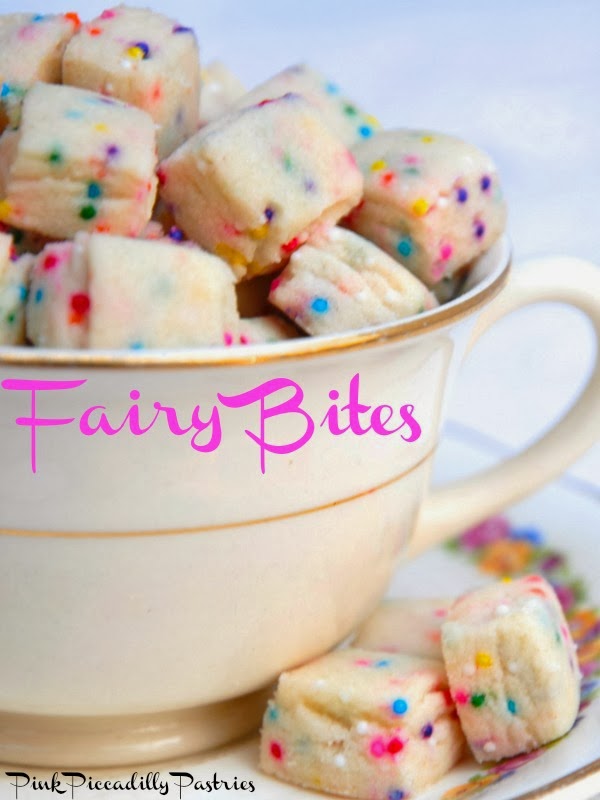 The perfect cookie for any tea party!
Serving size:
8
Calories per serving:

85




Ingredients:
1/2
butter
, slightly softened
1/4
cup
sugar
1/4
teaspoon
almond extract
1 1/4
cups
flour
1/4
teaspoon
salt
4
teaspoons
multi-colored
nonpareils
Directions:
Heat oven to 325 degrees. Line 8-inch square baking pan with plastic wrap (or cut parchment to fit) leaving
1-inch overhang.
Combine butter, sugar and almond extract in medium bowl. Beat at medium speed, scraping bowl often, until creamy. Reduce speed to low, add flour and salt. Beat until well mixed. Stir in nonpareils.
Knead mixture 4-5 times in bowl until dough forms a ball. Pat dough evenly into prepared pan. Use overhang to lift
dough from pan. Cut dough into 1/2-inch squares. Gently place squares 1/2 inch apart onto ungreased cookie sheet.
Bake approximately 15 minutes or until bottoms just begin to brown.
Source:http://pinkpiccadillypastries.blogspot.com/2014/02/fairy-bites.html?showComment=1392882299424

Recipe formatted with the Cook'n Recipe Software from DVO Enterprises.
Add Recipe to Cook'n
Source:
http://pinkpiccadillypastries.blogspot.com/2014/02/fairy-bites.html?showComment=1392882299424
Beautiful Boards by Maegan Brown
https://food.ideas2live4.com/recipe/high-heel-cupcakes/
https://insidebrucrewlife.com/frosted-animal-cookie-muddy-buddies/
https://www.youtube.com/watch?v=5R77hiCe6Ho&feature=youtu.be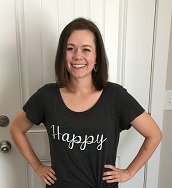 Camille Hoffmann
Weekly Newsletter Contributor since 2014
Email the author! camille@dvo.com