Year of Disney: Ichabod Crane and Mr. Toad With Crumpets and Macaroni Grill Bread!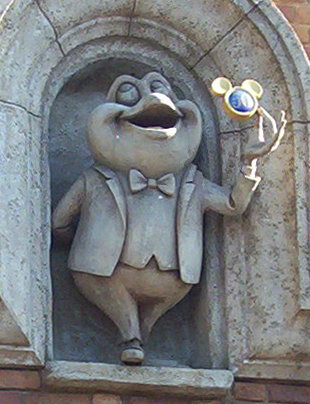 This week was The Adventures of Ichabod and Mr. Toad, and is the last movie of shorter compilations rolled into one- the next week we start back with the really classic classics ;). But if I'm being honest, this was probably one of my favorite meals!
I was worried at first; because I wasn't sure I was going to have a lot of fun food options. But I think everything turned out fabulously! It was cute AND tasty!
The movie begins with the adventures of Mr. Toad. We see his friends snacking on crumpets and tea, so I thought I would give crumpets a try! I've never tried them, but read about them in books all the time, so I was excited to give these a shot. I found a recipe that seemed like a winner, and went for it.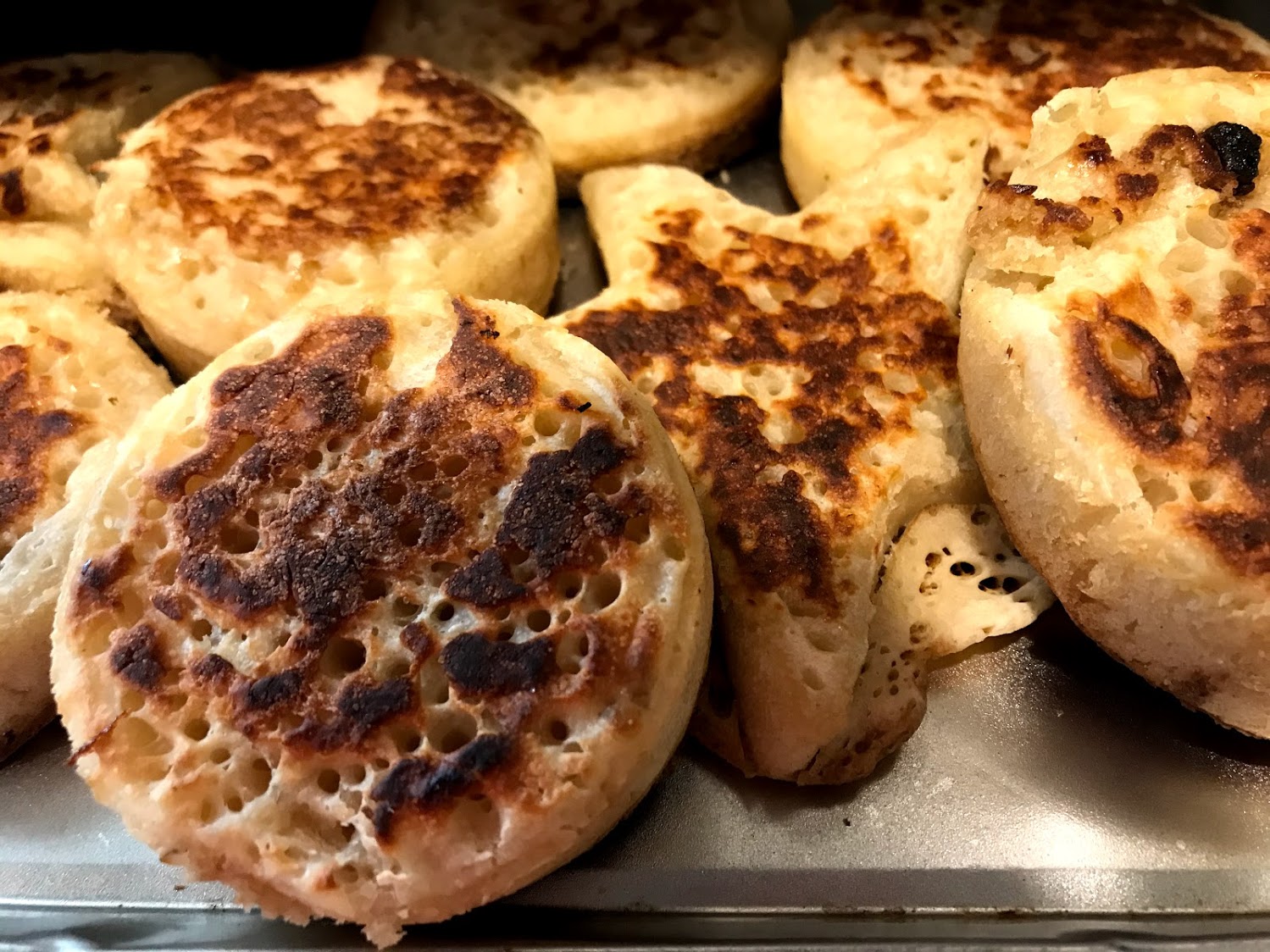 I wish I had followed my gut to turn down the heat a little bit because each side kept getting a little too dark for my tastes, but overall they were really good! Super chewy, like a mix between an english muffin and a pancake. I didn't have crumpet rings, so I used some metal cookie cutters I had on hand and they worked great. My kids loved the star shapes! Crumpets are definitely something I want to try again- just with a little lower heat next time!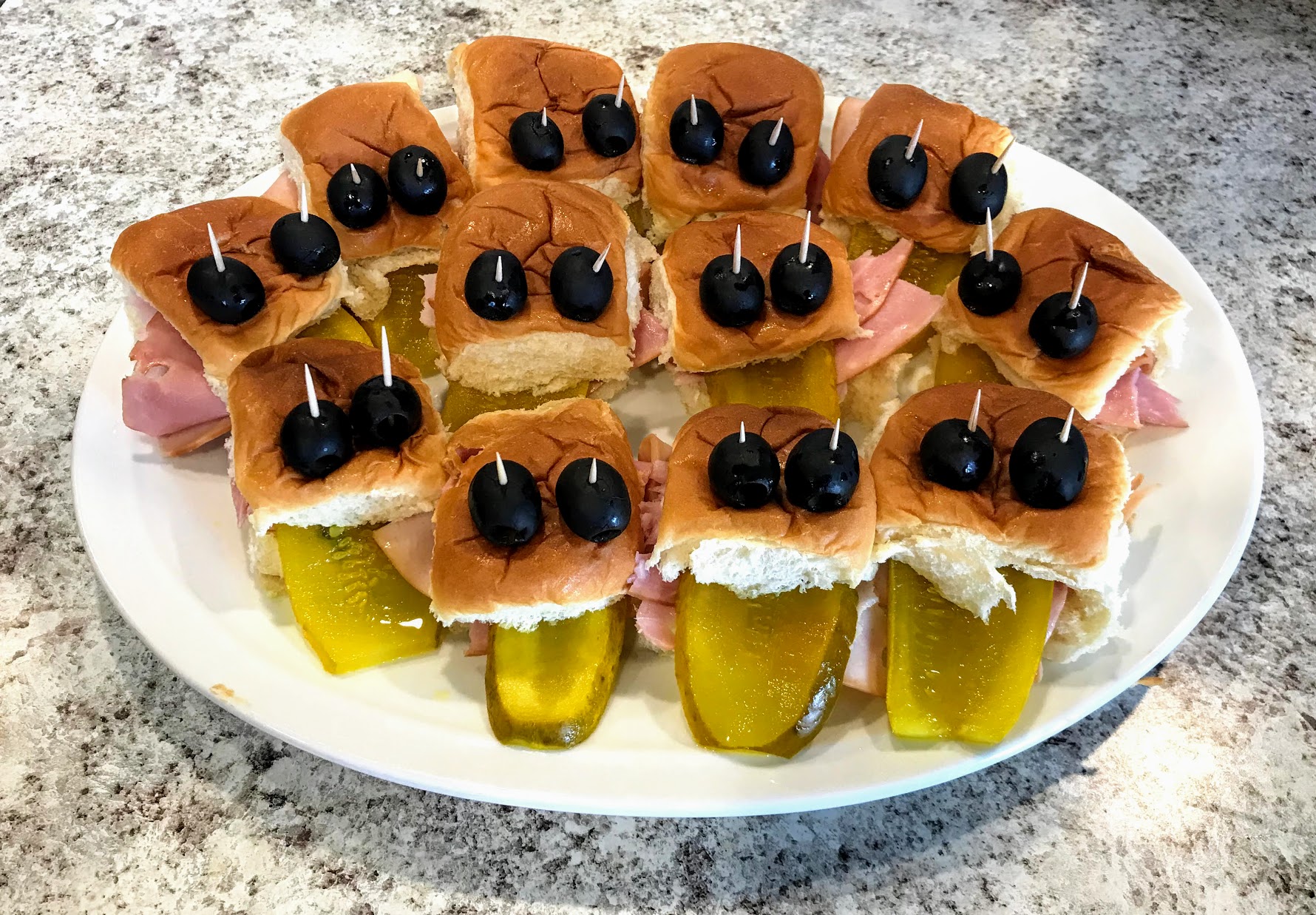 I also decided to utilize the "toad" aspect; granted, most things I could find online were frogs, but I figured it was close enough ;). I made these adorable froggie sandwiches, and my kids were dying! My 3 year old was CRACKING UP when he saw the froggie face- you've got to admit, the tongue is pretty silly!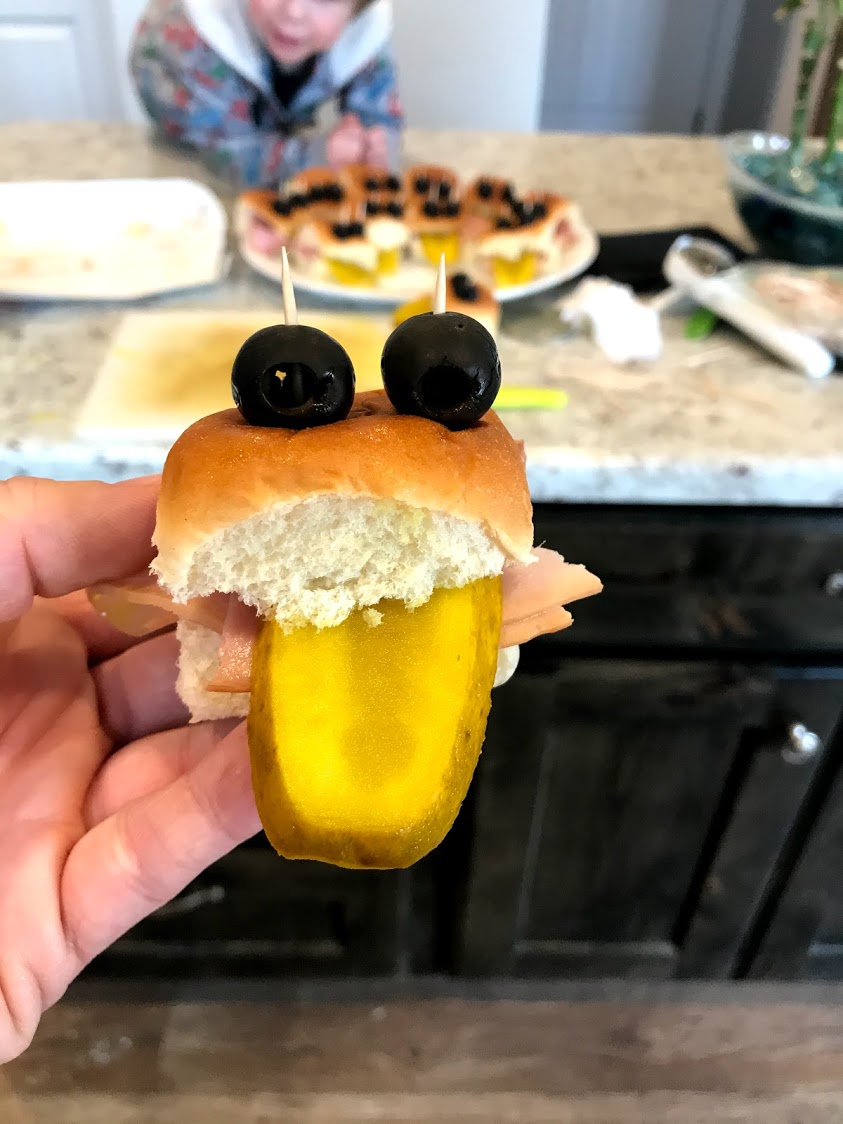 To tie the two movies together, I made a little candy mix with gummy frogs and mellowcreme pumpkins (in honor of the headless horseman!). I was so lucky because my mom had a bag of pumpkins leftover from Halloween that I was able to use! Of course, my kids loved it. (And I thought the bright colors were a fun addition to our spread!)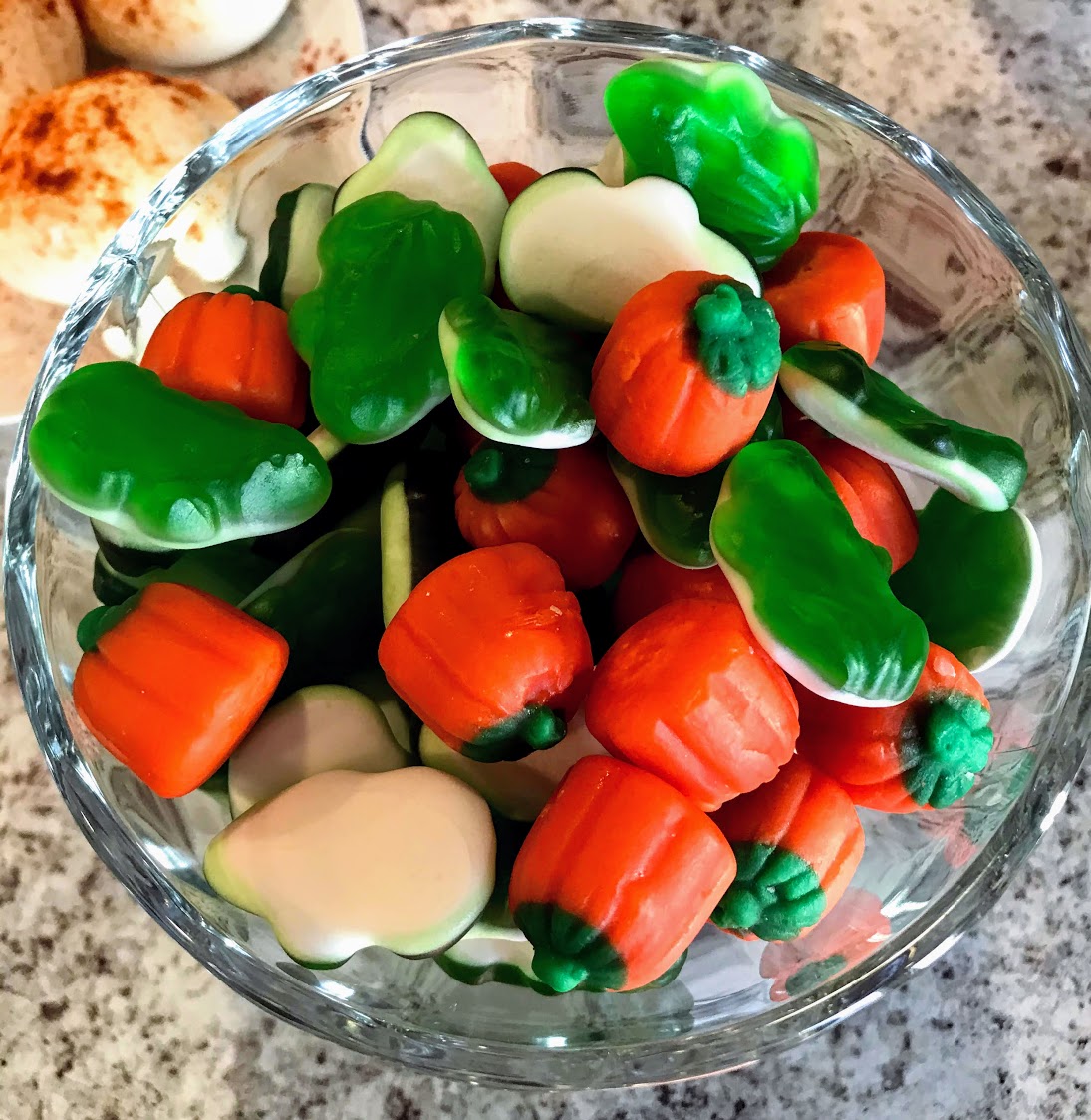 For the adventures of Ichabod Crane, there were a LOT of options to work with. Ichabod is eating pretty much the whole time, which gives plenty of food ideas! We decided to do another roast chicken, because we see Ichabod helping himself to a drumstick more than once throughout the show. He also starts snacking on a huge salad after teaching a music lesson, and since I love incorporating veggies when I can, we made a big salad and I tried to add things that I thought I could see in Ichabod's salad- cheese, tomatoes, carrots, cucumbers, and hard boiled eggs.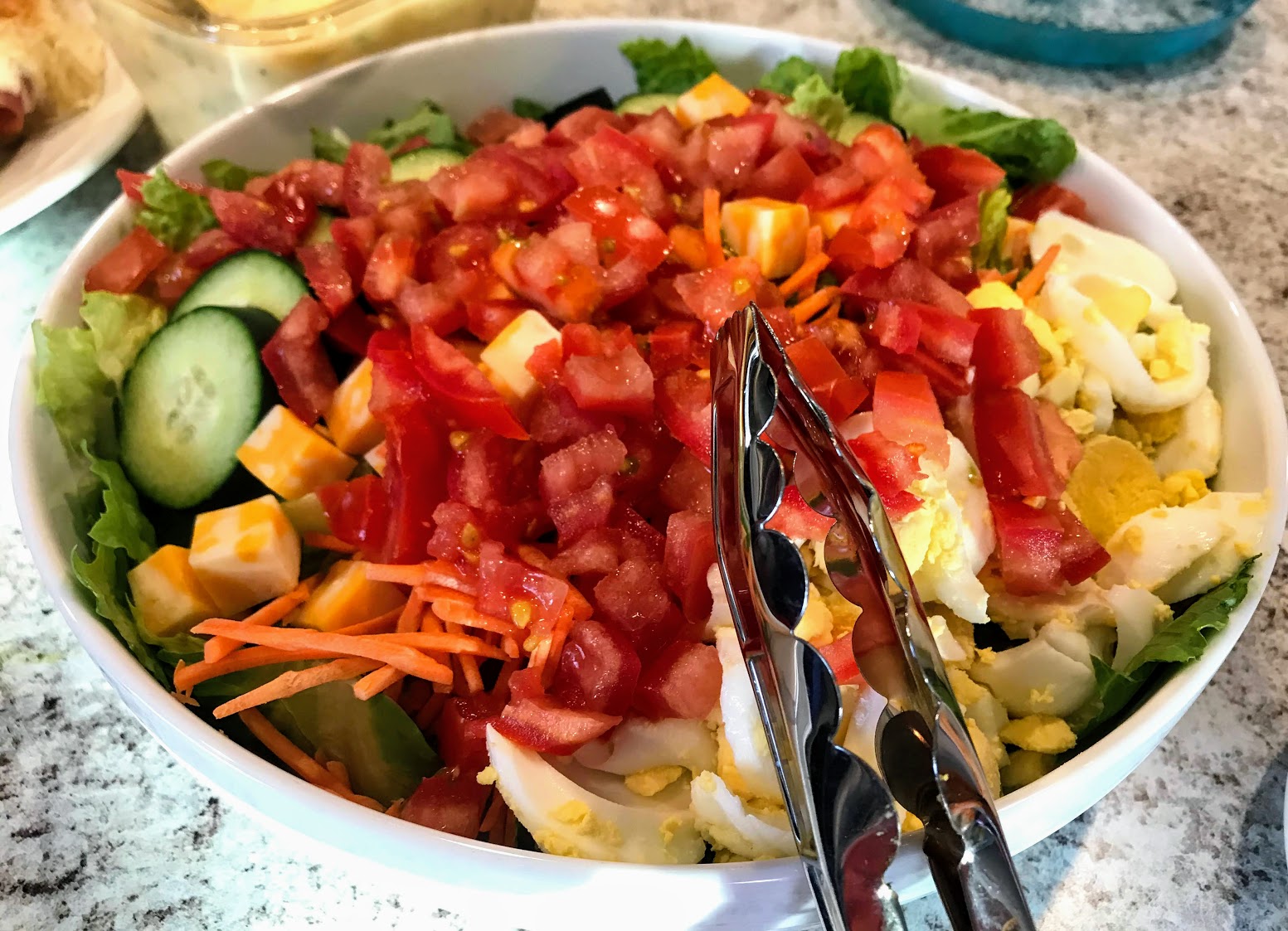 And speaking of hard boiled eggs, it's hard to forget the scene when Bing Crosby is singing about the Headless Horseman and Ichabod is sitting, listening intently and eating. He is loading up a hard boiled egg in some kind of red seasoning, and when he takes a bite (not paying attention to the fact that the lid fell off the seasoning he was using so his egg is LOADED), he has smoke coming out of his ears from the heat! I didn't want smoke coming out of my kids ears ;), so we stuck with a healthy sprinkling of paprika.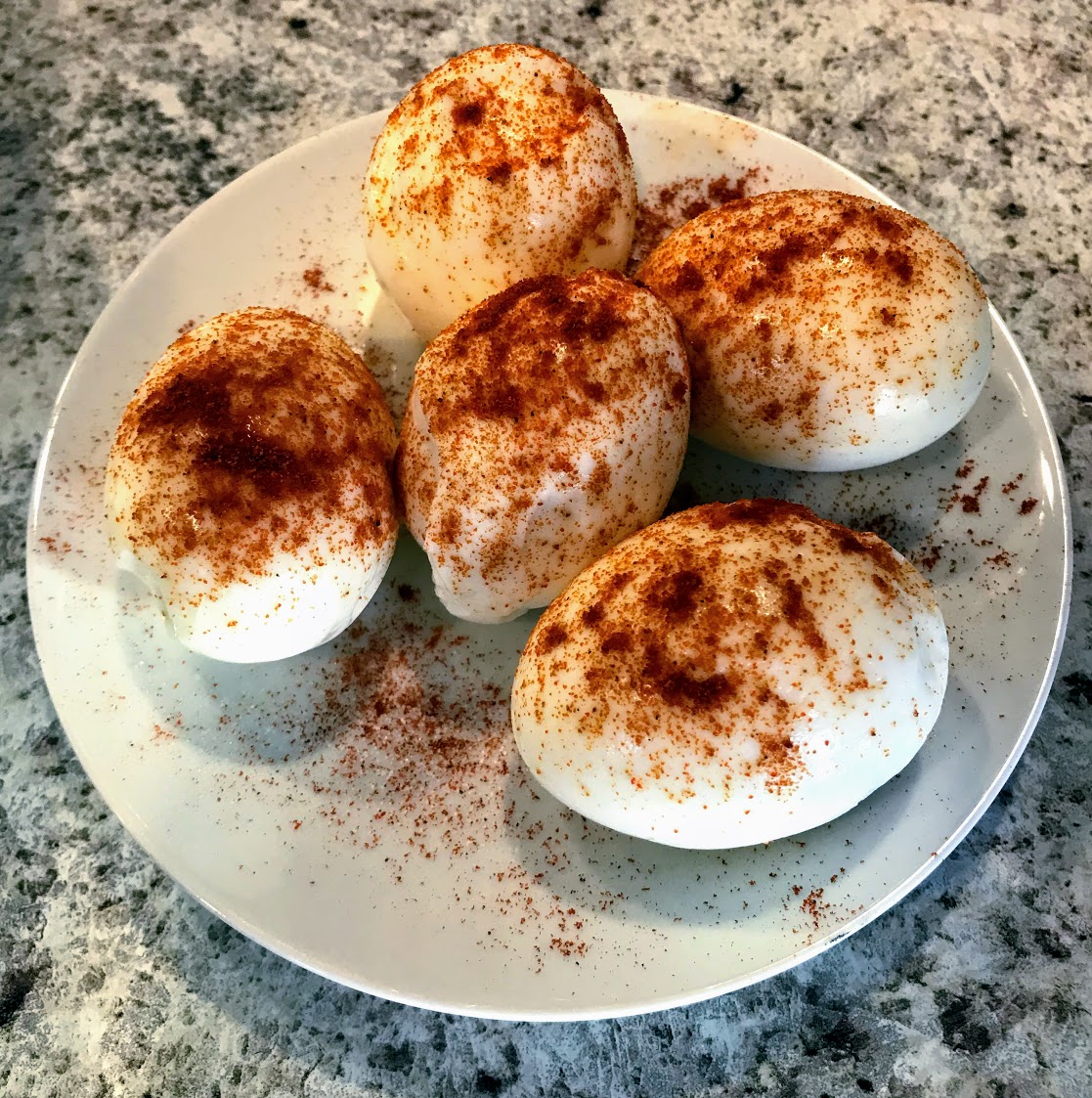 I originally had more eggs cooked- but my 22 month old thought it would be helpful to grab eggs when I wasn't looking and crack the shells off by tossing them in the garbage…. Life is always interesting around here! And luckily we had more than enough food to go around ;).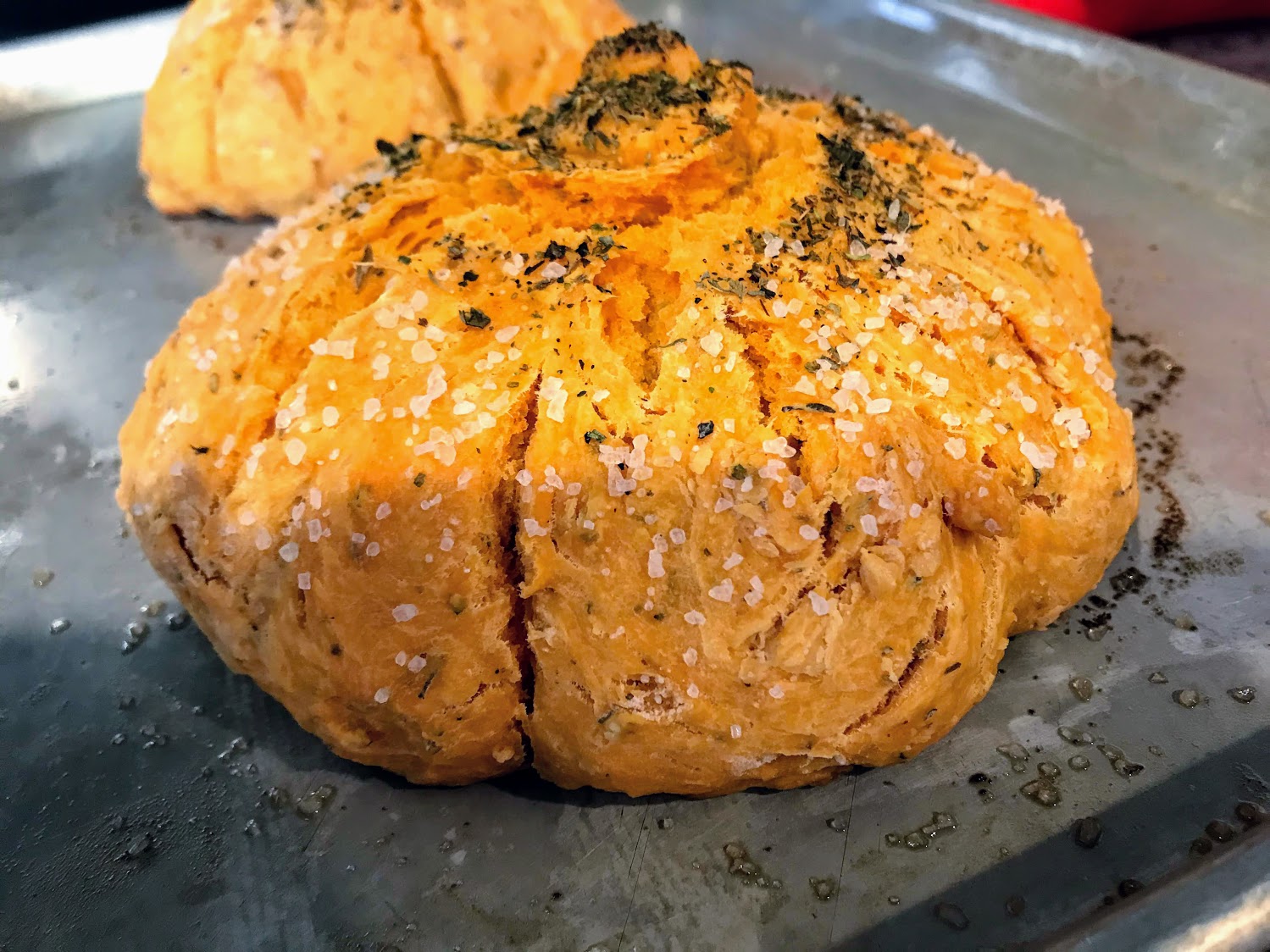 I also made my tasty Macaroni Grill bread recipe, but I colored the dough orange and used a knife to shape them into pumpkins! A generous sprinkling of Italian seasoning completed the look, and I couldn't be more thrilled with how they turned out. So delicious and absolutely adorable!
And finally- dessert. It's hard to narrow down when you have so many good options! When Ichabod is dancing, he grabs a slice of red velvet cake at one point, and since that's something I've not made before, I decided that would be perfect.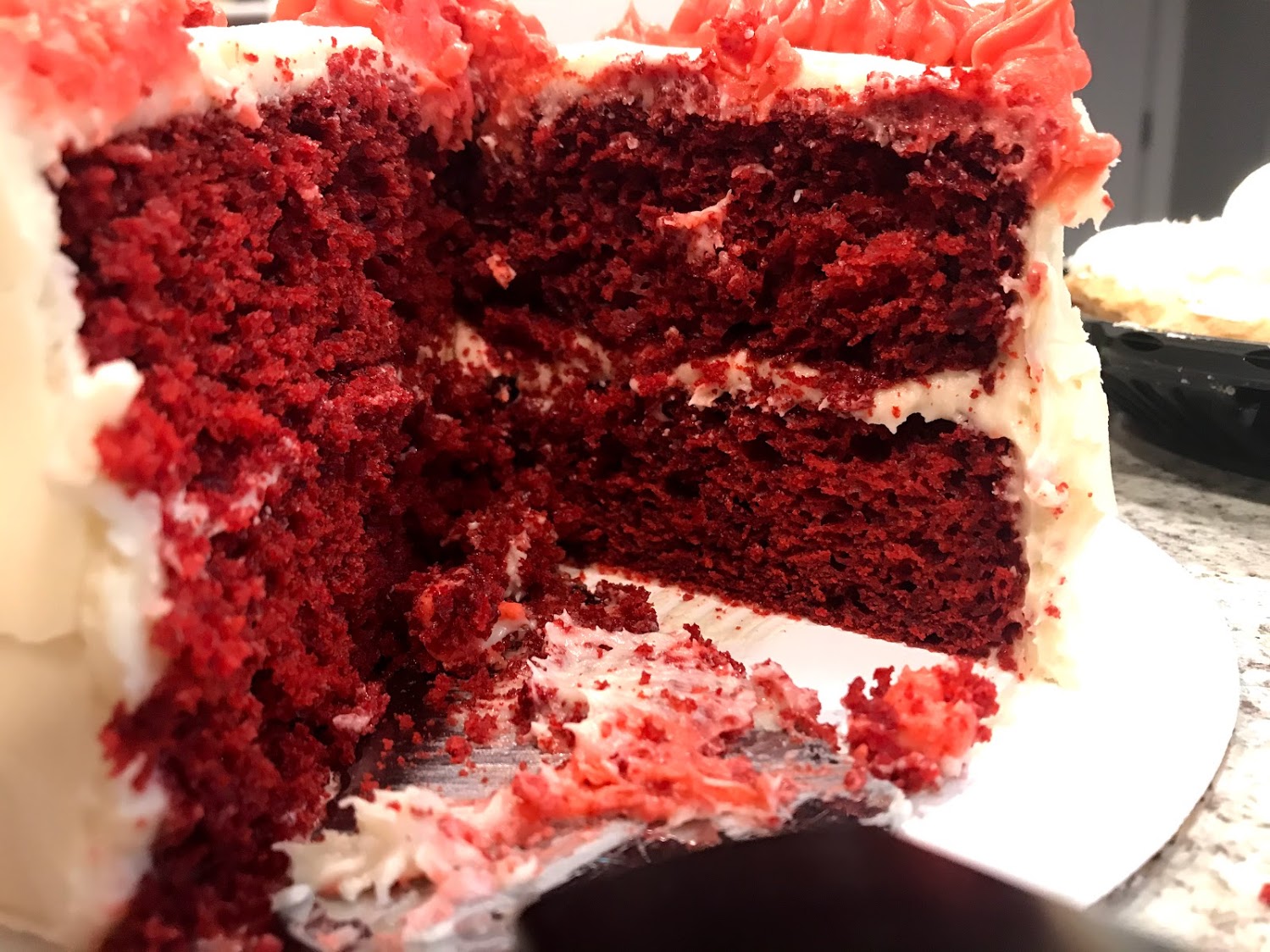 My plan was to keep the decorating simple like it is in the movie, but my 3 year old kept begging me to put more on- and how could I not acquiesce? ;) So while it's not my favorite decorated cake, my 3 year old loved it!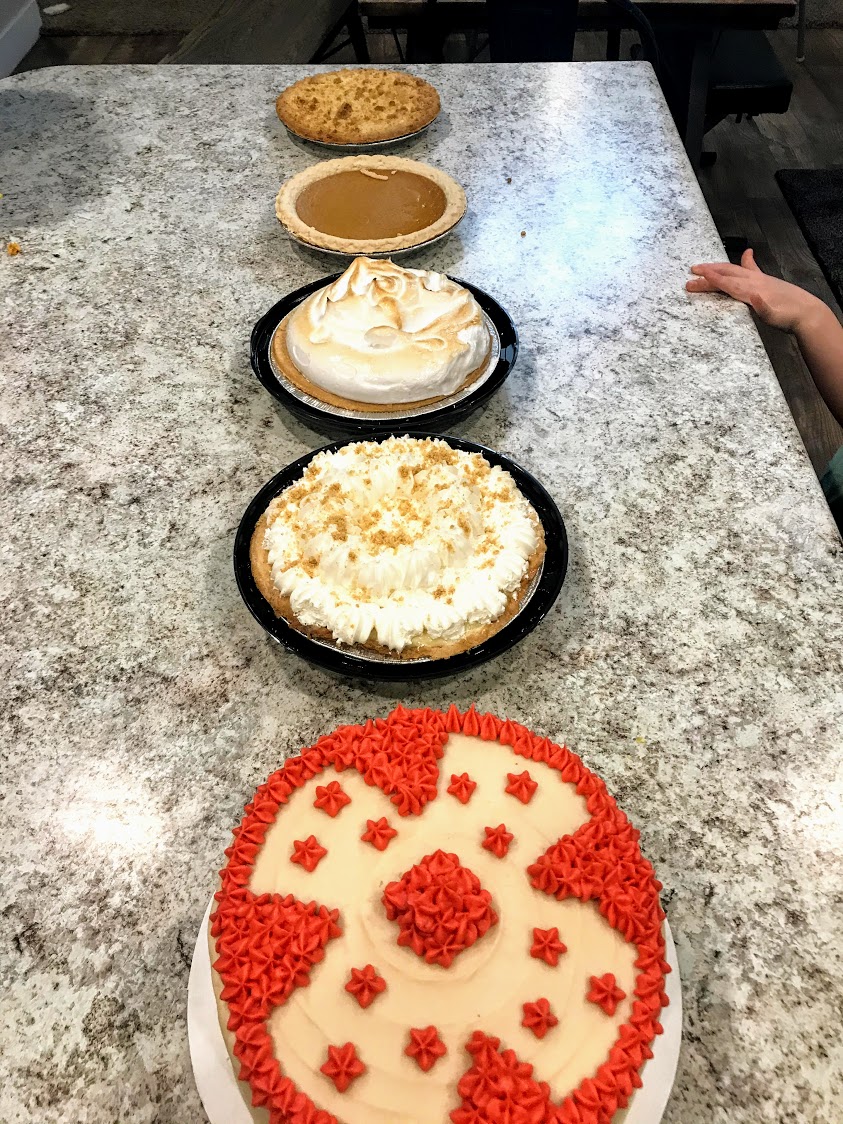 We also had several pie options because Ichabod definitely likes his pie- and so do we!
It was definitely a successful night. The food was fabulous, and the movie was so much fun! I didn't realize as a child that Bing Crosby does the narrating and singing for Ichabod Crane, so that was a delightful surprise! And Toad is just a fun character. A little too much like my 3 year old in some ways…..
We can't wait for our next Disney night! Below I've included the recipes for the bread and the crumpets. Enjoy!
Authentic English Crumpets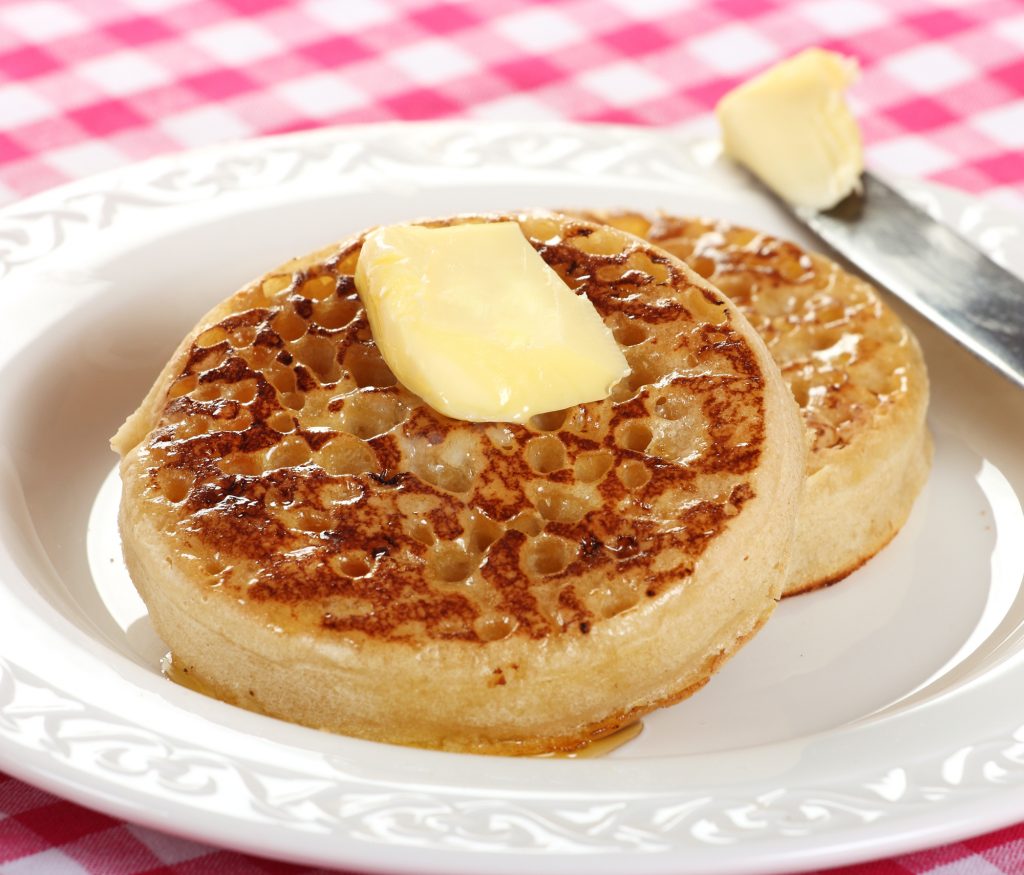 This recipe for authentic English crumpets yields and amazing texture and fabulous flavor! Delightfully crispy, chewy, and delicately spongy, you're going to fall in love with these homemade crumpets!
Prep time:
Cook time:
Serving size:
10
Calories per serving:

15




Ingredients:
2
cups
all-purpose flour (can substitute half
bread
flour)
1
teaspoon
salt
1
cup
warm
milk
1
tablespoon
active dry
yeast
1
teaspoon
cane
sugar
1
cup
warm
water
1/2
teaspoon
baking soda
Directions:
Stir the sugar and yeast into the warm milk and let it rest for 10 minutes until frothy. In a large mixing bowl or the bowl of a stand mixer combine the flour and salt.
Add the liquid to the flour mixture and stir/knead until a thick dough forms. If using a stand mixer, use the paddle attachment and beat the mixture for about 3 minutes until a thick dough forms. Cover the bowl loosely with plastic wrap and set it in a warm place for at least an hour or up to two to let the dough rise (it should nearly double in size). This stage is important for the formation of the bubbles that will later form the classic holes in the crumpets.
Dissolve the baking soda in the warm water and add it to the dough. If using a stand mixer, beat the batter for a minute or two. Or use an electric mixer to beat the batter. If some small lumps remain that's okay. Any remaining lumps will dissolve during the next resting stage. Cover the batter and let it rest in a warm place for at least 30 minutes (see note below). After 30 minutes the batter should be nice and bubbly.
Prepare the crumpet rings by greasing the inside of each rim. (I use and like Norpro's English Muffin/Crumpet Rings.) Lightly oil the frying pan. You can use a regular skillet or a cast iron pan (my preference). I use my Lodge 12" Cast Iron Pan. Place the rings in the frying pan over medium-high heat.
Once the rings are hot, pour the batter into each ring until it's slightly more than half full. Cooking time will vary depending on your stovetop and frying pan but these will cook for approx. 10 minutes (**the time will vary according to the kind of cooktop and cookware you're using and may take longer. Just be sure to keep an eye on them to ensure they don't burn on the bottom. Lower the temp as needed to finish off the cooking). Turn the heat down as needed to prevent burning. The batter will begin to rise and bubble on top. After several minutes when the tops are cooked and the classic pores/holes are present with the bottoms lightly browned, your crumpets are done. Note: You can either remove the rings and flip the crumpets over to cook the other side for another minute or two until golden or remove them from the rings and toast the crumpets. (See blog post for more info on this.)
Serve the crumpets immediately slathered with butter, jam, golden syrup or honey. To reheat later toast them in the toaster. Can also be frozen, thaw first before toasting. (Crumpets are eaten whole/open-faced and are not sliced in half horizontally.)
NOTE: Regarding how long to let the batter sit before using: It's ready after 30 minutes but letting it rest a bit longer will give you an even higher rise and a lighter texture (see blog post for side-by-side comparison pics). And more bubbles means more of those classic holes in your crumpets. Try both and see which you prefer. Both are excellent.
Source:
sdaringgourmet.com

Recipe formatted with the Cook'n Recipe Software from DVO Enterprises.
Add Recipe to Cook'n
Macaroni Grill Copycat Bread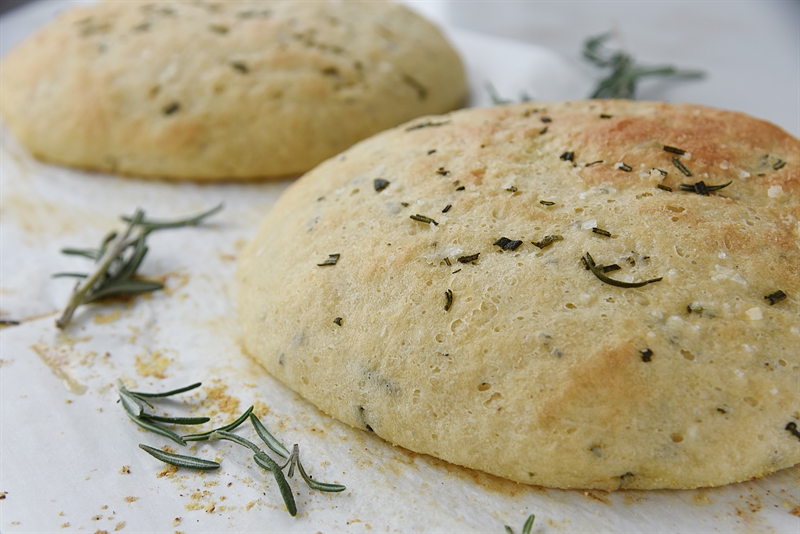 This bread is fast, easy, and tastes just like the real thing! Just dip it in a little olive oil and balsamic vinegar and you'll be in heaven :).
Prep time:
Cook time:
Yield:
2 loaves
Serving size:
8
Calories per serving:

206




Ingredients:
1
package
yeast
(2 1/4 teaspoons)
1
tablespoon
sugar
2
cups
warm
water
2
teaspoons
salt
4
cups
flour
(wheat works, too!)
1
tablespoon
Italian seasoning
melted
butter
extra
Italian seasoning
for garnish
coarse
salt
for garnish
Directions:
Mix yeast, sugar, salt, and water until dissolved. Add flour and Italian seasoning. Mix with spoon. Spray hands with non-stick cooking spray. Divide dough into 2 balls and put on oiled/sprayed cookie sheet. Cover with towel and let raise 20-30 minutes. Preheat oven to 425 degrees. Pull in sides; brush top with melted butter. Sprinkle with salt and Italian seasoning. Bake at 425 degrees for 10 min; then bake at 375 degrees for 15 min. Dip in olive oil and balsamic vinegar and enjoy!
*I would knead it a couple times before letting it rise to smooth out all the wrinkles for a nice, even look.

Recipe formatted with the Cook'n Recipe Software from DVO Enterprises.
Add Recipe to Cook'n
Sources:
https://www.daringgourmet.com/traditional-english-crumpets/
https://howdoesshe.com/its-a-leap-year-21-fun-leap-day-activities/
https://en.wikipedia.org/wiki/File:Mr_Toad_Statue,_Disneyland_(Closeup).jpg
http://disneymeals.me/category/adventures-of-ichabod-and-mr-toad/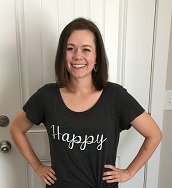 Camille Hoffmann
Weekly Newsletter Contributor since 2014
Email the author! camille@dvo.com