Why You Want to Find and Enjoy Dragon Fruit!
There's a growing food trend you might have heard about - a tropical fruit said to have been formed from the fire of a dragon. Hence its mythical name - dragon fruit!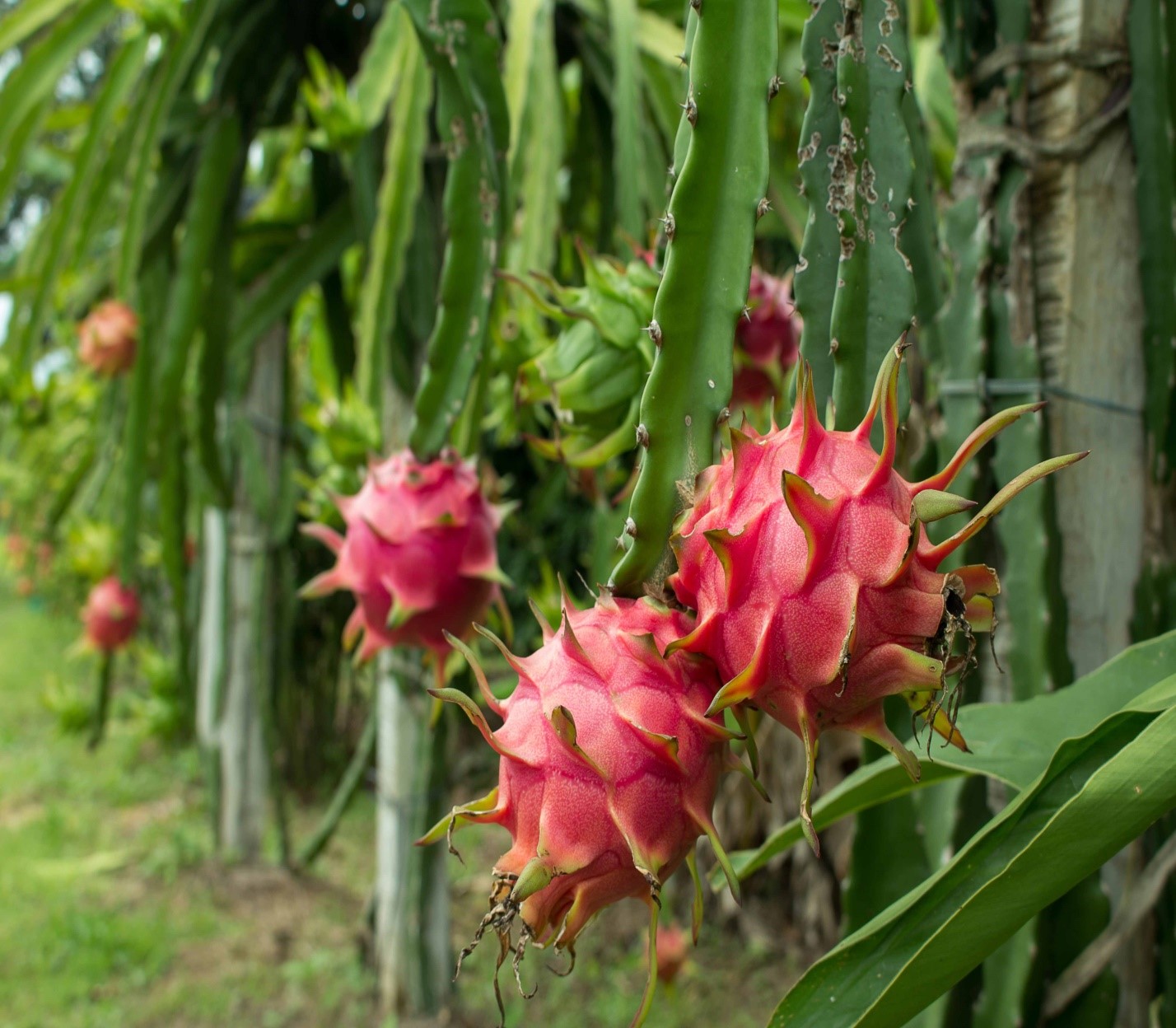 And its looks are just as wild. On the outside, it's pink or red, and spiny, while on the inside, it's white with black spots.
Recently, this weird little fruit has become all the rage. Dragon fruit, also known as pitaya, has been hailed as a superfood, and widely touted for its extraordinary antioxidant content. You may have seen it used in drinks or in a smoothie bowl at your local cafe. Perhaps you've even tried it yourself.
When you bite into the edible pulp of dragon fruit, you'll find it doesn't taste as pungent as you might guess based on its name and appearance. It has a refreshing, remarkably subtle, and refined taste, punctuated by an enticing and mild sweetness. Some people say it tastes like a cross between a kiwi and a pear. It comes with red or white flesh.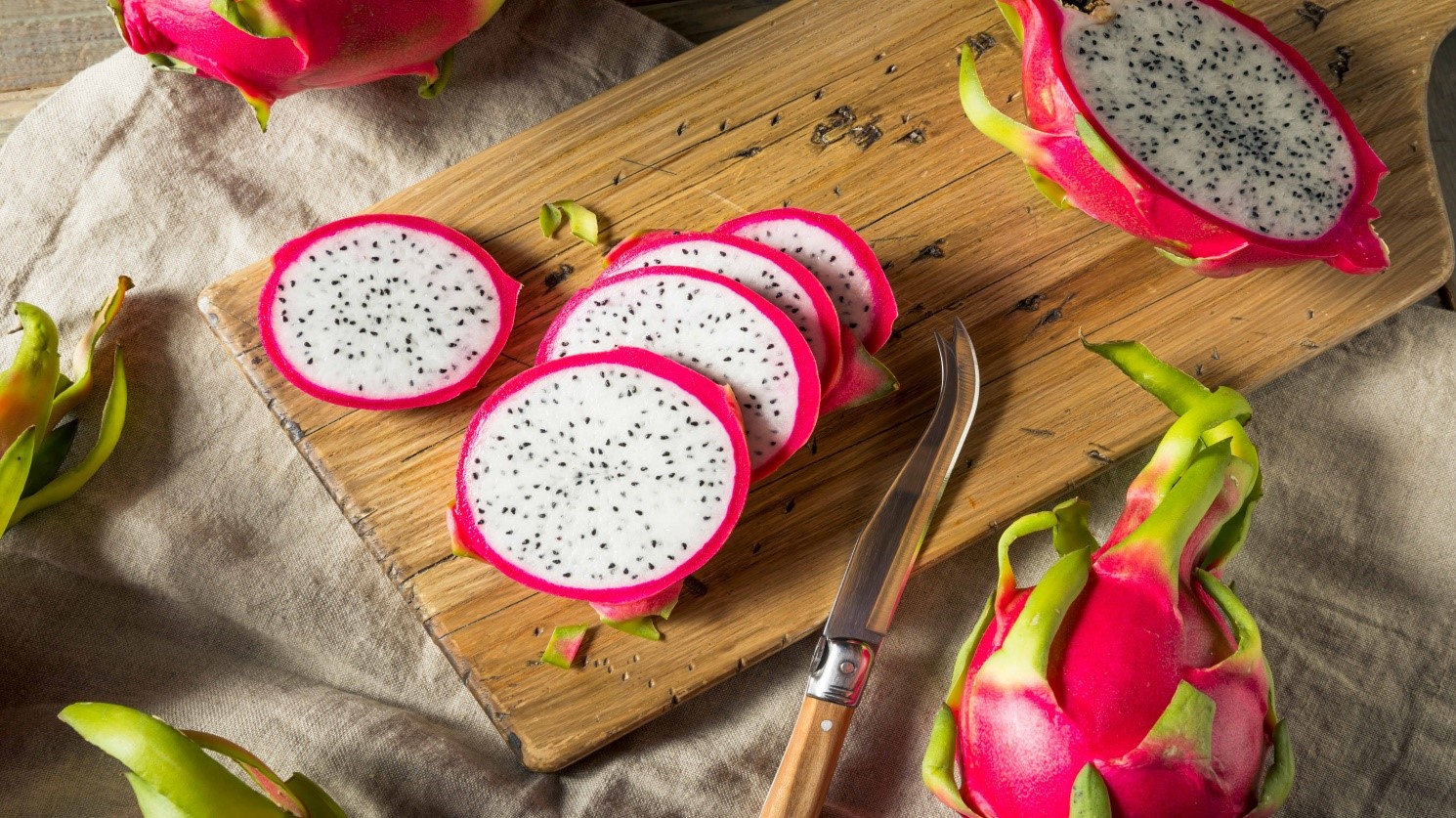 But does it live up to the hype? It sure does. Consider these 9 amazing health benefits:
Dragon fruit contains PREbiotics (oligosaccharides), which are good for gut health. Prebiotics play the role of fertilizer for the good bacteria in your digestive system. Research shows that the pitaya oligosaccharides trigger the growth of lactobacilli and bifidobacteria, two important probiotics.
It's good for your digestion because it's packed with high-quality fiber. In particular, a form of fiber that can reduce your risk of certain cancers, cardiovascular disease, and obesity. One cup of pitaya contains seven grams of fiber. This is almost one-quarter of your recommended minimum daily fiber needs.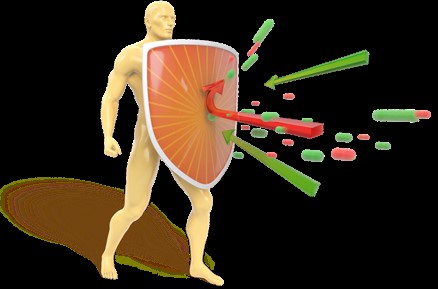 It boosts your immune system due to its high content of antioxidants, like vitamin C. Antioxidants help your body stave off cell damage and protect against degenerative diseases.
Dragon fruit helps prevent and fight cancer. It contains antioxidants called hydroxycinnamates, powerful cancer-fighters. It also contains lycopene, a powerful compound also found in tomatoes, which has been shown to be beneficial in protecting against chemical and natural toxins.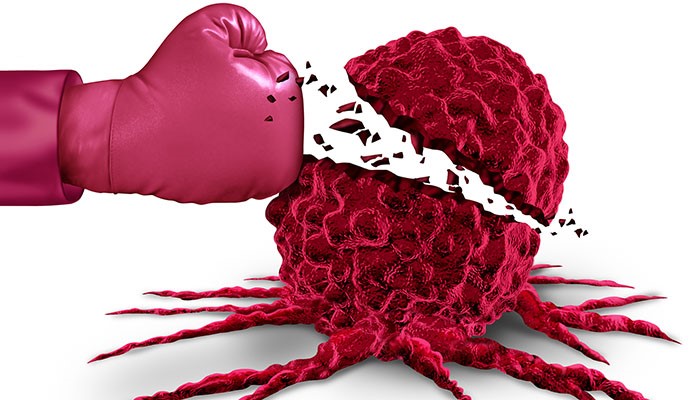 It helps stabilize blood sugar. Adding pitaya to your diet could help steady your blood sugar after eating other glucose-spiking foods. Lots of research shows pitaya does a good job of counteracting insulin resistance.
It's heart healthy because it's a solid source of flavonoids, which are antioxidant pigments that have a positive impact on heart health. And it's particularly high in betalains, which provide its color and can reduce LDL ("bad") cholesterol levels. To add to all this goodness, the edible and tasty seeds are rich in omega-3 and omega-9 fats, which are good for your heart and provide many other health-related benefits.
It's GOOD for your skin. The vitamin C in pitaya does more than boost your immunity. It also boosts collagen production, which can help keep your skin looking healthy and young.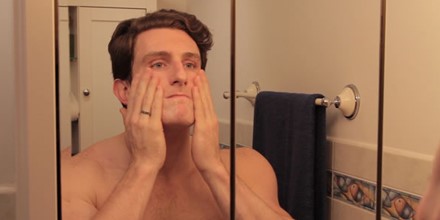 It boosts iron levels. For instance, six ounces of chopped dragon fruit provide 1.26 mg of iron. Iron is important for transporting oxygen throughout your body and to your organs. It's also necessary for metabolism, growth, and development, among many other intricate processes in the body. Vitamin C helps enhance your iron absorption, so having both nutrients in a pitaya makes for a sweet package deal.
It supports bone health. Dragon fruit contains magnesium, an essential mineral for maintaining a strong skeletal system. One cup provides 80 mg of magnesium, which is one-quarter of the minimum daily recommendation.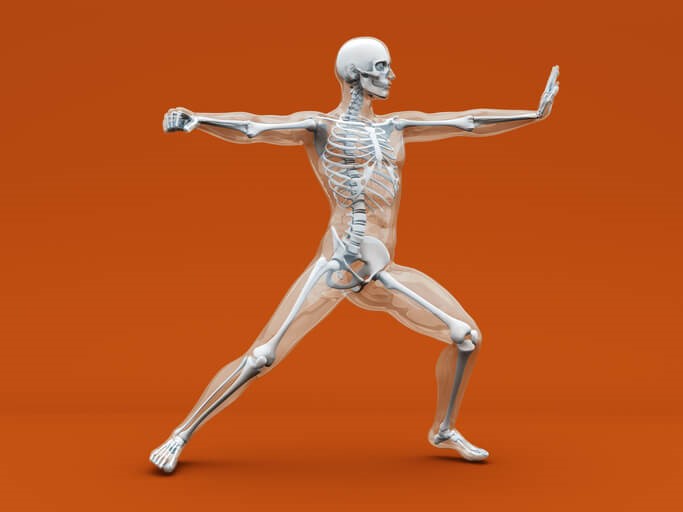 Now all this said, there is one side effect to eating pitaya. This isn't anything to be afraid of, but it is worth mentioning: It's pseudohematuria (sounds scary, right?). You beet-eaters know all about it. This is a condition in which eating too many pitayas (or beets) can turn your urine or stool a pink or red color. Don't worry - it's harmless and temporary!
Unless you live near a specialty food market (Whole Foods comes to mind), this fruit could be hard to fight right now. But just wait; it'll be showing up more and more. Until then, you can find it in the frozen food case at your store. Or you can opt for freeze-dried organic dragon fruit powder. And of course, you can try to find the whole fruit in your store's produce section. The powder is a terrific addition to your daily smoothie or your homemade pudding recipe.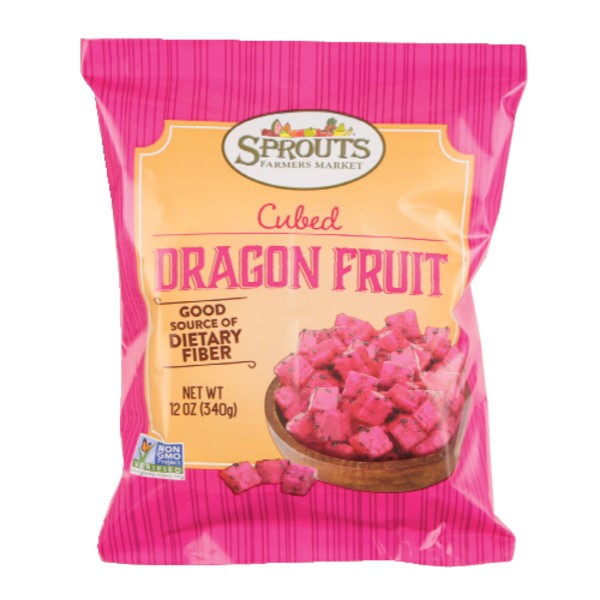 Speaking of pudding, I'll close with a recipe for just that. It's a strawberry dragonfruit chia pudding that makes a healthy breakfast, snack, or dessert. It's a simple recipe that is loaded with fresh fruity flavor!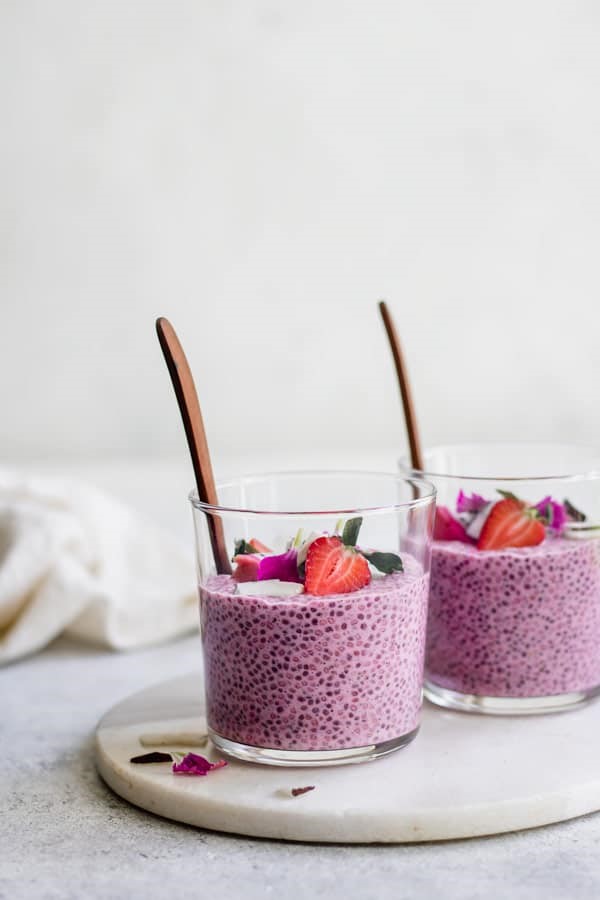 Strawberry Dragon Fruit Chia Pudding
Prep time:
Cook time:
Yield:
Serving size:
1
Calories per serving:

316.369




Ingredients:
1/4
cup
chia seeds
1/2
cup
almond milk
1/2
cup
coconut milk
1
tablespoon
pure
maple syrup
1
teaspoon
vanilla extract
zest of 1
lime
1/2
cup
fresh
strawberries
(frozen berries will work also)
2/3
cup
fresh
dragon fruit
(or 2 tablespoons dragon fruit powder)
fresh
strawberries
for garnish
Directions:
1. Mix the chia seeds, almond milk, coconut milk, maple syrup, vanilla extract, zest of one lime. Set aside.
2. Puree the strawberries and dragon fruit in a blender or food processor. Strain and add to the chia pudding.
3. Mix the chia pudding well and place in the fridge for at least one hour or overnight.
4. Serve with fresh fruit.
NOTE: Keep chia pudding stored in the fridge for up to one week.

Recipe formatted with the Cook'n Recipe Software from DVO Enterprises.
Add Recipe to Cook'n
Sources:
www.choosingchia.com
www.instacart.com
www.phlabs.com
www.thevitalvoice.com
www.bidmc.org
www.ebay.com
www.foodrevolution.org

Alice Osborne
Weekly Newsletter Contributor since 2006
Email the author! alice@dvo.com