No Spiralizer? Turn to the Trusted Johnny Apple Peeler!
No Spiralizer? Turn to the Trusted Johnny Apple Peeler!
I've talked about spiralizers before. I love mine and use it all the time. But I've heard from a few of you that you consider a one-use tool that doesn't deserve the space it takes. Fair enough; being the anti-clutter queen, I get that, and bow to your discretion.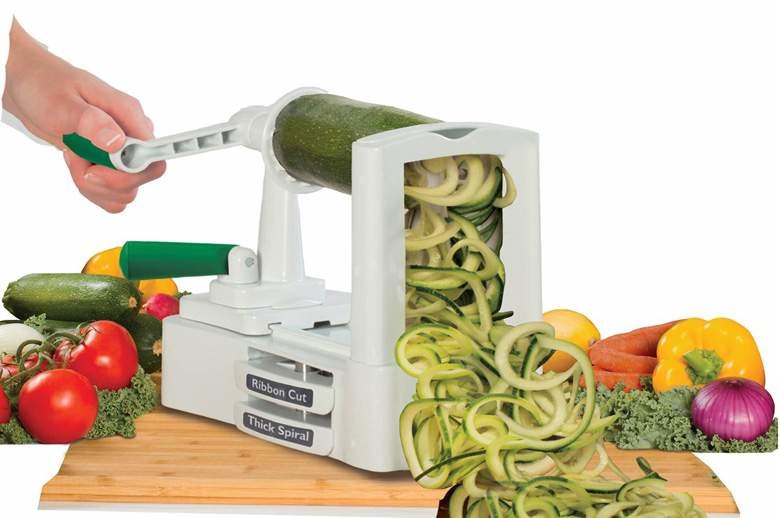 But for those of you that are on the fence regarding the spiralizer, please don't cast it off without another look. Though the tool has become the centerpiece in kitchens off Those Who Do Not Eat Pasta, spiralizers should be used to make so much more than zoodles.
If you're not sure where to start, consider using it to make one of the prettiest, tastiest fruit salads you'll ever have. A spiralized fruit salad is sweet and tart, and seriously fun to twirl around with a fork.
Let me pause here and say that the spiralizer was inspired by the old-timey, always handy Johnny Apple Peeler. Mom had one, I inherited it, and used it for fruit salad-making long before the spiralizer showed up. But the thing is, spiralizing is exactly what it did!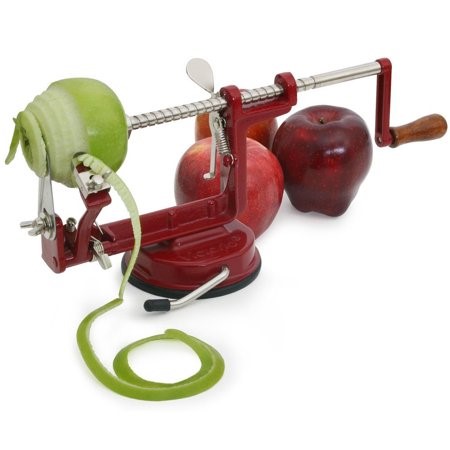 If you have this wonderful tool, try this: Start by spiralizing an apple (or more, depending on how large a salad you are making). Place the strands in a bowl and sprinkle 2 teaspoons lemon juice over them. Toss well to be sure the lemon juice coats them all.
From there, peel one small cantaloupe and 1 small honeydew. Spiralize both melons and drop them into a large bowl. (Note: it takes a little practice, but you'll soon get the hang of it. The secret is cutting your fruit into chunks about the size of an apple.)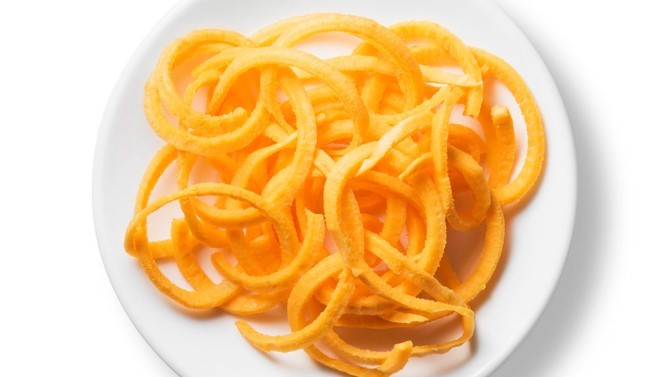 Then peel a small pineapple and spiralize it. You'll notice that that it won't cut into noodles or ribbons, but into thin slices. Add pineapple slices to the bowl with the melon.
Next, wash an orange and spiralize it with the peel on. You'll have to serve it this way, so feel free to omit it if you'll be annoyed separating the fruit from the peel after serving.
Fish the apple noodles from the lemon juice, give them a good shake, and toss them into the bowl with the other fruits. Add 1/2 cup sliced blackberries and/or raspberries (you can't have too many berries).
Whisk 2 tablespoons fresh orange juice, 2 teaspoons raw honey, 1/4 teaspoon vanilla extract, a pinch of kosher salt, and 1 tablespoon fresh-minted sugar into the bowl of lemon juice.
Toss the fruit salad with half the dressing and a few teaspoons finely sliced mint for garnish. Taste, then add more dressing if you'd like. Serve the fruit salad solo, or with a scoop or two of yogurt (vanilla is divine with this salad).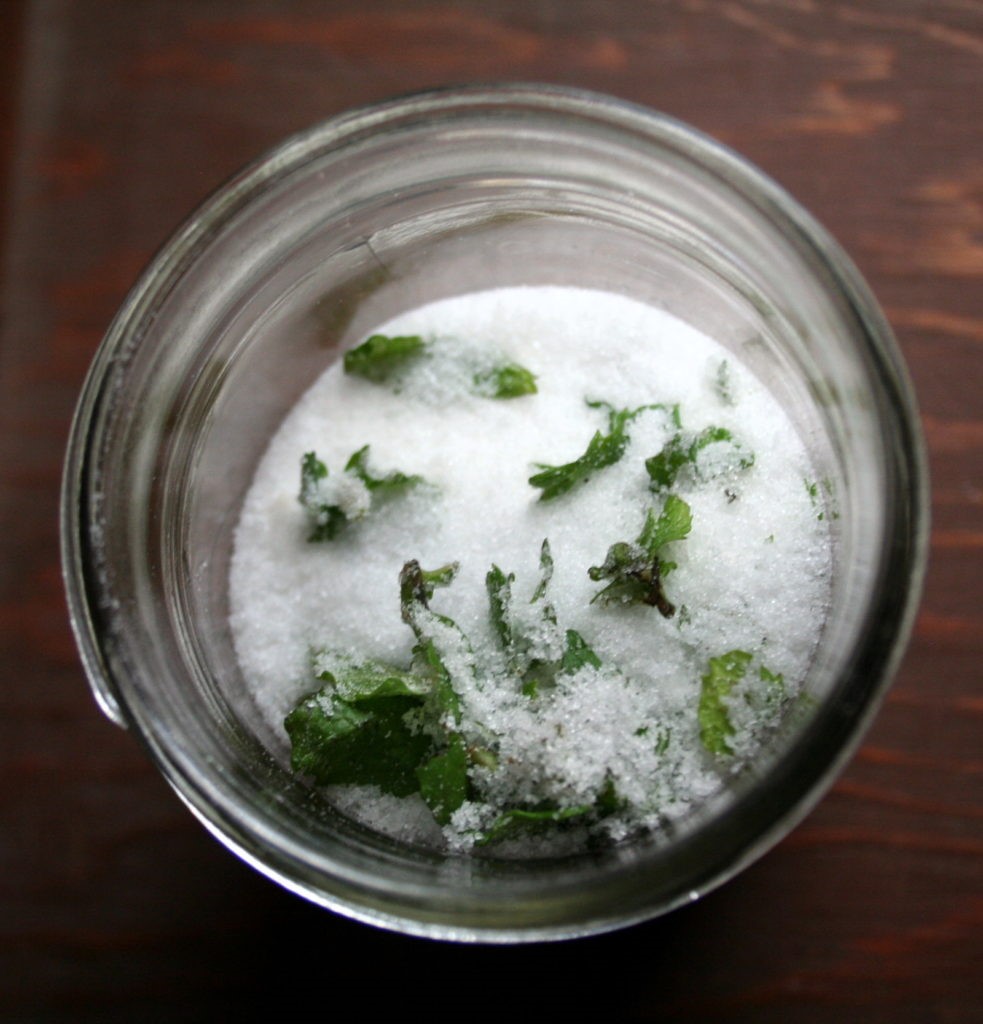 To make fresh-minted sugar: You need 2 or 3 leaves of fresh peppermint. Cut them into small pieces and place in a teacup or small bowl. Add 1 tablespoon sugar. (OR, increase the amounts and make a lot of mint-infused-sugar to use in other recipes as well. Store this in the refrigerator for up to 2 weeks.)
With the back of a tablespoon, grind the sugar into the mint, working your way around the cup. You'll notice the sugar turning a lovely green shade and a beautiful minty aroma coming up. Once the mint and sugar are well-blended, it's ready to use. Minted sugar brings out a flavor layer in fruit like you've never tasted!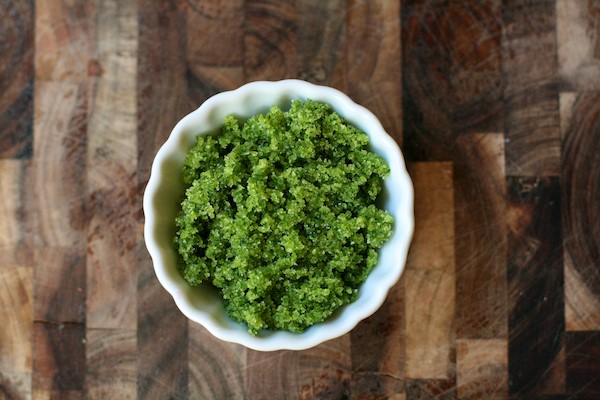 I started off talking about spiralizers. It's a useful tool at our house, so I give it space. But if you don't have one or want one, then resurrect your Johnny Apple Peeler. This salad is worth taking the time to hunt for it!
Sources:
www.merrygourmet.com
www.pixiespocket.com
www.oprah.com
www.walmart.com
www.heavy.com

Alice Osborne
Weekly Newsletter Contributor since 2006
Email the author! alice@dvo.com