How to Grill Fish that WON'T FALL APART On the Grill
Since Father's Day is this Sunday (June 16th), I thought it might be fun to address one of many fathers' favorite past times-fishing. Not how to fish, but how to successfully grill father's catch.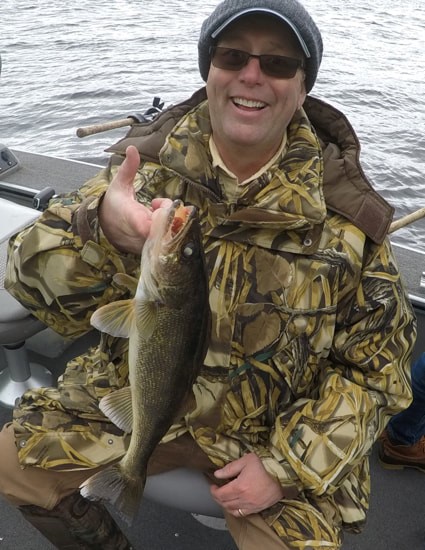 Too much of the time pop's hard-won prize falls apart once on the grill. Well, here's how to end that sad state of affairs. Now you can say goodbye to the days of fish-grilling disasters with this tried-and-true grilling technique shared by the experts at America's Test Kitchen (via their superb magazine, Cook's Illustrated).
The main issue is that fish fillets tend to stick to the grill grate. And when they do, the possibility of removing them in whole pieces is gone. The delicate texture of cooked fish makes it virtually impossible to remove it neatly, so what you end up bringing to the table are inelegant shards of what you hoped would be an elegant piece of fish.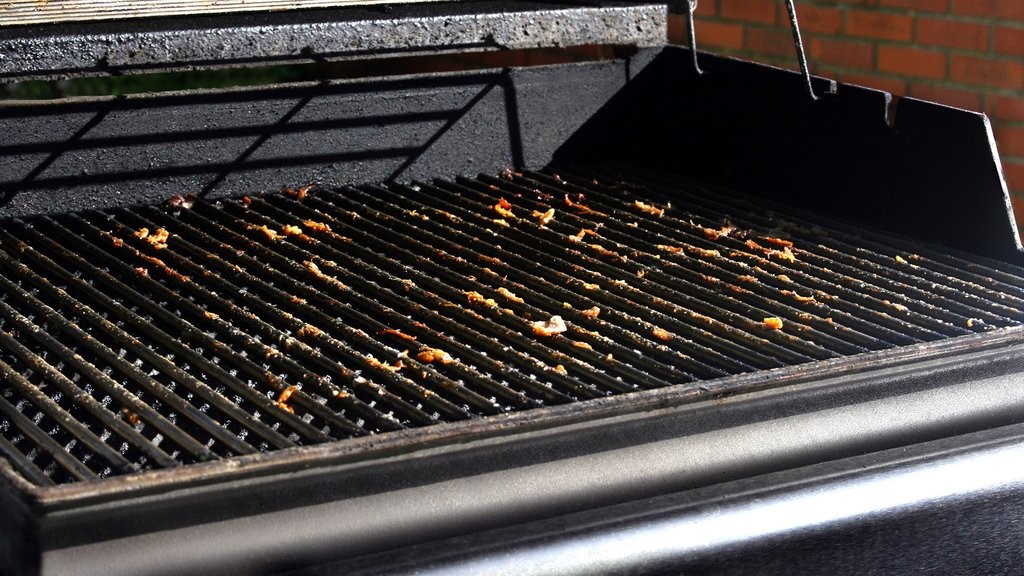 So the Test Kitchen pros, after much experimentation, discovered that the secret to perfectly grilled, easy-release fillets revolves around how you prepare the grill before you even begin to cook. Here are their tested and true techniques for successfully grilling fish:
STEP ONE: Heat the grill and let the grate heat up. Lightly dip a wad of paper towels in oil; holding the wad with tongs, wipe the grate. Continue to wipe the grate with the oiled paper towels, re-dipping the towels in oil between applications, until the grate is black and glossy, at least 5 to 10 times.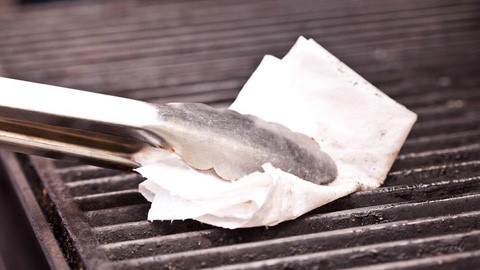 Important to know: Greasing the grate is not the objective here-rather, coating it with oil seasons the grate, much like you'd season a cast-iron skillet. Due to the high heat of the grate, the oil polymerizes, creating a layer that helps prevent proteins in the fish from sticking to the metal. When cooking delicate seafood, the Test Kitchen experts recommend wiping the grate multiple times so that it builds up a coating. Doing this guarantees that your fish won't stick.
STEP TWO: Brush both sides of the fish with thin coat of vegetable oil.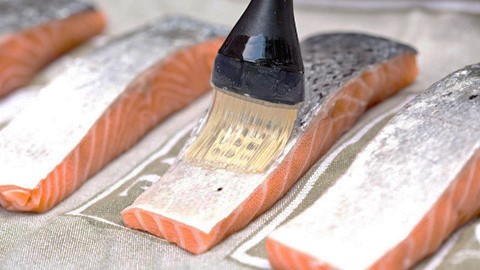 STEP THREE: Season your fillets with salt and pepper.
STEP FOUR: Place the fish skin side down and diagonal to grate slats.
STEP FIVE: Reduce the heat to medium, cover the grill, and cook without moving the fish until the skin side is brown, well-marked, and crisp, 2 to 4 minutes.
Note: The Test Kitchen folks found that for a dependable grilled salmon recipe, the best overall cooking heat to be medium-high, which browned the fish without burning it and, more important, created the crust that would let them turn the salmon fairly easily.
STEP SIX: Try lifting the fish gently with a spatula after 2 minutes; if it doesn't cleanly lift off grill, continue to cook, checking at 30-second intervals, until it releases.
STEP SEVEN: Using two spatulas, flip the fish to the second side.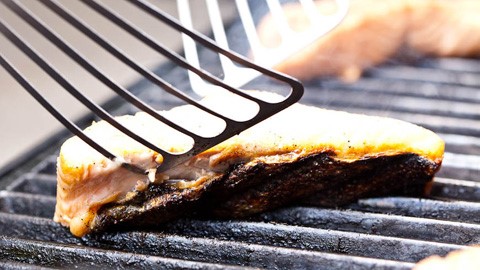 STEP EIGHT: Cover the grill and cook until the centers of the fillets are opaque and register 125 degrees on instant-read thermometer, 3 to 7 minutes longer. (This technique works best with salmon fillets but can also be used with any thick, firm-fleshed white fish, including red snapper, grouper, halibut, and sea bass. Cook white fish to 140 degrees, up to 2 minutes longer per side.)
Now for the best part, a sensational recipe I found for grilled salmon on the Taste of Home site, contributed by Melissa Rogers of Tuscaloosa, Alabama. She says, "Let this sensational salmon perk up dinner tonight. With a super flavorful glaze that kicks you right in the taste buds, this weeknight dish is anything but boring." I would agree. And I've used her recipe on more than salmon. Thanks to this delicious glaze, it works well on any fish father brings home!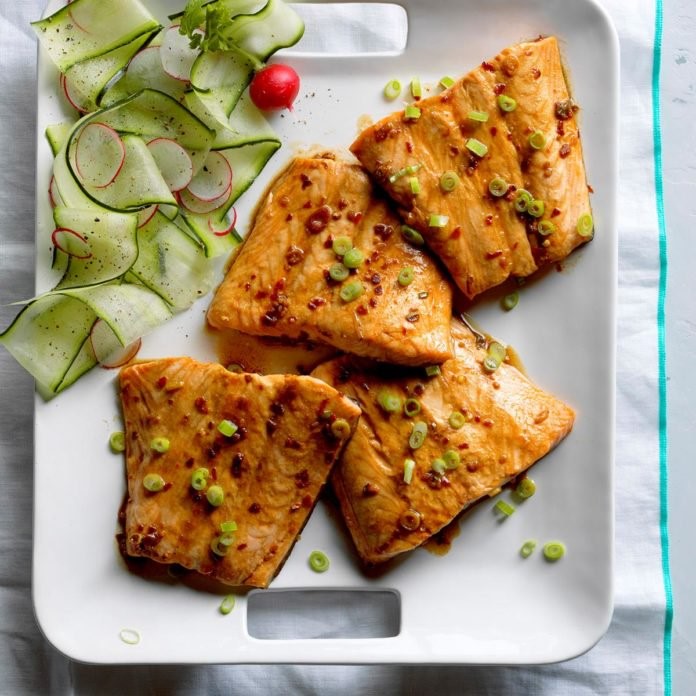 Fire Cracker Grilled Salmon
Serving size:
4
Calories per serving:

72




Ingredients:
2
tablespoons
balsamic vinegar
2
tablespoons
reduced sodium
soy sauce
1
green onion
thinly sliced
1
tablespoon
olive oil
1
tablespoon
pure
maple syrup
2
cloves
garlic
minced
1
teaspoon
ground
ginger
1
teaspoon
crushed
red pepper flake
1/2
teaspoon
sesame oil
1/4
teaspoon
salt
4
salmon
fillets, 6 ounces each
Directions:
In a small bowl, combine the first 10 ingredients. Pour 1/4 cup marinade into a large resealable plastic bag. Add the salmon; seal bag and turn to coat. Refrigerate for up to 30 minutes. Cover and refrigerate remaining marinade.
Drain salmon, discarding marinade in bag. Place salmon skin side down on a greased grill rack. Grill, covered, over high heat or broil 3-4 in. from the heat for 5-10 minutes or until fish flakes easily with a fork, basting occasionally with remaining marinade.
Add Recipe to Cook'n
Sources:
www.tasteofhome.com
www.cooksillustrated.com
www.grillaholics.com
www.croixsippi.com

Alice Osborne
Weekly Newsletter Contributor since 2006
Email the author! alice@dvo.com