3 Reasons Why Sharing Recipes is Important (and the Many Ways to Do It)
Cook'n started as a simple program to store recipes. That is what attracted our users from the beginning, and it has remained the central feature for more than two decades. However, as technology has developed, Cook'n has gained some special abilities that we once never imagined.
We understand why sharing recipes may seem intimidating or unimportant. However, try sharing a recipe anyway. Once you start, you may never stop. Here are three reasons why you'll want to share more recipes (and several ways to get started).
1 – Sharing recipes motivates you to try new, exciting foods.
I connect with users almost every day to help them resolve questions and concerns with their Cook'n accounts. Almost every time I connect with someone, I notice a very large cookbook, full of beautiful recipes, almost none of which have been tried.
Why do we all leave these recipes laying around? Because we hope that someday we might just maybe make them. Right?
Let's fix that.
If you need the motivation to finally braise those lamb shanks in white wine and serve them with a side of sweet carrots, then sharing the recipe might be that last push you need. As soon as you share the recipe, you can finally feel that tingling behind your ears urging you to include it in your next menu.
When you're done, just don't forget to post it to Facebook so you can brag to the whole world that you are now a master chef.
2 – Sharing recipes invites your friends and family to share back with you.
Finding a good recipe is hard work! But maybe the people you trust have already done that work for you.
Remember to treat people how you want to be treated; if you want a recipe, give a recipe! It can motivate people all around you to open up and share their favorite foods with you.
3 – Sharing recipes connects you with people.
Lately, the major developments in Cook'n have been with the goal to connect friends and family around the dinner table. Trust me, there are few better ways to connect than with food that you prepared. Those same emotions can be transferred by sharing recipes – whether cherished and special ones, or new and exciting ones.
Test it out. There is nothing greater than improving a relationship.
Sharing Recipes
By now you're wondering how to share recipes. Well it depends… do you want to share them with just one person at a time, or with everyone you can?
To share recipes with just one person, you might try these options:
Send them over email

Send a link over text message (on the mobile app, tap Share, then select your messaging app).

Send them directly through Cook'n
And to share recipes with groups of people:
Publish it to your own recipe website

Post to Facebook, Twitter, Pinterest and Google+, or even embed it on a web page

Find these buttons in your Cook'n program, right above your recipe.
If you have any questions about sharing your recipes, just reach out and send me an email!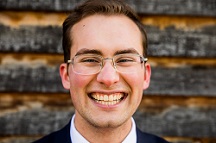 Matthew Christensen
Weekly Newsletter Contributor since 2014
Email the author! matthew@dvo.com