A Granola that Doesn't NEED Sugar!
Maybe it's best to not be so ANTI. I mean, instead of being so anti-sugar, would it be better to be pro-moderation? I'm just asking.
It's with that thought in mind that I was attracted to a truly helpful website, Super Healthy Kids (www.superhealthykids.com). (Don't let the site's title put you off—even if you aren't cooking for kids these days, there are loads of tasty and appealing recipes on this site.)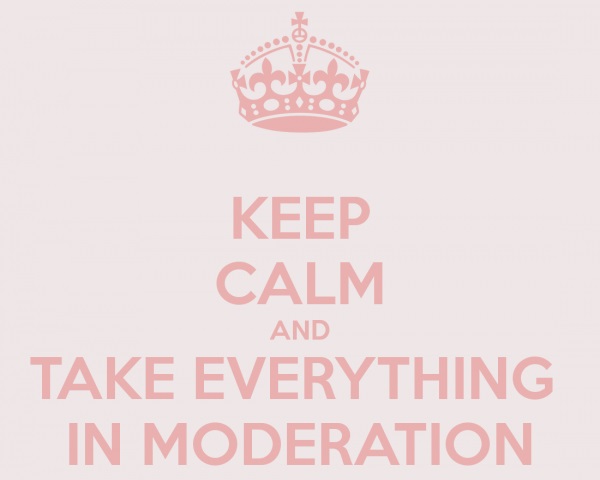 The author of the site, Amy Roskelley, addressed this sugar sugar sugar issue and has a practical philosophy: "We aren't Anti-Sugar! In fact, we aren't anti-anything! We're in favor or health and moderation in all things. When it comes to sugar, for instance, there are so many good, healthy, and delicious foods that can be made just as good without any sugar at all. SO, if something doesn't need sugar, then we go for it."
Take granola, for instance. It simply doesn't need sugar because you can add so many delicious fruits for natural sweetness! Whether you add dried fruit to take the granola on the go, or fresh fruit like blueberries to mix into your breakfast, that is 100% where you want to get the sugar you eat. Fruit sugar is good for us.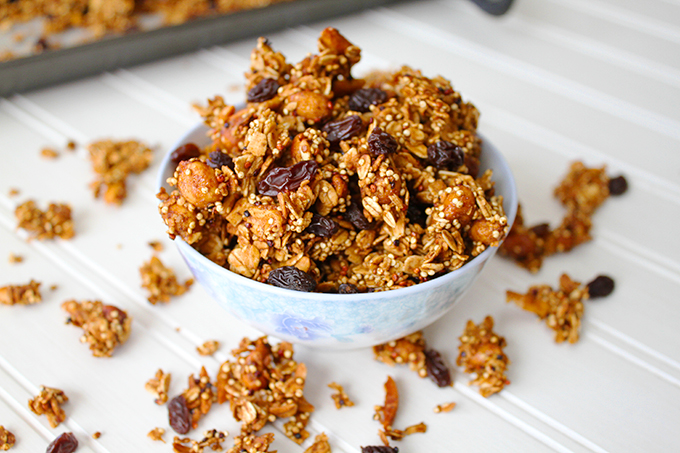 But there's a big challenge when making
sugar free
granola. The end goal with granola is a crispy, crunchy texture. And granola's crunch usually comes from heating sugar. The longer sugar is heated, the crunchier your food gets (think hard candy, brittle stage). The lower the heat of your sugar, the chewier something is (think granola bars, vs. granola).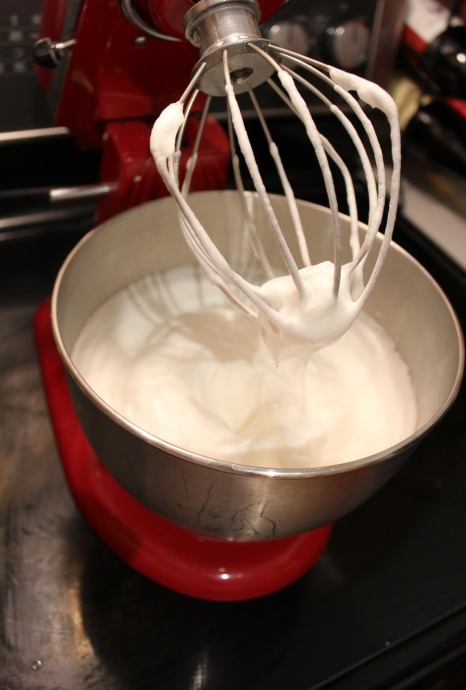 Thus, the question on the mind of the
Super Healthy Kids
folks was, how to get crunchy granola with NO SUGAR at all? So they started experimenting. Their end result was a very crispy and tasty granola that employed vanilla-flavored egg whites!
All they did was mix 2¼ cups rolled oats, and ¾ cup of nuts and seeds (almonds, pecans, sunflower seeds, and cashews—ANY variety works well) with salt and cinnamon. You can mess around with these ratios; maybe you want more nuts and fewer seeds, or more nuts and less oats. You just want to be sure to end up with 3 cups.
Then, in a separate mixing bowl, whip your egg whites until soft peaks formed. As you whip, drizzle in the pure vanilla extract. This will take about 5 minutes. Vanilla is added to the whites to provide a natural sweetening effect.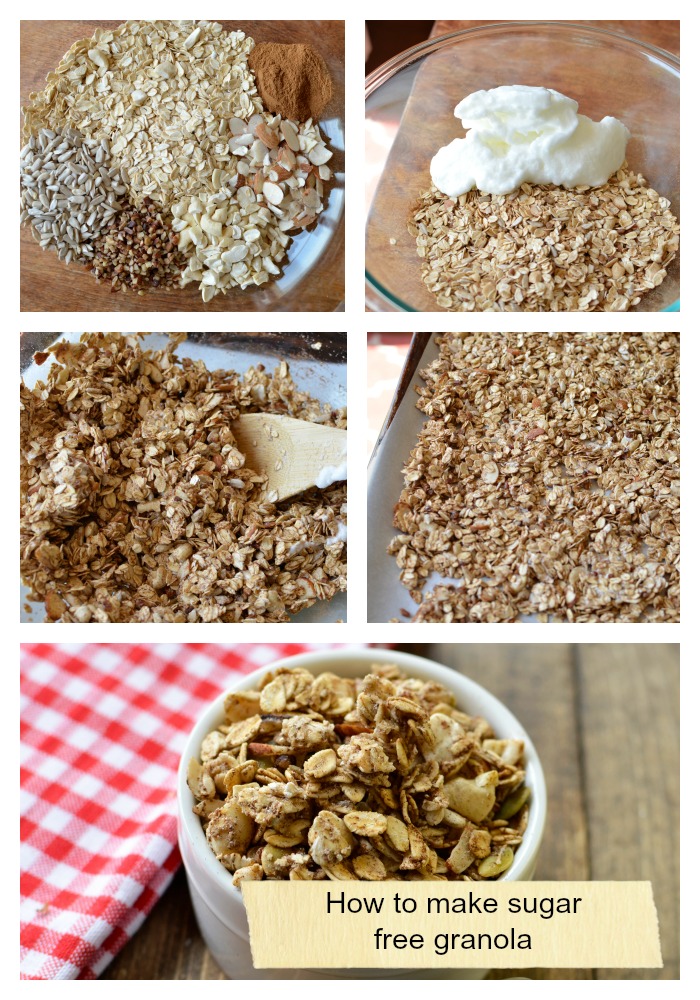 Once whites are on the stiff side, fold the egg whites into the dry mixture, and then placed them on a non-stick baking mat and slowly baked at a low temperature (225 degrees is recommended) for 1 hour. Here's Amy's remarkable recipe (and it can easily be doubled or tripled, by the way).
I've talked a lot about my sugar struggles (to point of ad nauseum?). I'm not sure "moderation" is a workable answer for a true addict, but I'm sure ready to give it a try. I'll report back. Meanwhile, let's cut back the sugar, anyway, with this granola!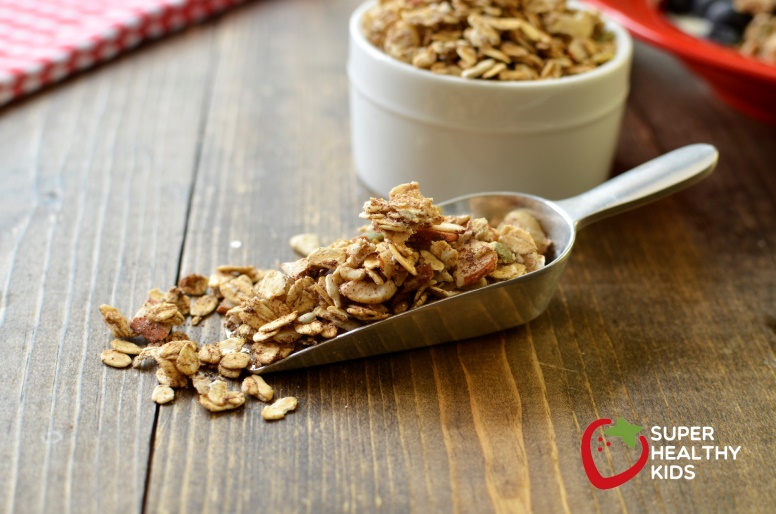 SUGAR-FREE GRANOLA
(yield: 3 cups)
2 cups rolled oats
1/2 cup cashews (or nuts of choice)
1/4 cup almonds, sliced
1/4 cup sesame seeds
2 teaspoons cinnamon
1/2 teaspoon salt
3 large egg whites
1 tablespoon pure vanilla extract
Preheat oven to 225 degrees F.

In large bowl, combine oats, nuts, seeds, cinnamon and salt.

In a mixing bowl, beat egg whites until soft peaks form. Drizzle vanilla into mixture as you whip.

Fold egg whites into dry oat mixture. Stir gently until dry mixture is coated.

Turn oat and egg white mixture onto a cookie sheet (lined with parchment paper or a silpat liner).

Bake in pre-heated oven for 60 minutes, stirring every twenty minutes.

Store in an airtight container for 1-2 weeks.
Add Recipe to Cook'n
Sources:
www.thepantry.boxgreen.co
www.sunnysidesup.org
www.mygirlishwhims.com
www.superhealthykids.com

Alice Osborne
Weekly Newsletter Contributor since 2006
Email the author! alice@dvo.com