What's the Difference Between Mexican and Spanish Chorizo?
Question: What's the Difference Between Mexican and Spanish Chorizo? Thank you!
A Cook'n Customer – Bobbie L.
Answer: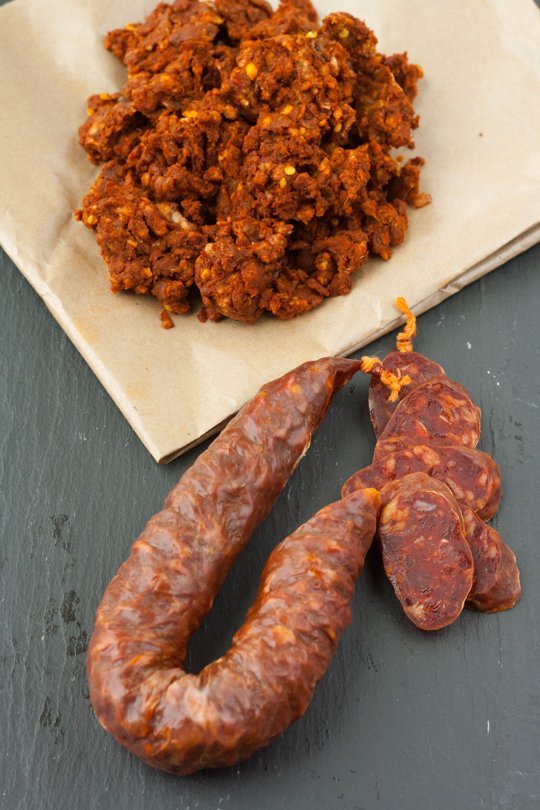 Whenever I see chorizo in a recipe, my first thought is, "Yum!" But then my second thought is always, "Wait, what kind? Spanish or Mexican?" While they're both delicious sausages, they're both actually quite different, so here's what you need to know!
Mexican Chorizo
How it's made and sold: Mexican chorizo is a spicy ground meat sausage that is most commonly sold fresh and uncooked, either loose or in a casing, although dried versions do exist. It is sold with other raw meats or sausages at the grocery store.

Ingredients: While it is usually made of pork, Mexican chorizo is a highly seasoned fatty sausage and can be made out of other meats like beef. Most versions are bright or dark red in color due to the seasonings, but there is also green chorizo, which gets its namesake color from chiles and cilantro.

How to use it: Mexican chorizo must be cooked before eating. Even though it can be sold in a casing, recipes usually call for the meat to be removed from the casings before being cooked and crumbled in the pan. It can be used in tacos, tortas, and is often served at breakfast with scrambled eggs in Mexico.
Spanish Chorizo
How it's made and sold: Spanish chorizo is a dried and cured sausage in a casing. It can be usually found with other ready-to-eat cured meat products like salami. These chorizos can be smoked or unsmoked, and may be sweet or spicy. You'll usually find Spanish chorizos with the other cured and smoked sausages like salami.

Ingredients: This chorizo is made of chopped pork and pork fat and seasoned with smoked paprika, which gives it its vibrant color. Other ingredients such as garlic and herbs may also be added. There are sweet and spicy varieties.

How to use it: Most Spanish chorizos can be eaten as is, casings and all, and are often served as tapas in Spain. They have a very dense and almost chewy texture and are often added to soups for richness and flavor.
Quick Tip: Not sure which one to use since your recipe doesn't specify Mexican or Spanish? Your best bet is to look at the prep and cooking method. If the instructions are to take meat out of the casing and cook and crumble it in the pan until browned, go with Mexican. If there's chopping or slicing involved, then get Spanish!
Source: http://www.thekitchn.com/whats-the-difference-between-mexican-and-spanish-chorizo-word-of-mouth-207326