The Costco Shopping Strategy Everyone Ought to Know!
I was goofing off at The Kitchn (www.thekitchn.com) and ran onto some terrific information (that I wasn't even looking for). This is too good not to share: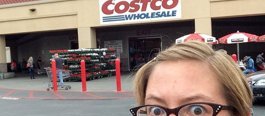 It's about Costco. Do you shop there? Except for very remote communities, it seems Costco is just about everywhere these days. We've always called it the $100 Club, and while we do have a membership, I really haven't figured out if it's a true $-saver or not. (I'm interested in your thoughts on that, BTW.) In fact, shopping there has always overwhelmed me a little.
Anyway, so the author of this article, Emma Christensen (a former editor for The Kitchn, graduate of the Cambridge School for Culinary Arts, and a cookbook author), was sharing the same misgivings with her mother and that led to her mother teaching her the Costco Shopping Strategy. Here's what Emma learned that I just have to share with you:
Bring your own reusable shopping bags. And be sure one is a thermal so you have a good place for the frozen foods.

Have a routine in place and follow it. (It's so easy to get side-tracked by all the samples tables, right?) For instance, consider starting in the dry goods and pantry section then move to the produce and refrigerated sections, and finally to the frozen foods. This is deliberate and strategic; you don't want the refrigerated and frozen food to warm too much before you leave. And of course, this is where the thermal freezer bags are put to work.
Now, armed with your bags and with a routine in place, here are some great tips from the author's mother regarding specific Costco products: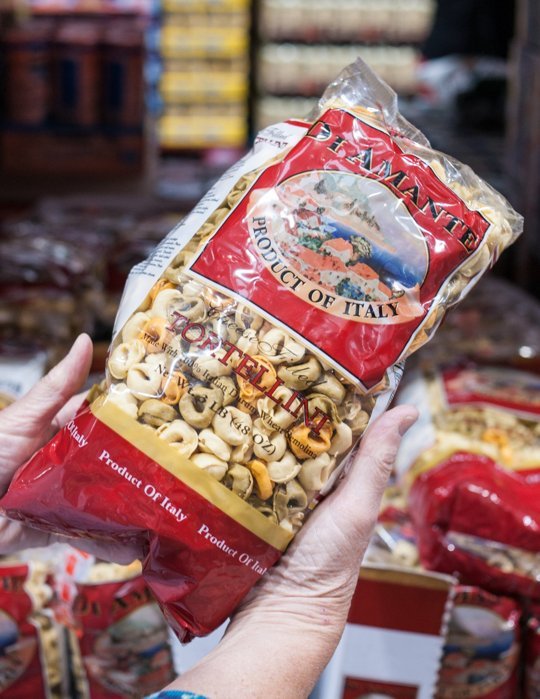 TIP:
Keep this tortellini in the freezer for winter soups and summer salads. It's a tasty and meal-stretching time-saver.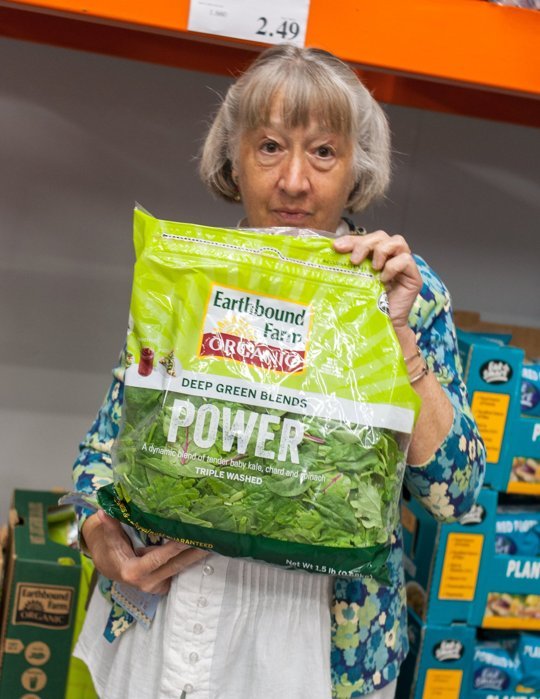 TIP:
And when you get to the produce section, don't hesitate to buy that humungous bag of greens. These giant bags are just $2.50! You'd pay triple that for the same amount at the grocery store. And consider everything you can do with this stuff: "They can be eaten in everything," the author's mom says. In lunch salads, in pasta sauces, in frittatas, in pitas and on regular sandwiches, in soups and stews, in quesadillas, in stir-fries, as sautéed side dishes (with bacon), in lasagna and spaghetti, in calzones, in macaroni and cheese, in smoothies…oh the list goes on.
These greens stay reasonably fresh for about three weeks, although you may need to pick out a few slimy leaves by the end. If you have any left after all your cooking, just sauté it and freeze it in little bundles. Then these can be tossed directly into soups during the winter.
TIP: While still in the produce section, be sure to pick up a pineapple. Always pineapple. "It's $2.99! Year-round! And it's always good. You can't beat that in most places." Like that bag of greens, there's so much you can do with this exceptionally healthy fruit. Mix its pineapple with other fresh fruits for a nice salad, mix it into yogurt, blend it into your smoothies, added it diced to puddings and atop ice cream, chop it and fold it into muffin mix, skewer and grill it, or just snack on chunks!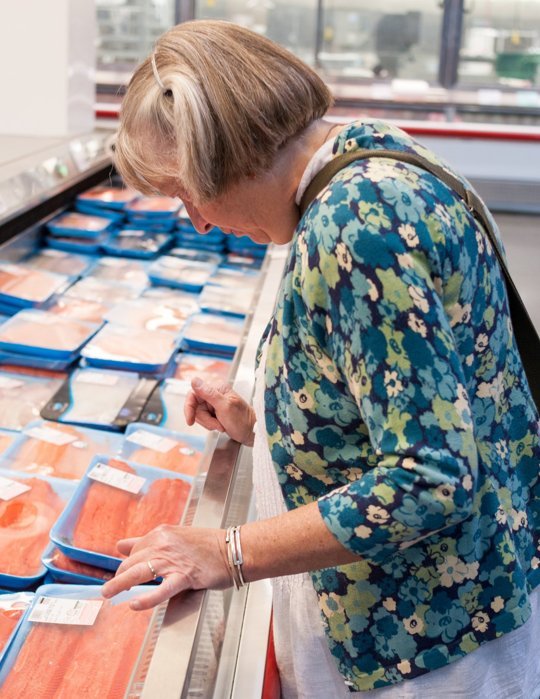 TIP:
In the meat department now, the author says salmon is her mother's other big Costco triumph. As she leans over the case, examining each package for color and quality, she explains her meal plan: Tomorrow she'll cook the salmon in the slow cooker (her favorite way to prepare the enormous fillets that Costco sells). "We'll have salmon with some Brussels sprouts for dinner, but then we can make pasta salad or fish cakes with the leftovers." She pauses and thinks for a minute. "Or we can make creamed salmon on rice. That's a good recipe, too. Or if it's not too hot, some soup with salmon and potatoes would be really nice." She grins and says, "See! There's so much you can do with it. It's SUCH a buy!"
And if she gets tired of salmon for too many meals? You guessed it: she freezes the leftovers.
TIP: Every few months, pick up a big six-pound package of ground beef. Then split it all into one-pound portions and freeze them right away. These are easy to thaw whenever you want some ground beef for pasta sauces, soups, or frittatas. The author's mother says (and I've heard this from other people) that the quality is better than what you can find at your local grocery store. (Of course, this depends on your store, but you get the idea.)
Also, shape some of the raw beef into hamburger patties and freeze them between slips of wax paper. With this system in place it's not hard to have a spontaneous Burger Night.
Costco has a lot of meat cuts that typical grocery chains don't carry. So this is a good place to buy roasts and the bigger cuts that would be good cooked in the slow cooker. The author's mom is a seasoned shopped and price-comparer and feels strongly that the quality of the meat at Costco is generally really good and the price just can't be beat.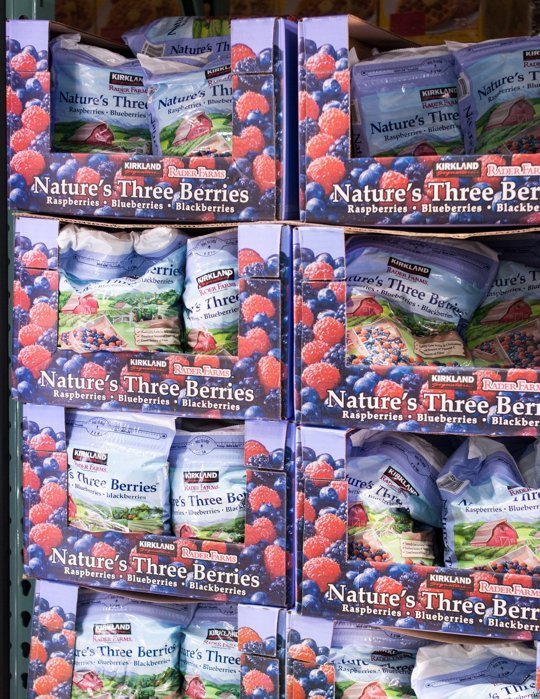 TIP:
Now to the frozen foods section. Make sure to have a bag or two squirreled away for Emergency Fruit Situations. Such a situation might arise if you run out of fruit mid-week and can't make it into your local store for a resupply. (The author's parents take their fruit seriously, and so should we all—it's the health-protector.)
This is where the tip starts: Cook down about a third of the bag of fruit on the stovetop, along with a little sugar, until the fruit is totally juicy, then whisk in a little cornstarch or arrowroot to thicken it into a sauce. Then stir in the rest of the bag of fruit so there are some big chunks of fruit mixed in with the cooked-down fruit. Not too sweet, nice fruit flavor, nice sauce-like texture — it's a total win. This ends up being a really delicious sauce that's perfect for yogurt, ice cream, pudding mix-in, pancake topper, and so on.
Carefully portion the sauce into individual containers. One goes in the fridge for eating right away, and the rest will go into the freezer.
And another TIP: A little parchment pressed against the surface helps prevent ice crystals from forming and ensures the sauce doesn't get watery when thawed.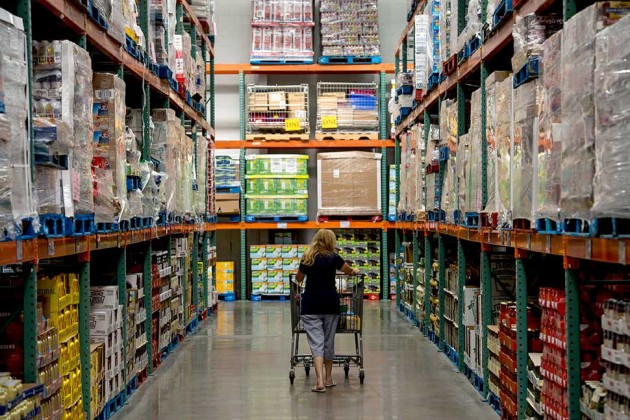 To close, I have to thank Emma for sharing this super information and the pictures of her darling mom. "Thanks mom! The overwhelm is gone and I can shop Costco now."
Sources:
www.bloomberg.com
www.thekitchn.com (Emma took the pictures)

Alice Osborne
Weekly Newsletter Contributor since 2006
Email the author! alice@dvo.com