Delicious Uses for Pummpkin Seeds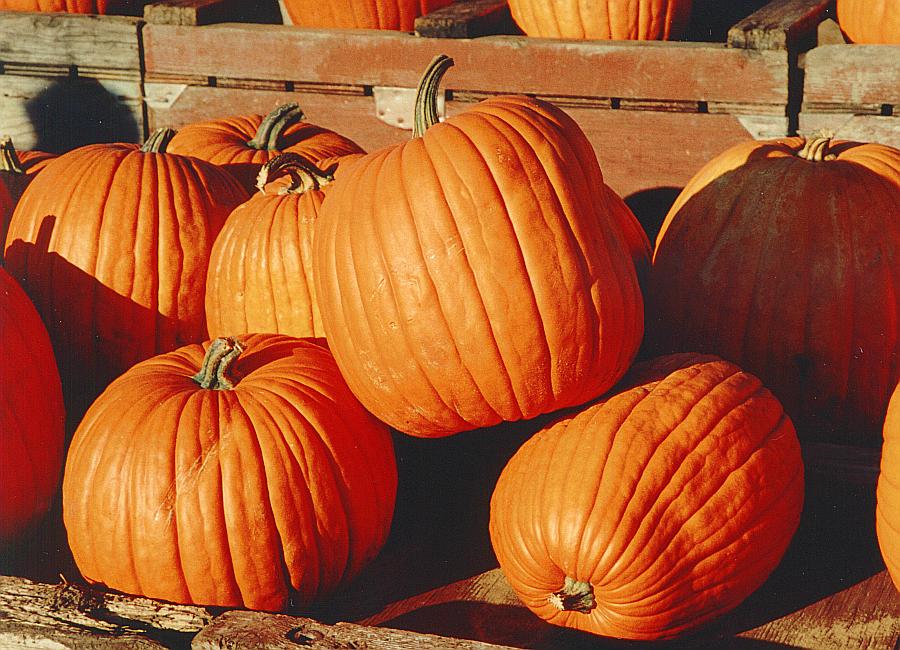 It's pumpkin season. Time to carve the Halloween jack-o-lantern as well as time to whip up some delicious pumpkin-oriented recipes. With that idea in mind I thought it'd be interesting to take a different route than our other writers and talk about creating something yummy with the pumpkin seeds, rather than the pumpkin flesh.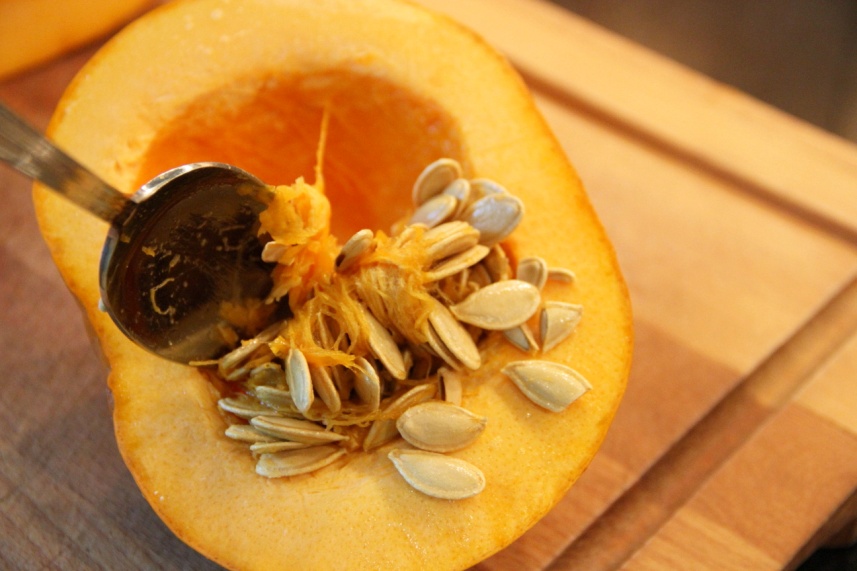 Pumpkin seeds, also known as pepitas, are loaded with nutrients. For instance, in comparison to other nuts and seeds, pumpkin seeds are one of the
most
nutritious plant-based foods. Just a quarter cup serving includes an immune-boosting 17% of an adult's daily allowance of zinc and a powerful red blood cell-supporting 15% of the iron needed.
And in only 1 ounce of pumpkin seeds you'll get a whopping 8.5 grams of complete plant-based protein. Ounce for ounce, that's 2.5 times more protein than a hard-boiled egg. And to top it off, this seed an abundance of minerals—over 40% of the RDI of magnesium, phosphorus and manganese (essential nutrients that aid in overall body function).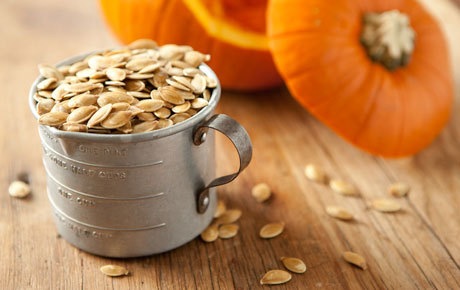 Pumpkin seeds are so nutritious and tasty that they really shouldn't be a "sometime food" anymore. Just consider all you can do with them. For instance:
For starters, they're a perfect stand alone snack when they're roasted. We all know and do this. The basic recipe calls for 1 medium pumpkin and 1½ tablespoons extra virgin olive oil. They're best roasted at a low and slow temperature of 250°F. To prep, scoop out seeds onto a clean work surface. Discard stringy fiber from seeds along with any seeds that are split or cracked, and then transfer to a strainer and rinse well. (You should have about 2 cups of seeds.)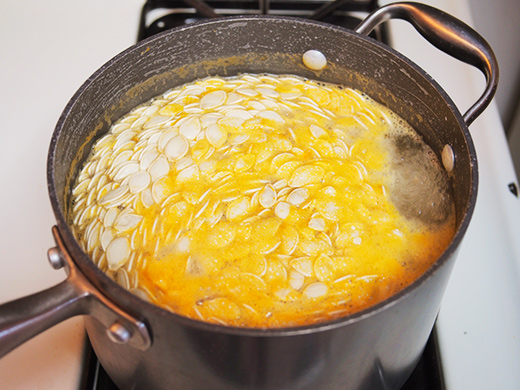 Now, before roasting, take the time to include this extra step. Brine your seeds in salted water before roasting, and all that delicious salt gets infused through the whole seed, not just sprinkled on top. If you like your snacks salty, the extra step is worth it. Just bring a medium pot of water and 2 tablespoons of salt to a boil. Add seeds, lower heat and boil gently for 10 minutes. Drain well then transfer to a paper towel-lined tray and pat dry. 
Transfer seeds to a medium bowl, toss with oil and spread out in a single layer on a large baking sheet. Roast seeds, stirring every 10 minutes or so, until just crisp and golden brown, about 1 hour total. (They will become crispier as they cool.) Set aside to let cool completely then shell or eat whole. 
For spicy pumpkin seeds, mix 1/2 teaspoon each garlic salt, cumin, coriander and cardamom with seeds and oil before roasting. For sweet pumpkin seeds, mix 1 teaspoon each ground cinnamon, cloves and ginger and 1 1/2 tablespoons dark brown sugar with seeds and oil before roasting.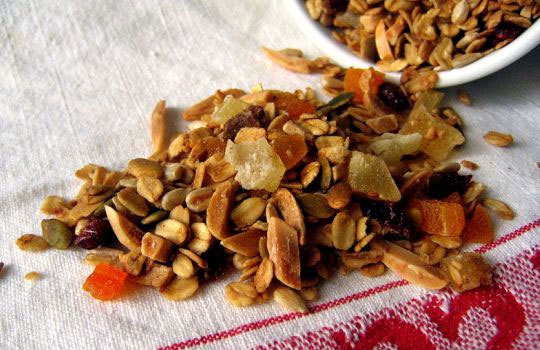 And then there's candied pumpkin seeds. The recipe from the food site,
My Recipes
is the best:
CANDIED PUMPKIN SEEDS
2 cups raw (unroasted) shelled pumpkin seeds
1/2 cup sugar
1/2 cup firmly packed light brown sugar
1 tablespoon paprika
3/4 teaspoon salt
3 tablespoons fresh orange juice
Candied fruit (such as that used for making fruit cake; amount is to taste) OR your choice of dried fruits (diced and to taste)
1. Cook pumpkin seeds in a medium nonstick skillet over medium heat, stirring often, 8 to 10 minutes or until puffed. (Do not brown.) Transfer to a medium bowl.
2. Combine granulated sugar and next 3 ingredients.
3. Toss pumpkin seeds with orange juice. Stir in sugar mixture, tossing to coat. Spread in a single layer on a parchment paper-lined jelly-roll pan.
4. Add desired amount of candied or dried and diced fruits.
5. Bake at 350° for 6 minutes, stirring once. Cool in pan on a wire rack 30 minutes. Store in an airtight container up to 2 days.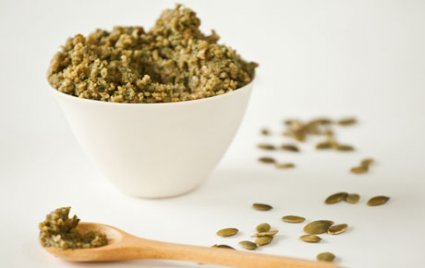 And pumpkin seed pesto is every bit as good as that made with pine nuts. This makes an exquisite garnish to butternut soup, by the way.
PUMPKIN SEED PESTO
2 cups unsalted shelled pumpkin seeds
6 tablespoons extra-virgin olive oil, divided
1/4 teaspoon fine sea salt
2 tablespoons fresh lemon juice, or to taste
3 to 4 cloves garlic
1 cup roughly chopped fresh cilantro
Preheat oven to 375°F. Toss pumpkin seeds with 2 tablespoons of the oil and salt then spread out in a single layer on a large baking sheet. Roast until seeds are puffed and fragrant, 10 to 15 minutes, then set aside to let cool. Combine seeds in a food processor with 1/4 cup water, lemon juice, garlic, cilantro and remaining 4 tablespoons oil. Pulse until mixture forms a coarse paste then season with salt and pepper. Cover and chill until ready to use.
These seeds are also wonderful atop salads. And the sweetened seeds add a real spizzazz to ice cream, puddings, fruit crisps, oatmeal, granola, and muffin batter (chopped fine). But perhaps one of the most unusual ways to use them is in brittle, and I'll close with this very good recipe for a nice change to that proverbial peanut brittle. The recipe is from Epicurious; what you think and report back: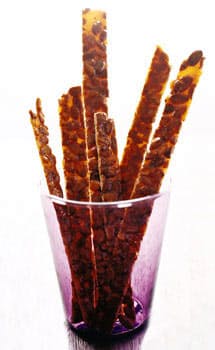 PUMPKIN SEED BRITTLE
1 cup sugar
1/2 cup water
1/8 teaspoon fine sea salt
3/4 cup raw shelled pumpkin seeds (not toasted; 4 ounces)
Special equipment: parchment paper; a candy thermometer
Put a 24- by 12-inch sheet of parchment on a work surface and anchor corners with pieces of tape. Bring sugar, water, and sea salt to a boil in a 2-quart heavy saucepan over moderate heat, stirring until sugar is dissolved. Cook mixture, without stirring, washing down any sugar crystals from side of pan with a pastry brush dipped in cold water, until syrup registers 238°F (soft-ball stage) on thermometer, 10 to 12 minutes (sugar syrup will be colorless). Remove from heat and stir in seeds with a wooden spoon, then continue stirring until syrup crystallizes, 3 to 4 minutes.
Return pan to moderate heat and cook, stirring constantly, until sugar melts completely (sugar will continue to dry and become grainy before melting) and turns a deep caramel color, 4 to 5 minutes more (seeds will be toasted). Carefully pour hot caramel mixture onto parchment and carefully cover with another sheet. Immediately roll out (between sheets of parchment) as thinly as possible with a rolling pin, pressing firmly. Remove top sheet of parchment and immediately cut brittle into pieces with a heavy knife or pizza wheel. Cool brittle completely, then peel paper from bottom. (Alternately, break brittle into pieces once cool.)
Cooks' note: Brittle can be made 2 weeks ahead and kept, layers separated by wax paper, in an airtight container.
Add Recipe to Cook'n
Sources:
www.en.wikipedia.org
www.mixerupper.com
www.thekitchn.com
www.gardenbetty.com
www.wholefoodsmarket.com
www.epicurious.com

Alice Osborne
Weekly Newsletter Contributor since 2006
Email the author! alice@dvo.com