Southwest Ranch Style Beans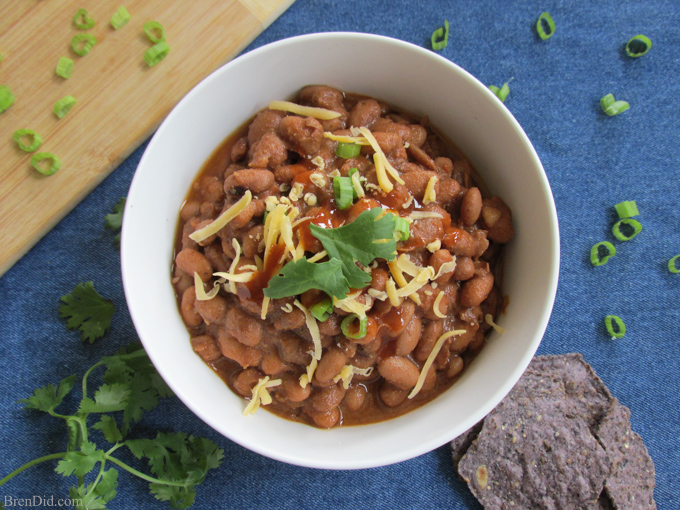 Serves:
28
This is a simple vegetarian dish that cooks all day in your crock pot and results in plump tender pintos in a flavorful sauce. The taste is southwestern with cumin, garlic and chili powder (sometimes called ranch style beans).
The recipe fills my 6 quart crockpot; after making the recipe I simply cool the beans and divide them into smaller potions to freeze.
Prep Time:
Cook Time:
Total Time:
Ingredients:
3

pounds

dried

pinto beans

1

cup

diced

white onion

1

(10-ounce) can

tomatoes with chilies

3

tablespoons

chili powder

2

tablespoons

minced

garlic

3

teaspoons

garlic powder

2

teaspoons

cumin

1 1/2

teaspoons

oregano

1

teaspoon

black pepper

3

bay leaves

(remove before serving)

3

teaspoons

salt

(to taste) – do not add until fully cooked
Directions:
1 Rinse dried beans in a colander to remove any dirt or dust.
2 Pick out any black, discolored beans or stems
3 Place beans in crockpot and fill with water until water is 3 inches over beans.
4 Cover and let soak overnight.
5 Drain water from crockpot.
6 Add all additional ingredients except salt (salt can interfere with the water absorption/softening of the beans – wait until the cooking is done to salt)
7 Add water until it is ½ inch above the beans and stir to combine
8 Set crockpot on low, cover and cook 8 hours.
9 Check to see if beans are soft, remove bay leaves, and stir in salt to taste.
10 Serve over rice or with cornbread or tortillas. Top with your choice of chopped cilantro, green onions, grated cheese, sour cream, salsa, taco sauce and/or crumbled tortilla chips.
Add Recipe to Cook'n
---