Quick and Easy Low Carb Meals
I, like many of you I'm sure, am really trying to start 2016 off right with healthy eating and exercise. I'm now over a week in and things are still going great! So 51 more weeks like this should be easy peasy, right?? ;) The other day I had one of those days where I went to Midas to get a break pad looked at with my two kids, and to make a long story short we were at Midas for over 2.5 hours. Now, I have committed myself to a health challenge group with my very competitive family where there is going to be quite a chunk of change for the winner. After this lovely experience I had, of course my natural desire after a long stressful night was to go grab a hamburger on the way home, but very VERY competitive me had to come home and make something healthy, which I was very glad about making this choice after the fact (not just because of the competition at stake).
Thankfully, I had meal prepped early in the week so I had something ready to go and ate my "quinoa vegetable spaghetti" down in about 2 seconds but was so satisfied after I ate it. It was delicious. Why is my natural reaction to just want a fast food hamburger? I even knew I had something healthy in the fridge but I still wanted a hamburger. This was an eye opening experience for me and obviously shows me I have emotional ties to food when I'm stressed. No Bueno. So there is another 2016 goal-learn how to turn to something else when I'm stressed instead of junk food and learn quick and easy meals to eat that are delicious and healthy .
I don't know about you, but I always love the healthy food I make. It is so delicious and I know my body thanks me for it so I really just need to focus on trying to make my own nutritious meal at home rather than giving in to the ease of take out. Ok, so let's get to it. Here are a few of my favorite easy low-carb meals that are perfect to take with you to lunch at work or just to have at home when you are hungry NOW and need some ideas.
Tuna Salad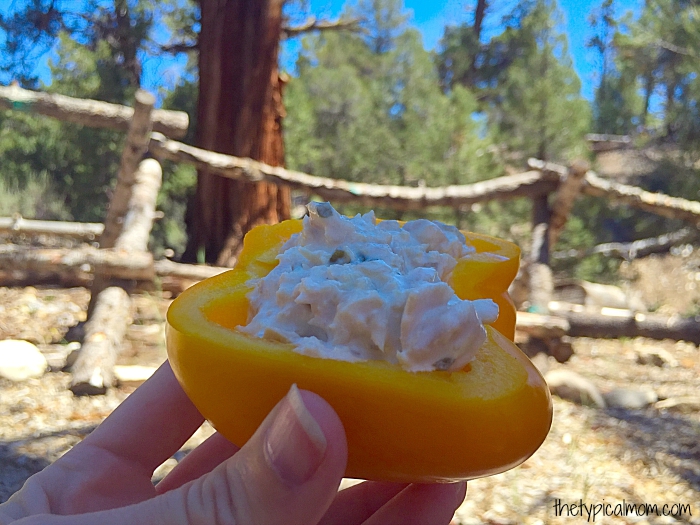 There are two yummy healthy ways to make tuna salad. One option is to mix 2 tbsp. mayo and 2 tbsp. sweet relish with a can of albacore tuna. Or if you are really wanting a low fat option the other way is to mix ¼ c. salsa and ¼ c. feta with 1 can of albacore tuna. Take your tuna mixture and scoop it into a half of an avocado-so yummy!! Or you could cut a bell pepper in half and fill each half of the pepper with your tuna mixture. One more option is to half a cucumber lengthwise, scoop out the flesh and incorporate that into your tuna mixture and then scoop that into your cucumber halves. I love this quick and easy meal!
Egg Prosciutto Roll-Ups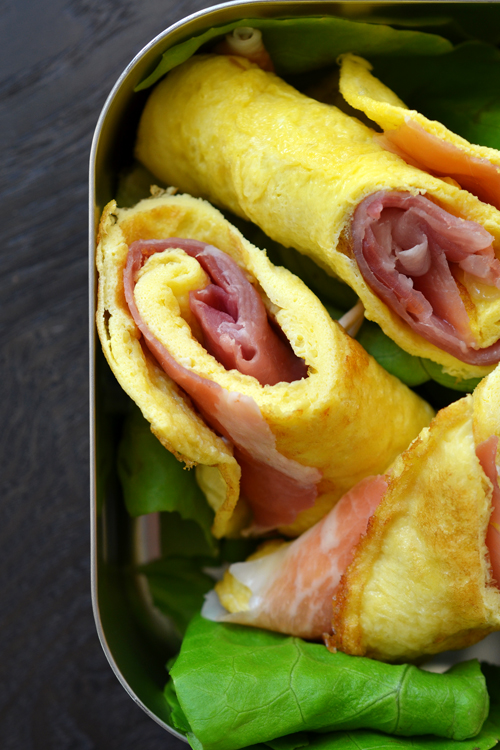 Whisk an egg or two with some salt and pepper. Melt some butter or your favorite cooking fat in a pan or cast iron skillet over high heat. Pour in enough egg to coat the bottom of the pan and immediately decrease the temperature to low. As soon as the egg sets, flip it over and cook for another 30 seconds. Transfer the egg omelet to a plate. Top it with a few slices of prosciutto (or your favorite deli meat) and then roll it up. You can eat them hot right now or pack them up and eat them cold on the go. Cut the rolls in half and secure with toothpicks before packing them. Pair this with some fresh fruit and you are good to go with a healthy lunch at work.
Chicken, Hearts of Palm, and Avocado Chop Chop Salad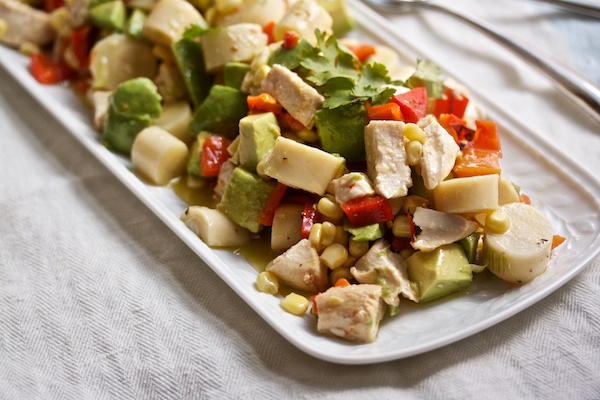 If you are looking for a salad that is different and that you probably have all the ingredients on hand to throw together, this is a great one to try!
Take about 1 cubed chicken breast (could be canned, leftover rotisserie chicken, or a grilled chicken breast) and combine with 1 cup frozen corn kernels (thawed under running water and drained), 3 roasted (or raw) red peppers cut into bit size pieces, 1 (14 oz.) can hearts of palm (I also think artichoke hearts would be delicious), 2 ripe avocados cut into chunks, and cilantro for garnish and toss with your favorite vinaigrette dressing. This is so delicious and easy! Makes plenty for leftovers for a couple meals.
Cobb Salad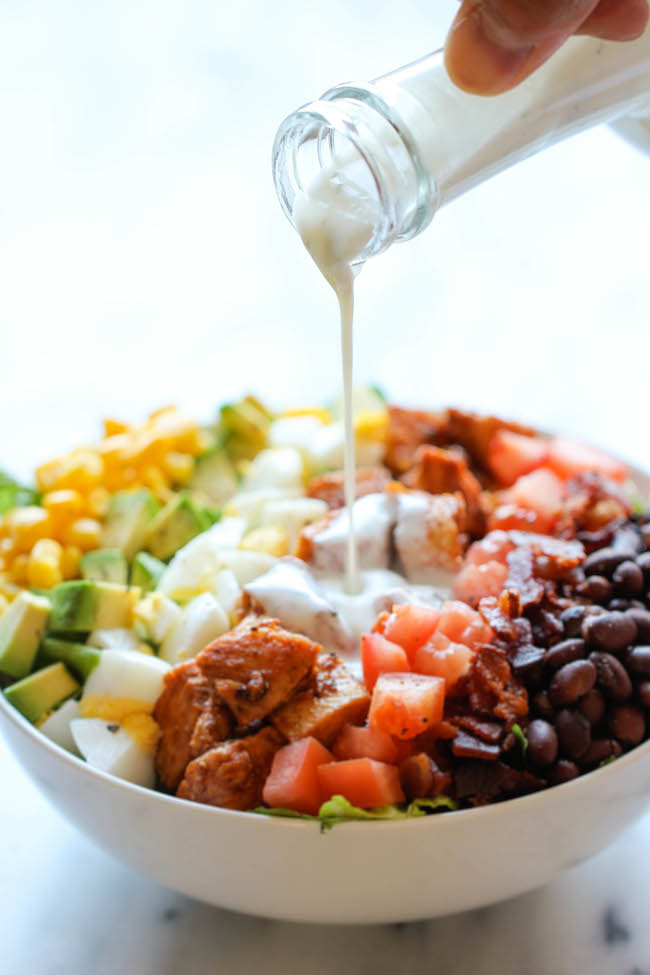 A cobb salad is another easy salad to throw together that you can throw pretty much anything you have on hand with it and it is absolutely delicious! Here is an example of things you can put in it:
Corn
Avocado
Diced tomato
Black Beans
Crispy Bacon
· Barbeque chicken (season chicken strips with salt and pepper, grill, dice up, and coat with BBQ sauce)
Romaine lettuce (or any other greens you want)
Buttermilk ranch dressing
Lettuce Wraps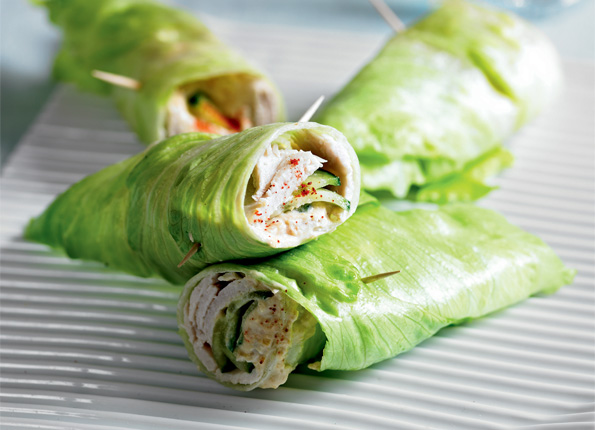 Lettuce wraps are such a simple and delicious thing to throw together. All you need is:
Head of iceberg lettuce-take it off leaf by leaf
Roast turkey
½ cucumber, sliced lengthwise
Hummus, your favorite flavor
Sprinkle of paprika
· This can be done with a variety of other ingredients as well, such as tomatoes, avocados or peppers, as well as salmon, chicken, lamb or prawns. White cheeses, herbs, garlic, lemon juice, paprika, turmeric, oregano, all work too. Whatever you have in your fridge!
Place whatever ingredients you are using in the lettuce leaf and top it with another lettuce leaf. Or you could just roll it up and hold it shut with a toothpick.
Sources:
www.temeculablogs.com
www.nomnompaleo.com
www.biggirlssmallkitchen.com
www.damndelicious.net
www.sheerluxe.com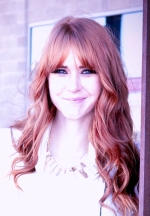 Mary Richardson
Weekly Newsletter Contributor since 2014
Email the author! mary@dvo.com