Who Knew "Healthy" Could Be So Decadent?
Do you love mushrooms? Doctors say they're one of the healthiest foods we can eat (next only to beans, greens, onions, and seeds).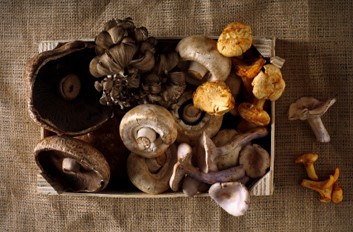 At our house we love everything about them-their smell, their taste, their health factor, and their versatility. When it comes to the health factor, consider what this little dynamo has to offer.
1) They're a powerful cancer-fighter and immunity-booster because they contain:
· just as high an antioxidant capacity as carrots, tomatoes, green and red peppers, pumpkins, green beans, and zucchini.
selenium (a mineral that's not present in most fruits and vegetables)
· enzymes (which helps detoxify cancer-causing compounds in the body)
· vitamin D
2) They protect against and stop the advancement of diabetes because they contain:
3) They promote heart health because besides lots of fiber, they contain:
potassium
vitamin C
beta-glucans
4) They promote weight management and satiety (you feel fuller longer, thereby lowering overall calorie intake) because they contain:
· dietary fiber
When buying mushrooms, be sure they are firm, dry, and unbruised. Avoid mushrooms that appear slimy or withered. Store mushrooms in the refrigerator and do not wash or trim them until ready for use.
There's lots of advice out there on the best way to store mushrooms. For instance, some say they should be stored in a paper bag. Mushrooms Canada says that they store well in the commercial container until they are opened, at which point they should be transferred to a paper bag. The magazine, Cook's Illustrated, says the original container is the best container for sure and that they dry out in a paper bag. And many other sites and authorities have even more advice: paper towel in a plastic bag, paper towel in a paper bag, damp paper towel in a…etc. You get the idea.

So how
do
we store them for best keeping? The folks at TipBusters (www.tipbusters.com) decided to test out all the "best" advice available and here's what they found after storing mushrooms for 2 weeks with 14 different storage methods. All storage was done in the refrigerator crisper. The #1 BEST mushroom storage method? In a paper towel, inside a perforated plastic bag (they used Ziploc® brand produce bags, but I think you could perforate any bag you have on hand).
Good to know. Now, what are some things you can do with mushrooms? Maybe there are a couple ideas here you haven't thought of:
· We sauté them (any type works well) with onions for a quick and tasty side dish or topping for grilled meat.
· We top our tossed salads with raw sliced crimini mushrooms or white mushrooms.
· We add sliced mushrooms to omelets, breakfast scrambles, quiches, gratins, and soufflés.
· Grill portabella mushrooms and use them on sandwiches or in wraps.
· We chop them and fold them into cornbread batter.
· We add plenty of chopped mushrooms to homemade gravies, soups, and stews.
· We make stuffed mushrooms; we fill them with favorite ingredients and bake them until the tops are crispy.
Speaking of stuffed mushrooms, how about these suggestions (no recipes needed-it's all to taste):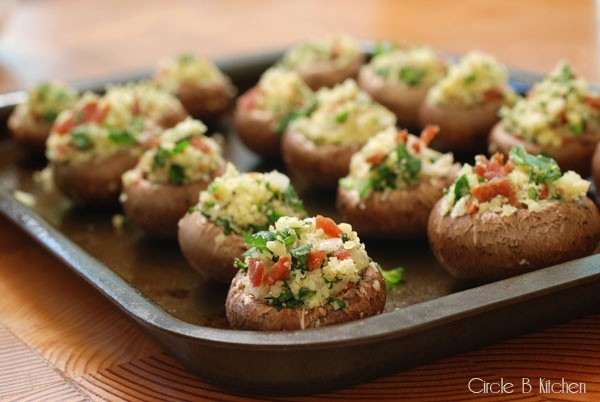 Crimini mushrooms stuffed with shredded gouda cheese, finely chopped vegetables (bell pepper, green onions, crumbled bacon, minced garlic, breadcrumbs, chopped basil or parsley, and chopped fresh spinach.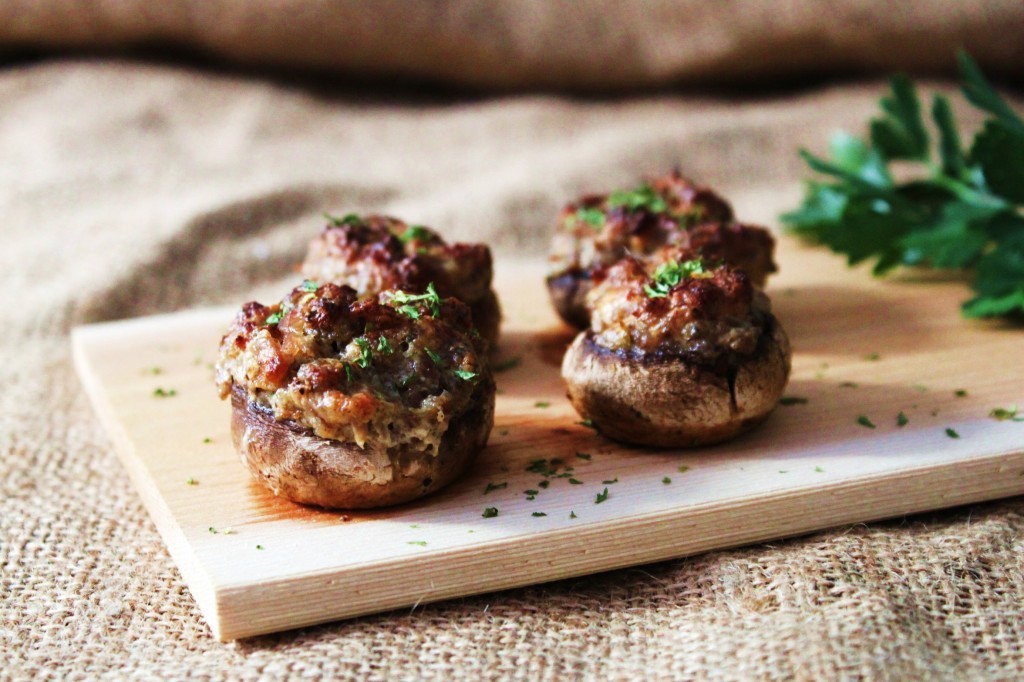 Crimini or button mushrooms stuffed with cooked and drained Italian sausage (and whatever else you want to add). We add chopped onion and minced garlic to the frying sausage and after draining the meat we add cream cheese and a few toasted breadcrumbs. It's almost impossible to mess this one up.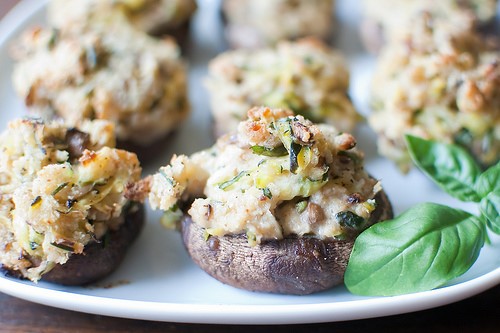 Another variation on the cream cheese theme with crimini or button mushrooms is combining it with grated zucchini, chopped onion, minced garlic, and goat cheese. We finish this off with finely chopped fresh basil and dried breadcrumbs.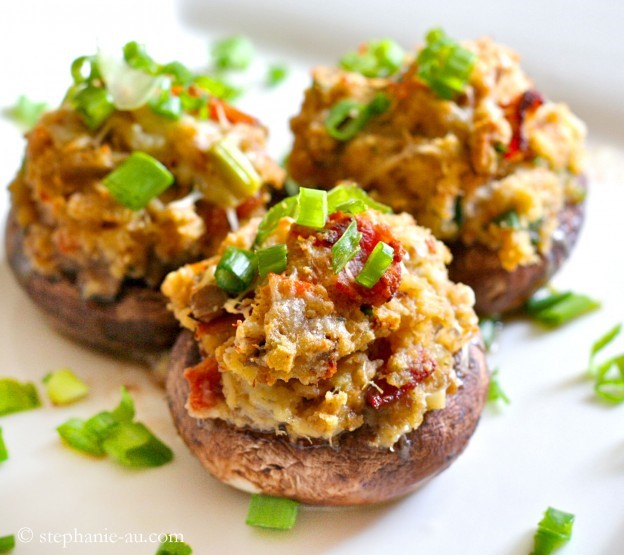 My last suggestion are crab and bacon stuffed baby portabella mushrooms (found on the Life Tastes Like Food blog). And I'll close with the recipe for them. These are to die for! If you want to healthify this, just omit the bacon. They're delicious that way as well. Who knew healthy could be so decadent?
CRAB AND BACON STUFFED MUSHROOMS
3 tablespoons butter, melted
6 fresh baby portabella mushrooms
2 tablespoons butter
2 tablespoons minced green onions
1 teaspoon lemon juice
1 cup diced cooked crabmeat
4 slices of bacon, fried crispy and crumbled
1/2 cup bread crumbs
1 egg, beaten
1/2 cup shredded cheese (Monterey Jack OR Gruyere), divided
1 teaspoon red pepper flakes
1/4 cup dry white wine
Preheat oven to 400°F. Prepare a 9×13 inch baking dish with 3 tablespoons of melted butter. Remove stems from mushrooms. Set aside caps. Finely chop stems.
Melt 2 tablespoons butter in a medium saucepan over medium heat. Stir in the chopped stems and green onions and cook until soft, about 3 minutes. Remove saucepan from heat. Stir in lemon juice, crabmeat, bacon, bread crumbs, egg, red pepper flakes and 1/4 cup cheese. Thoroughly blend the mixture.
Place mushroom caps in the buttered pan, and stir until caps are coated with the butter. Arrange caps cavity side up, and stuff cavities generously with the green onion and crabmeat mixture. Top with remaining cheese. Pour wine into the pan around the mushrooms.
Bake uncovered in the preheated oven 15 to 20 minutes, until cheese is melted and lightly browned. Serve warm.
Add Recipe to Cook'n
Sources:
www.besthealthmag.ca
www.tipbusters.com
www.circle-b-kitchen.squarespace.com
www.jessicaburns.com
www.pink-parsley.com
www.lifetasteslikefood.com

Alice Osborne
Weekly Newsletter Contributor since 2006
Email the author! alice@dvo.com